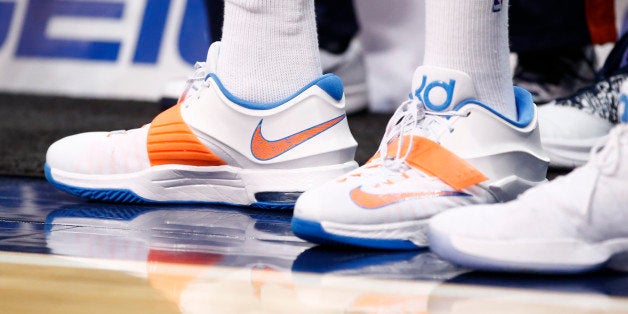 The reigning NBA MVP Kevin Durant is sidelined by a Jones fracture in his right foot, which will likely need surgery. Durant had some discomfort after practice and was subsequently found to have a broken bone on the outside of his foot in his metatarsal bone. Oklahoma City GM Sam Presti indicated that they are looking into Durant's treatment options, but most foot surgeons tend to operate on these "Jones Fractures" in high-level athletes.

What is a Jones Fracture?
The Jones fracture is a specific type of metatarsal fracture that occurs to the outermost metatarsal bone. The orientation of the Jones Fracture is such that it occurs in an area of the bone that is considered very difficult to heal -- which is due to diminished internal vascularity of the bone and the biomechanical forces. Most common causes of 5th metatarsal fractures are inversion sprains and stress-fatigue fractures. High level athletes tend to have a combination of the two.
Jones fractures can heal with or without surgery. Without surgery the bones can take a long time to mend (due to diminished blood supply) and often require 2-3 months of casting. Some surgeons feel that a bone healing device be used as the Jones fracture is difficult to heal.
Jones Fracture Surgery is very common for Jones fractures, especially for younger athletic patients. High level athletes generally go onto surgery. The benefit of surgery is to place surgical hardware to hold the broken bone steady to help it mend. A particular benefit of surgery is to mobilize patients quicker.
What's Durant's Prognosis?
Because Durant did not seem to have an acute traumatic injury, its possible this was festering for a while -- suggesting this may have been a stress fracture scenario. Hopefully for Durant, he has not been sitting on this for some time which could reveal an underlying chronic non-healing fracture -- and only the x-rays will dictate that.
If this is a run of the mill Jones Fracture, Durant will likely miss two months and be back to normal. A word of caution, Jones Fractures are not the injuries to try and push the rehabilitation because these fractures are finicky.
--
Dr. Neal Blitz
Reconstructive Foot & Ankle Surgery
New York City
Related
Popular in the Community