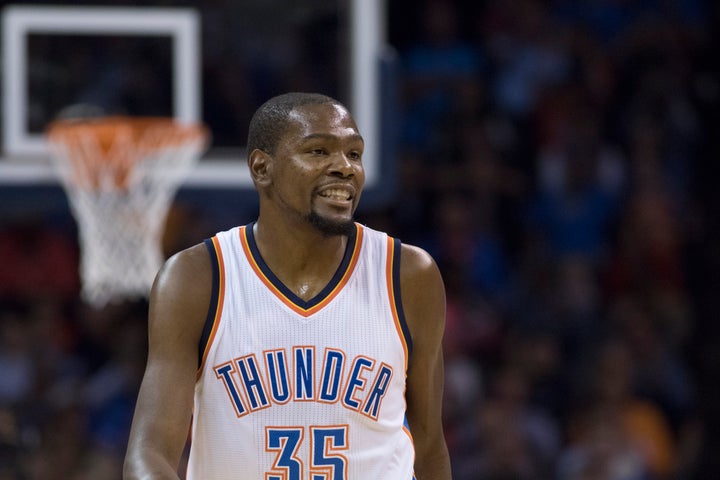 Don't look now, but sources are telling us that that the Oklahoma City Thunder's Kevin Durant is considering YOUR CRAPPY TEAM HERE as a possible 2016 free agent destination.
"No, ya, seriously," a source close to Durant said.
Sources close to the All-Star forward say Durant is primarily intrigued by the possibility of teaming up with PLAYER ON YOUR TEAM WHO IS ROUGHLY 10X WORSE THAN RUSSELL WESTBROOK and THAT OVERRATED SECOND-YEAR PLAYER YOUR TEAM IS BANKING ITS FUTURE ON.
Stylistically, Durant is reported to be interested in the team's UPTEMPO OFFENSE (IF TEAM HAS SHORT PLAYERS) / SIZE (IF TEAM HAS TALL PLAYERS) / DEPTH (IF YOU DON'T HAVE ANY GOOD PLAYERS) and the possibility that he could LITERALLY ANYTHING ELSE THAT IS BASKETBALL-RELATED HERE.
"He could be interested, he could not be," a separate source close to Durant said. "Only time will tell, probably."
Durant is said to be taken by the city's LARGE TELEVISION MARKET / SMALL-TOWN CHARM and the team's LONG LEGACY OF SUCCESS/ MANAGEMENT / NUMBER OF NERDS ON STAFF / UNIFORMS / NOT BEING THE KNICKS.
The former MVP is known around the league to be close to PERSON WHO BUGGED HIM AT A PARTY ONCE, which some people within the organization believe could tilt the scales in YOUR CRAPPY TEAM'S favor.
Durant has been dropping hints that he is interested in the team for some time. He was recently spotted eating CUISINE MILDLY ASSOCIATED WITH YOUR CITY and is known to enjoy AGAIN, WRITE LITERALLY ANYTHING HERE. DOESN'T MATTER.
Durant additionally tweeted the following in September, which insiders are taking as a clear sign of his interest in YOUR CRAPPY CITY, where people are known to both wear sunglasses and use flashlights.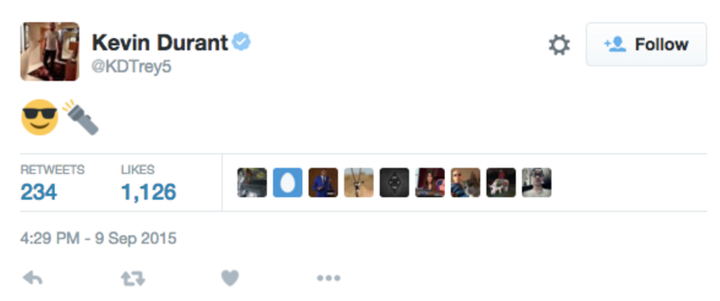 Should YOUR CRAPPY TEAM clear the necessary cap space by the offseason, we're hearing that Durant will announce his decision on The Players' Tribune. ESPN's Stephen A. Smith first reported news of Durant's interest in YOUR CRAPPY TEAM.
Calling all HuffPost superfans!
Sign up for membership to become a founding member and help shape HuffPost's next chapter