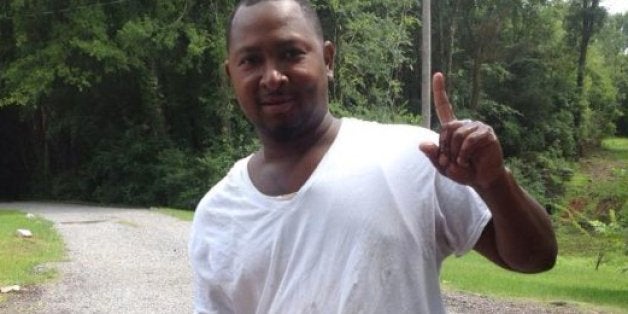 When Jonathan Sanders, an unarmed black man, died last week in Mississippi while in police custody, it was a racially motivated killing, attorneys representing the victim's family claimed Tuesday.
Officials handling the case either could not be reached for comment or declined to speak, citing the pending investigation.
Sanders, 39, a resident of Stonewall, Mississippi, died last Wednesday after allegedly being placed in a chokehold by Officer Kevin Herrington, attorneys C.J. Lawrence and Chokwe Lumumba told The Huffington Post on Tuesday.
Sanders, who trained horses and was often seen riding around in a horse-drawn buggy, was at a gas station with one of his animals at about 10 p.m. Wednesday when he saw an altercation between Herrington and another white man, whom Sanders knew. According to Lawrence, Sanders approached them and asked Herrington to leave the other man alone.
A witness told the attorneys that after Sanders left, Herrington allegedly said, "I'm gonna get that n****r."
Lawrence said multiple eyewitnesses have told the attorneys that Herrington then got in his car with an unidentified civilian female and drove after Sanders, who was on his buggy. Three eyewitnesses who are related to Sanders by marriage, and who say they saw the altercation from their home, said the officer turned on his police lights when he was just behind Sanders. The lights startled the horse, which took off at a sprint, throwing Sanders off his buggy.
"Jonathan immediately began to run after his horse, unaware of what was going on behind him," Lawrence said. "Herrington proceeded to chase Jonathan."
Herrington allegedly grabbed a headlight tied around Sanders' head, pulling it down to his neck and yanking him to the ground. Sanders' body was slumped down in a "praying position" as Herrington allegedly wrapped his arms around the man's neck, placing him a chokehold, Lawrence said.
The three witnesses in the home told the attorneys the officer would not release his grip. At the time, the witnesses said, they were not aware that the man in the officer's grip was Sanders, their relative. One of the witnesses, who works as a correctional officer in Stonewall, came out to confront Herrington, allegedly asking the officer to let Sanders go. Herrington told the correctional officer that Sanders had reached for his gun, according to the attorneys.
"When you look at all these cases of unarmed black men being killed by police, it seems to be a common theme that the black man is always reaching for the officer's gun," Lawrence said. "You always have a white guy so much faster and stronger that he outwits the suspect, maintains his gun, then lives to tell the story of how a black man reached for his weapon."
The correctional officer repeatedly asked Herrington to let Sanders go so that the correctional officer could perform CPR on him, but Herrington allegedly declined, according to testimony. Lawrence and Lumumba said that although it only took three minutes for Staten Island man Eric Garner to die in a chokehold in a widely publicized case last summer, Sanders was allegedly placed in a chokehold for more than 20 minutes before EMTs arrived.
Sanders was dead by the time help arrived, the attorneys said.
During the incident, witnesses said, the unidentified female in Herrington's police car got out and helped remove the officer's weapon from his holster at his request.
Witnesses said that before his death, Sanders repeatedly said "I can't breathe," according to the attorneys.
The case is now being handled by the Mississippi Bureau of Investigation. Multiple calls to their department went unanswered.
District Attorney Bilbo Mitchell told HuffPost he could not comment on an ongoing investigation. He and Stonewall Police Chief Mike Street plan to hold an open forum at Stonewall Town Hall on Tuesday to "inform the public of the judicial process and what it entails during an investigation," according to a Monday Facebook post by The Clarke County Tribune.
Lumumba and Lawrence told HuffPost that prior to his death, Sanders had filed a harassment lawsuit against the Stonewall Police Department. The current status of that suit is unknown. Attorney Stewart Parrish, who was handling the lawsuit, could not be reached for comment.
Over the weekend, more than 400 people attended a march for Sanders to demand justice, The Meridian Star reported.
The town of Stonewall has fewer than 1,500 residents, according to The Guardian. The town is named for General Thomas "Stonewall" Jackson, who fought for the Confederacy in the Civil War.
Herrington has been placed on paid administrative leave. Results of an autopsy for Sanders are still pending.
"This is a town where the cops have free rein," Lawrence said. "That's what type of place it is."
Like Us On Facebook |

Follow Us On Twitter |

Contact The Author
Popular in the Community