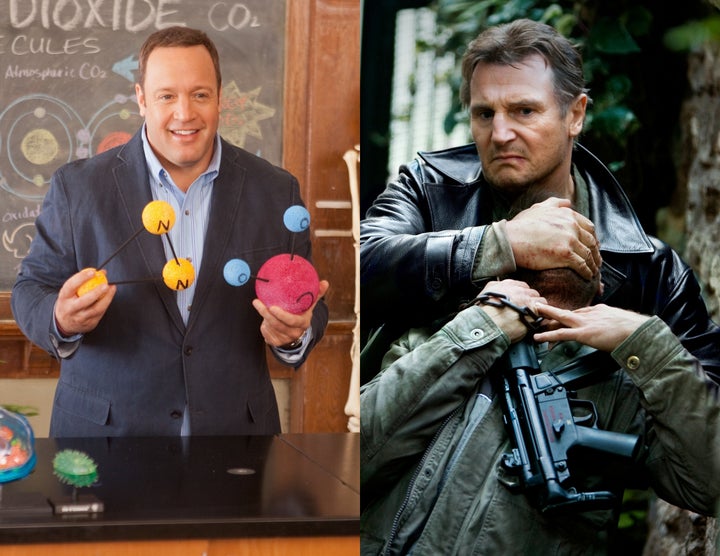 On Jan. 16, 2009, Kevin James became a movie star: Despite a title and trailer that seemed to push through the bottom of the barrel, "Paul Blart: Mall Cop" earned a surprisingly strong $39.2 million over the four-day Martin Luther King holiday, entrenching James on the comedy A-list.
Two weeks later, on Jan. 30, "Taken" grossed a surprisingly strong $24.7 million during its first three days, turning Liam Neeson into Hollywood's favorite action star.
By the time the two films ended their theatrical runs, they had earned $146.3 million and $145 million, respectively, in North America.
Flash forward almost four years, and things remain eerily similar at the multiplex: "Taken 2" just exploded at the box office, opening with just under $50 million in ticket sales, giving Neeson his fourth number one opening since "Taken." ("Clash of the Titans," "Unknown" and "The Grey" are the other three.) Meanwhile, Kevin James' "Here Comes the Boom" (a.k.a. "Paul Blart: MMA Fighter") is out in theaters now, though it's projected to earn much less than "Taken 2"; early indictions place "Here Comes The Boom" in the low teens.
These parallel openings, just three years apart, raise the question: What happened to Kevin James? Why has his stock dropped while Neeson's has skyrocketed?
"Paul Blart" made the incredibly likable James the heir to Adam Sandler's throne of man-children. (Sandler's Happy Madison produced "Paul Blart.") He followed that film up with a supporting role in "Grown Ups," a worldwide smash that found him once again playing second fiddle to Sandler, much like in the 2007 film "I Now Pronounce You Chuck And Larry." After that? Disappointments in "The Dilemma" and "Zookeeper." The former film was an ill-marketed comedy drama from director Ron Howard that never recovered from an unfortunate use of "gay" in its trailer; the latter was caught up in MGM's bankruptcy and pushed from an Oct. 2010 release to July of 2011. The film, basically "Paul Blart" with zoo animals, earned a reasonable $80 million in North America, but it was undoubtedly hurt by James' faded "Paul Blart" heat. By the time "Zookeeper" hit theaters, just didn't seem to care.
That's too bad, if only because James is a very charming performer. The pathos he wrings out of his fat-guy-fall-down characters in "Hitch," "Paul Blart" and "The Dilemma" is commendable. It might sound crazy, but with better material he could be a poor man's Steve Carell -- the type of actor who can make sad clowns both sadder and more clownish.
Neeson, on the other hand, hasn't had any trouble retaining the hum of "Taken." That's probably because it's hard to remember the last time he didn't make a movie: "Unknown," "The Grey," "The A-Team," "Battleship," "Clash of the Titans," "Wrath of the Titans." Neeson even appears in "The Next Three Days," which even star Russell Crowe probably doesn't realize happened. Neeson has been ubiquitous since "Taken," which has only made him more of a box-office draw; if he had followed James' path of supporting roles and unfortunate studio luck, would "Taken 2" have grossed $49.5 million last week?
Alas, we'll never know. For now, Neeson is the king of the box office and James is barely its court jester. Where these two stars will be four years from now is anyone's guess. If it involves "Taken 3" and "Paul Blart: Mall Cop 2," however, don't be surprised.
PHOTO GALLERY
Funniest Movie Fights
Calling all HuffPost superfans!
Sign up for membership to become a founding member and help shape HuffPost's next chapter