The highly-anticipated gay wedding issue of Archie Comics has finally been revealed.
The January issue's cover illustration shows Kevin Keller, Riverdale's first openly gay character who is also an active U.S. military officer, tying the knot with his African-American partner, Clay Walker. ComicsAlliance reported in October that the story of the couple's meeting, said to take place in a military hospital, "obviously deals with ['Don't Ask, Don't Tell'] but it doesn't spell it out for the reader," and may be revealed in flashback, according to Archie Comics CEO Jon Goldwater.
When the miniseries was announced in 2010, author Dan Parent told the Associated Press, "The world of Riverdale has to reflect contemporary culture and to show it is an accepting, diverse place. And that's why Kevin is important, to show that everybody is welcome in this all-American town we've embraced for over 70 years." Parent was nominated for a GLAAD Media Award for creating the character.
Not surprisingly, the introduction of the fictional character, in addition to his marriage, has drawn both strong praise and harsh criticism. "I think it's great that the reality of America's loving couples are being portrayed in as many places as possible," Evan Wolfson, the founder and president of Freedom to Marry, told Fox News."We all want to be part of family and community –- that's what marriage is about." On the other hand, the Family Research Council's Peter Spriggs noted, "It's unfortunate that a comic book series usually seen as depicting innocent, all-American life is now being used to advance the sexual revolution."
View the full cover below: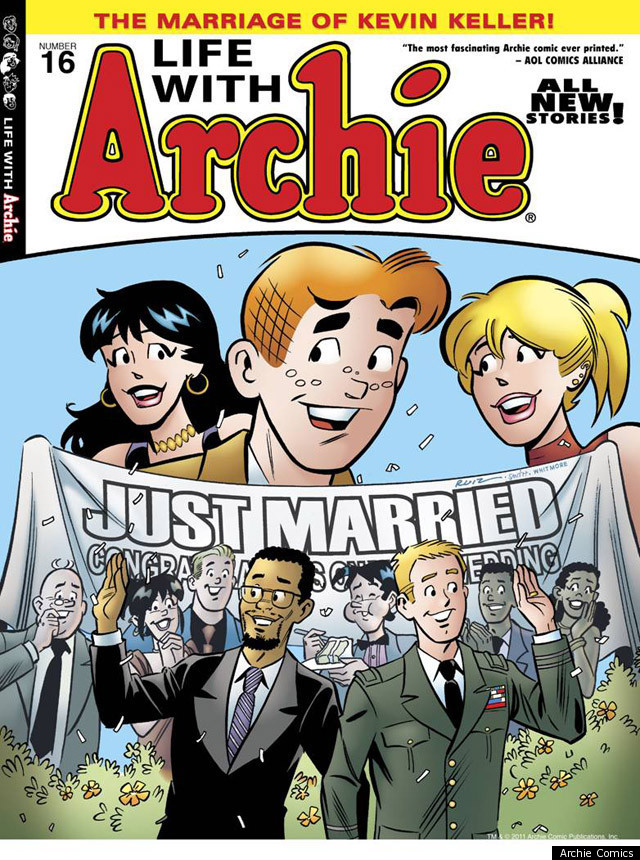 Support HuffPost
Every Voice Matters
Popular in the Community