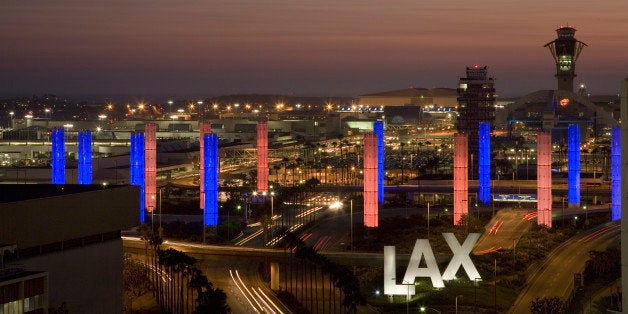 Passengers and the flight crew aboard a British Airways flight to Los Angeles Monday dealt with an apparently intoxicated passenger who allegedly mocked, spat, cursed and threatened people, pointing his finger in attendants' faces and saying things like, "I'm going to f*cking kill you," and "I am going to open the [aircraft] door."
Kevin Lee Mosele, 20, of Kihei, Maui, was restrained by attendants on British Airways Flight 283 when he allegedly became disruptive two hours after departing London's Heathrow Airport. He has been charged with interfering with a flight crew, a federal offense, according to an FBI criminal complaint published by the Los Angeles Times.
Flight attendant Michael Crawley said he noticed Mosele's eyes were bloodshot and that he "seemed to be intoxicated." Passengers said they smelled alcohol on his breath, and that there were small bottles of wine and whiskey strewn around him.
After a written warning was read aloud and delivered -- a letter Mosele tore up -- captain Sean Dewbury threatened to land in Iceland and have police remove him from the plane, but it wasn't enough to quell Mosele, according to the complaint. "Ooo, El Capitan. Can I pretend to be a stewardess?" he reportedly said, then to a flight attendant: "I bet I can open the door." When she didn't respond, he said, "Is that a challenge? I bet I can do it."
With the captain's authorization, the crew restrained Mosele with handcuffs and webbing for the duration of the flight -- about six hours -- but it only further enraged him.
Mosele later admitted to federal agents that he drank a "couple of beers" and a "couple of wine beverages," as well as smuggling in white wine, but claimed he was joking with the female attendants. He apologized, admitted that he just "went crazy" after being restrained, and said he's "mad at myself." He also recalled saying, "I'm going to blow up the plane."
He also said he is 90 percent at fault.
Mosele could face up to 20 years in federal prison, but was released Tuesday on $10,000 bond. His arraignment date is set for Aug. 3 in Los Angeles.
REAL LIFE. REAL NEWS. REAL VOICES.
Help us tell more of the stories that matter from voices that too often remain unheard.
BEFORE YOU GO
PHOTO GALLERY
Dumb Criminals: Mugshot Gallery