To combat the lull of the NBA lockout, NBA All-Star and the league's leading rebounder Kevin Love is going pro in beach volleyball ... yup, that's right, beach volleyball.
The Huffington Post caught up with Mr. Double-Double in New York City as he trained with two of the premier men's and women's teams in the country in a custom-made sandpit, right smack in the middle of Times Square. Love will participate in next month's Manhattan Beach Open, part of an illustrious trio of events with a $500,000 cumulative grand prize.
Pro Jess Gysin (below) in particular was surprised with the quality of the big man's game:
"We were really impressed with [Kevin]. He was pretty good out there on the sand.
"I mean, I wouldn't doubt him [winning a match] but you know, a lot of these guys do train full time, it's their job. I don't know if he would win some matches; I think he could compete and give them a battle. He needs some more practice."
Sean Scott -- who is gearing up for the 2012 London Olympics and recently won the Milwaukee Shootout -- was also impressed with Love's game, but thinks he needs to improve his stamina to take the next step.
"I was surprised," Scott says. "He said he's never played beach volleyball before, and I don't know if I buy that (laughing), because he was bringing the heat on some of his spikes.
"He's got a month to train, so if he dedicates himself the next month. He looked like he was getting pretty tired out there on the sand. It's a little harder to move than the hard court."
As for Love, well, it's time for his thoughts...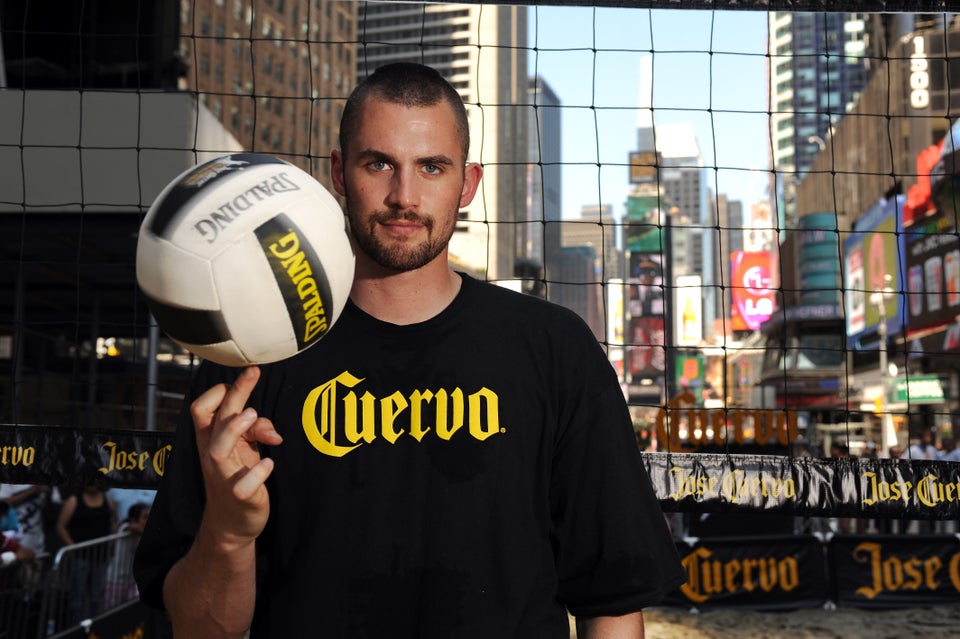 Q. How did you get involved in this project?
Jose Cuervo just came to me with the idea to play in their Beach Volleyball series and I just ran with it. It was a good way to get involved in a different sport and stay active throughout the lockout, so for me it was a homerun. It was an excuse for me to get in the sun, an excuse to challenge myself and keep my competitive juices flowing. Hopefully I won't embarrass myself too bad come August 26th for the Manhattan Beach Open.
Q. That's a very prestigious tournament. How is the partner process coming along?
Not too good, so far. I'm definitely putting myself out there, whoever is listening, whoever is out there. I'm trying to put it on every publication that I possibly can. Because I'm looking to actually try and compete. Obviously have fun with it, not take myself too seriously; but when it comes to sport and competing, I take it seriously. For the next month at least, I'm going to work on my game a little bit.
Q. Being from Lake Oswego, Oregon, you played on the same high school team as Rick Adelman's son. Adelman has been known for coaching great passing big men in the past. What would he bring to the Timberwolves as head coach?
Right to your point. That's great, he really -- whether it's Vlade Divac, Brad Miller or Chris Webber -- puts great passing big men in situations to succeed. Put them at the high post, put them in their corner offense. He had a great passing point guard as well (Mike Bibby), and we have Ricky Rubio. So if we kind of run the high post offense with me facilitating the ball through there, I think we could have a ton of success, so I do like the prospect of him coaching our team and I think he can get the best out of us young players.
Q. Talk about Rubio, because he's a guy who excels at running the pick-and-roll and in the pick-and-pop situation. You shoot the ball extremely well. How will that combination work?
I think it'd be great; I mean, I put it on Twitter, 'I'm dreaming about pick-and-rolls,' just because he's so good. I saw it after the draft -- he came out for a few days, and we had about nine guys playing before the lockout. The way he passes the ball and how he sets guys up and finds guys is just phenomenal. Being able to play with him and being around a guy who loves playing and being in the gym, the more I have a chance to work with him and pick my spots, I'm hoping it's going to be a deadly combo.
Q. How has the lockout affected you now and, even more so, how will it affect you when the season is actually supposed to start come fall?
I'm used to going back early September to training camp, so it's definitely going to affect me. I know some guys, if they weren't saving their money, they're going to be sorry. As far as that goes, I'm just going to keep training as hard as I possibly can. The only tough thing is knowing when to peak and knowing when to plateau, because you don't know exactly when the season is going to start. We're really going to see how it's going to go for the NFL, more guys are getting hurt and whatnot. I'm crossing my fingers and hope that they don't, and hopefully the same thing will happen for basketball. When the time comes, I'll be ready for training camp.
Q. Does it impact the way you handle real estate, in terms of buying or renting?
Yeah, absolutely. You have to slow down your monthly spending. You just need to cut out all the nonsense spending on little things that aren't necessities, and if you do that, you should be okay. If you don't have too many people on your payroll ... I have a chef, I have different people I pay, but I'd say nine out of ten times it's tax write-offs, too.
Q. You played a crucial role for Team USA's win in the 2010 FIBA World Championships. How important is making the 2012 Olympic roster to you?
A tremendous amount. A dream of mine is to play in the Olympics, not only to compete but to win an Olympic gold medal. For me to be a part of that team and a part of USA basketball, it's right up there as one of the most important things for me. It's really something I want to be a part of, and I hope that Jerry Colangelo and Mike Krzyzewski will see that and I'll be in London in 2012. That'd just be phenomenal.
Email me or ask me questions about anything Kevin Love, NBA lockout or sports related at @206Child for my upcoming mailbag.
Plus, check out my brand new HuffPost sports blog, The Schultz Report, for a fresh and daily outlook on all things sports.
Popular in the Community