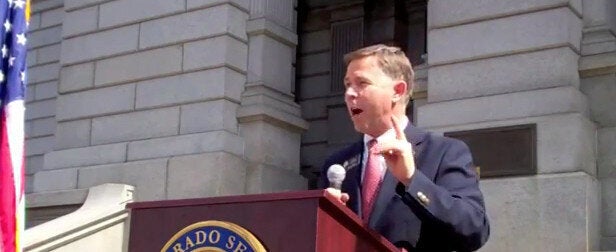 "Jared Polis is a far left-wing candidate but Kevin Lundberg is even farther out on the right," said Brett Moore, campaign manager for Boulder businessman Eric Weissmann, who lost in a neck-and-neck Republican primary last night to Christian-right state Senator Kevin Lundberg.
Lundberg defeated Weissmann by something like 2,500 votes of 40,000 cast, drawing the lion's share of his support from Larimer County residents. Lundberg lives in small-town Berthoud, in mostly rural Larimer at the east-edge of the Rockies, where Tea Party and Glenn Beck-inspired 9/12 groups have dominated grassroots politics on the right for the last three years.
Now Lundberg, who over the last decade in both chambers of the state legislature has championed social-conservative causes, often quoting from scripture to make his points, will face Boulder's openly gay Congressman Jared Polis to represent the newly diverse Second Congressional District.
University high-tech-research town Boulder has been the heart of the Second District for years, but the district was redrawn last year to include Larimer County to the north and east.
Weissmann is a tech entrepreneur who had never before run for office. On the stump, he downplayed social issues and hammered on the need to downsize government and to bring fiscal discipline to Washington.
"Eric thinks this district with its plurality of independent voters would best be represented by a candidate who is socially moderate and fiscally conservative," Moore told the Independent. "Eric doesn't think the government should be involved in making personal decisions for Americans. He is pro-civil unions [for same-sex couples]. He's for cutting the size and scope and intrusiveness of government. He thinks marriage is a topic best left to couples and their families and churches."
Lundberg unsuccessfully opposed repealing laws against adultery in Colorado last year. This year, he led the push to defeat a popular civil unions bill which would have granted gay couples and their families many of the rights and responsibilities now reserved for straight married couples and their families. Indeed, in the face of mounting bipartisan majority support among lawmakers for the bill, Lundberg pressed Republican House Speaker Frank McNulty to shuffle committee membership to kill the bill. McNulty waved off the suggestion as inappropriate.
The Tea Party groups that backed Lundberg in the primary played a large role in defeating Democratic Congresswoman Betsy Markey in 2010 to send then-Republican state Rep. Cory Gardner to Washington in her place. That was when Larimer was still part of Colorado's reliably conservative Fourth Congressional District.
State polls have shown that Republican views on social issues are shifting away from the kind of hardline Christian conservatism promoted in the state by major evangelical organizations such as Colorado Springs-based Focus on the Family. Many politics observers believe the state party has to evolve on issues like gay rights and contraception if it is to remain competitive in the long run.
The new Second District, which mixes rural-suburban Front Range with tourist mountain towns and two major universities– the University of Colorado in Boulder and Colorado State University in Fort Collins– hosts a mixed "new Colorado" constituency that Weissmann says will reject an old-school politician like Lundberg.
"Lundberg represents [parts of the district] in Denver. He has strong name recognition," said Moore, "but Eric is just more qualified to represent these constituents."
Joel Champion, Boulder County Republican Party Chair, Tuesday afternoon said the two candidates were pulling virtually equal support from different wings of the district's Republican Party.
"Weissmann is popular in the diverse [parts] of the district," he told the Independent, meaning mostly the sections where the cities of Boulder and Fort Collins dominate. "[Lundberg] is popular with the Tea Party groups in the other [rural] sections, where the bulk of the populace lives."
"They're both mountains better than Jared Polis," he said.
Polis is a web-entrepreneur multimillionaire and two-term incumbent who has made a name for himself in Washington for taking strong stances on controversial issues that include immigration, drug policy and gay rights. He is a key fundraiser for Democrats and has been appointed to a number of high-profile positions, including to seats on the influential Judiciary and Rules committees.
Support HuffPost
The Stakes Have Never Been Higher
Related
Popular in the Community