Kevin McCarthy (Calif.), the top Republican in the House, received a standing ovation from colleagues on Wednesday after he defended his bombshell comments that had been leaked to The New York Times.
Several House Republicans told HuffPost that McCarthy acquitted himself well during the Wednesday morning conference meeting. One lawmaker, speaking on condition of anonymity, said the gist of McCarthy's self-defense was that he said he would tell Trump to resign in the hypothetical context of a looming impeachment and conviction in the Senate.
McCarthy argued that the Times obscured the full context of his comments to highlight divisions within the party, according to CNN reporter Manu Raju.
One member noted that not everybody applauded McCarthy.
"Some people stood up and applauded, some didn't," Rep. Ralph Norman (R-S.C.) told HuffPost.
The Times has said the recording from McCarthy's Jan. 10, 2021, call is an hour long, but the paper has only published a few minutes' worth so far.
"Everybody wants to hear more, hear the whole story instead of the snippets," Norman said. "I think that's fair. Fair to McCarthy and fair to the whole body."
The lawmaker who wished to remain anonymous also told HuffPost that Rep. Matt Gaetz (R-Fla.) demanded an apology in the morning meeting from Rep. Steve Scalise (R-La.). Scalise, who is a member of the House GOP leadership, was quoted in the Times' reporting on McCarthy calling Gaetz's rhetoric after Jan. 6 "potentially illegal."
Another unnamed source who was in the room told Washington Post reporter Jacqueline Alemany that McCarthy is "widely supported" among Republicans and would likely become House Speaker if Republicans take control of the chamber in the 2022 midterm elections.
Initially, the Times did not publish the audio clips of McCarthy's post-Jan. 6 phone calls. The newspaper only did so after he denied the story.
McCarthy can be heard telling colleagues, including Republican Rep. Liz Cheney (R-Wyo.) that he believed a riot-related impeachment resolution would likely pass, and says he would tell Trump: "It would be my recommendation that you should resign."
McCarthy also appeared to be ready to sever ties with Trump: "I've had it with this guy," he says in the recording.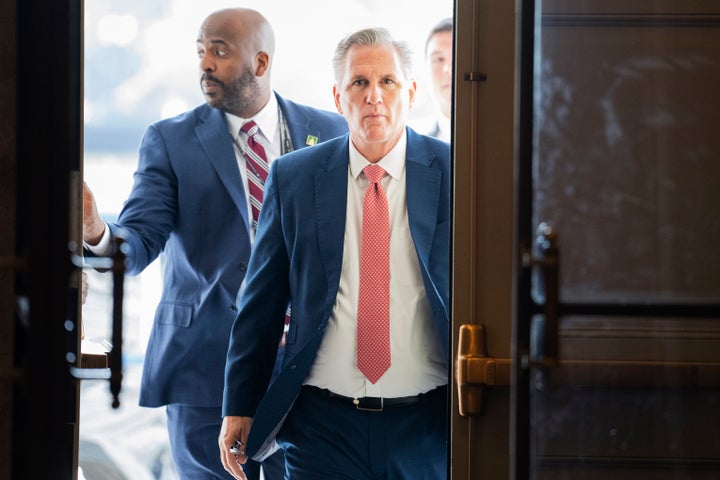 "Let me be very clear to all of you, and I have been very clear to the president: He bears responsibilities for his words and actions. No ifs, ands or buts," McCarthy said at another point.
He indicated that Trump had taken some responsibility for what his supporters did to the Capitol in private conversations, although in the year since the attack, Trump has refused to shoulder any responsibility in public.
McCarthy appears to have overcome any potential rifts with Trump over the Times' reporting; the former president told The Wall Street Journal that his relationship with the House minority leader was still "very strong."
Popular in the Community