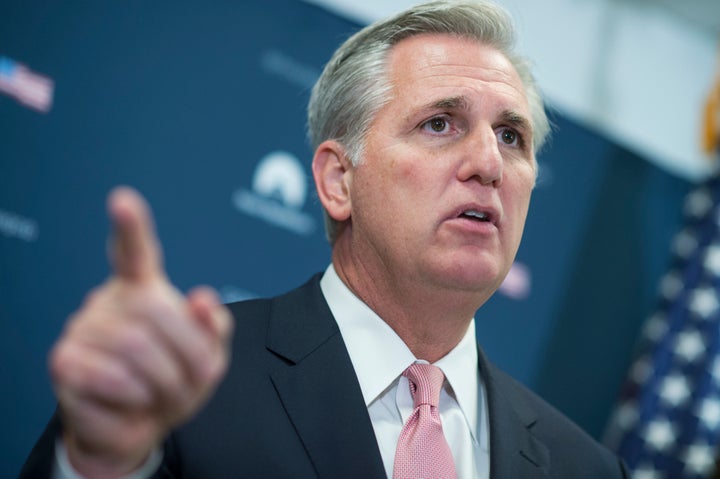 WASHINGTON ― House Majority Leader Kevin McCarthy has already begun the long Washington slog of twisting President-elect Donald Trump's agenda into something less Trump, with the California Republican insisting on Monday that Trump's border wall just meant border security and mass deportations just meant deporting undocumented immigrants with criminal records.
Asked about Trump's proposed wall during a Monday pen-and-pad with reporters, McCarthy quickly pivoted to a different subject. "If you talk about the security of the border, I think that's a common place where Republicans and Democrats can all get to," McCarthy said.
Pressed that there was clearly a difference between border security and the physical construction of a wall ― one that Mexico would supposedly pay for ― McCarthy asked, "How is securing the border different?"
He then suggested a border security bill would be a priority, and that there would be a wall along some parts of the border and other parts would be dealt with differently "from a technology standpoint."
In other words, the House majority leader does not foresee the construction of a 1,900-mile wall along the U.S.-Mexico border ― a key component of Trump's platform.
McCarthy also suggested that Trump didn't really mean what he said about another cornerstone of his campaign: mass deportations.
The majority leader pointed to Trump's "60 Minutes" interview that aired Sunday night, during which Trump said he would immediately deport immigrants with a criminal record, 2 million to 3 million people in Trump's estimation. Trump did not say he would stop there, and he has repeatedly said throughout his campaign that anyone who came to the United States illegally would have to go back. But McCarthy suggested that Trump would end deportations with those immigrants who have a criminal record.
"That's not new law," McCarthy said. "That is just one law that is in the books, but it hasn't been in effect."
The dueling realities of Trump and congressional Republicans promise to be a point of tension between the incoming president and a GOP Congress. Those different realities were also displayed during the "60 Minutes" interview when it came to Obamacare.
Trump said during the interview that a repeal of Obamacare would take place "simultaneously" with a replacement bill so that millions of Americans would not lose their health insurance.
The obvious problem with such a promise is that congressional Republicans plan to take on Obamacare through budget reconciliation, a process that would only require 50 votes in the Senate but would not allow a full repeal of the 2010 health care law. What Republicans in Congress could do is dismantle a few key parts of the law, perhaps through the elimination of state subsidies and the halting of a Medicaid expansion.
That would functionally make Obamacare unworkable and force Congress to pass something to replace the law, though Democrats could play hardball and not go along with that sort of Republican plan.
Asked about the difficulties of repealing and replacing Obamacare simultaneously, McCarthy said Republicans would be meeting to discuss how and when they deal with the health care law. "And I think we need to clarify with what he meant," McCarthy said.
"I think he meant that we're not going to have everything shut right down," he continued, suggesting that there could be a future date of an enactment of an Obamacare repeal so that Congress could come up with something.
Again, though, Republican congressional leaders are already trying to twist what Trump says into something more achievable, confronted by the reality that passing an actual replacement bill is a huge task, and immediately deporting millions of people and constructing a 1,900-mile wall aren't likely proposals either.
Popular in the Community