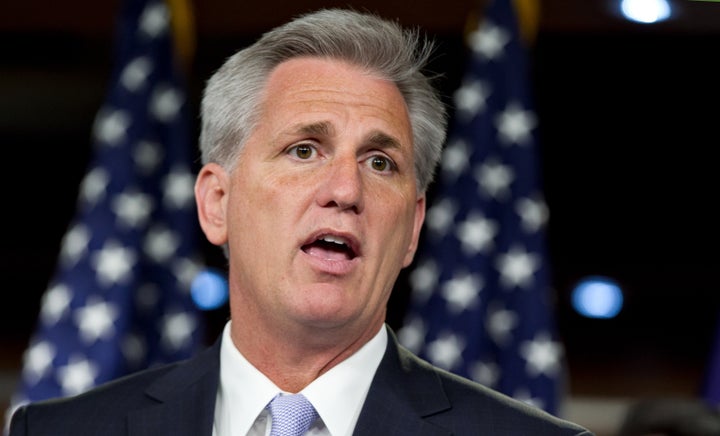 WASHINGTON -- House Majority Whip Kevin McCarthy (R-Calif.) signaled Wednesday that despite recent setbacks, House Republican leaders will keep spending taxpayer dollars to defend the Defense of Marriage Act in court.
McCarthy, House Speaker John Boehner (R-Ohio) and House Majority Leader Eric Cantor (R-Va.) have been defending the federal ban on same-sex marriage since March 2011, when Attorney General Eric Holder deemed it unconstitutional and stopped defending it. They hired outside counsel to defend the law on behalf of the House of Representatives and, so far, have spent at least $742,000 doing so. But as of Tuesday, they marked their fifth consecutive loss in federal court when a Connecticut judge threw out the law as unconstitutional.
Despite the setbacks, McCarthy said he and other House Republican leaders have a duty to uphold current law.
"What transpired for the House to be engaged, it's not the subject itself, but the idea that the government ... can decide, even though something's law, what to uphold and what not to," McCarthy said at a Christian Science Monitor breakfast with reporters.
Notably, throughout his argument, McCarthy never once defended the actual ban on marriage equality. Instead, he emphasized again the importance of upholding laws that are in place.
"The rule of law keeps America strong. When you break down the rule of law, you break down society. So the idea that the House defends what becomes law is ... very responsible," he said. There can't be a system where "somebody decides, 'Well, that's law, but I just don't like it.' It doesn't matter what the issue is. We have a court system. We have a rule of law we go through. And I think you have to go through the system."
Pressed on whether that means Republican leaders are prepared to keep getting involved in more court cases concerning DOMA, McCarthy signaled yes.
"I think there's a responsibility on behalf of Americans to defend the rule of law," he said. "We have to go through it. We have a check and balance. We have a system ... Otherwise, if that's the case, what law is really law? It goes to every other subject."
House Minority Leader Nancy Pelosi (D-Calif.) celebrated Monday's court ruling and said Republicans should take the hint that it's time to stop defending the law.
"It is time to relegate DOMA to the dustbin of history," Pelosi said in a statement. "The congressional Republicans' single-minded effort to uphold DOMA at any cost comes at great expense to the American people and rejects our nation's heritage of equality for all."
Calling all HuffPost superfans!
Sign up for membership to become a founding member and help shape HuffPost's next chapter
BEFORE YOU GO
PHOTO GALLERY
Gay Marriage In The United States