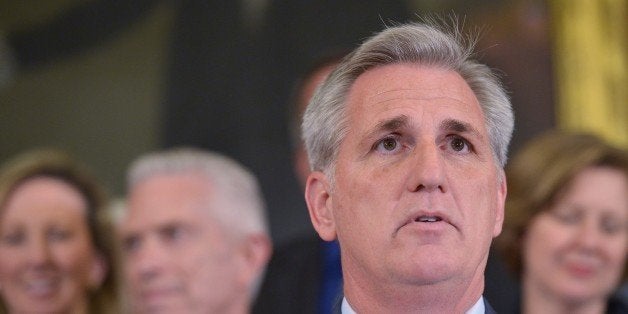 The No. 2 Republican in the House said on Sunday that the Senate should exercise the "nuclear option" and get rid of the filibuster to resolve the standoff over funding for the Department of Homeland Security.
Senate Democrats have used the filibuster to block legislation that would have funded the DHS while defunding President Barack Obama's executive actions on immigration. Even though Republicans opposed getting rid of the filibuster when Democrats controlled the Senate, House Majority Leader Kevin McCarthy (R-Calif.) said the party should do so now.
"I don't think going nuclear when you have 57 percent of the Senate voted for the Collins amendment that would take away the president's action," McCarthy said on NBC's "Meet The Press," referring to the amendment introduced by Sen. Susan Collins (R-Maine) that would not fund the president's recently announced executive actions on immigration, but would leave in place the 2012 Deferred Action for Childhood Arrivals program.
"That's not nuclear, when 57 percent of the American representation says it's wrong. That's not in the Constitution," McCarthy said. "I think they should change the rules."
Current Senate rules allow senators to stymie votes on legislation unless 60 members of the upper chamber support it. Democrats eliminated the filibuster for executive office and federal court nominations, except for the Supreme Court, in 2013. The process requiring a 60-vote threshold remains in place for votes on legislation, but House Republicans have been pleading with Senate Majority Leader Mitch McConnell (R-Ky.) to change the rules.
Despite his call to get rid of the filibuster, McCarthy has supported the practice in the past. In 2013, he said that a 13-hour filibuster by Sen. Rand Paul (R-Ky.) during the confirmation of CIA Director John Brennan was "fantastic."
BEFORE YOU GO
PHOTO GALLERY
Distinguishable Members Of Congress