WASHINGTON — Two days after barely winning his leadership post, Speaker Kevin McCarthy (R-Calif.) will preside over the House on Monday night in its first vote: passing rules that conservatives hope will make him as weak as possible.
Lawmakers are set to vote to approve the GOP's House rules package, which lays the groundwork for how the chamber will operate for the next two years. McCarthy made all kinds of concessions to members of the House Freedom Caucus in order to become speaker, and his promises are sprinkled throughout the 55-page rules package. Taken together, they reflect how fragile his speakership is before Congress even begins its work.
One of his top concessions is allowing any member of Congress to call for kicking him out as speaker. A lawmaker simply has to declare the speaker's office vacant, forcing a no-confidence vote that could cost McCarthy his job — and a single McCarthy-hater like Rep. Matt Gaetz (R-Fla.) could make a spectacle of himself in the process.
When Rep. Nancy Pelosi (D-Calif.) was the speaker, House rules only allowed for such a vote if a majority of either party agreed to it. McCarthy originally proposed to his conservative critics that the threshold be set at five members, not one. But GOP critics like Reps. Scott Perry (Pa.) and Byron Donalds (Fla.), who repeatedly opposed McCarthy as speaker in his 14 failed rounds of votes last week, demanded it only take one person. So, desperate for their support, McCarthy agreed.
Freedom Caucus members like Perry and Donalds want to make it easier to remove McCarthy in order to keep the pressure on him to follow through on his other promises to them, including giving them more seats on powerful committees and more floor votes on bills that slash federal spending.
"We will also address America's long-term challenges: the debt and the Chinese Communist Party," McCarthy vowed right after taking the gavel early Saturday morning. "Congress must speak with one voice on both of these issues."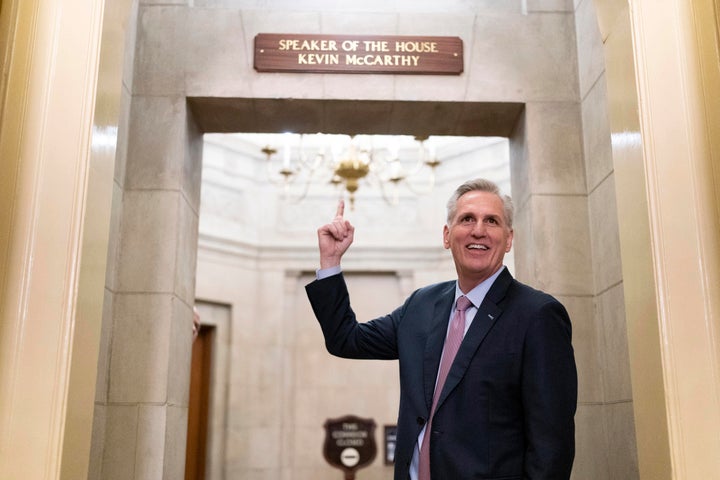 Rep. Nancy Mace (R-S.C.), a more moderate member, said Sunday that she is concerned about the concessions McCarthy may have made to lawmakers holding out against his speakership — concessions that were not included in the rules package that was made public on Friday.
"We don't have any idea what promises were made or what gentleman's handshakes were made," Mace said in a CBS News interview. "We just have no idea at this point. And it does give me quite a bit of heartburn because that's not what we ran on."
Rep. Ralph Norman (R-S.C.), who withheld his support from McCarthy through numerous rounds of votes last week, said that he and his Freedom Caucus colleagues only changed their votes to help McCarthy after he told them the House would follow a traditional budget process and "produce a budget that actually balances by cuts."
No federal program will necessarily be spared, he told HuffPost, not even Social Security retirement benefits.
"The only way you're going to get a balanced budget is [to] make cuts," Norman said. "Everybody's a fiscal conservative until it cuts a particular program that they like."
Some of McCarthy's concessions to conservatives are laid out in the House rules package, but some are part of less formal handshake agreements he has made. Here's a running list of all the concessions he's reportedly made in exchange for Freedom Caucus members helping him to become speaker.

Popular in the Community