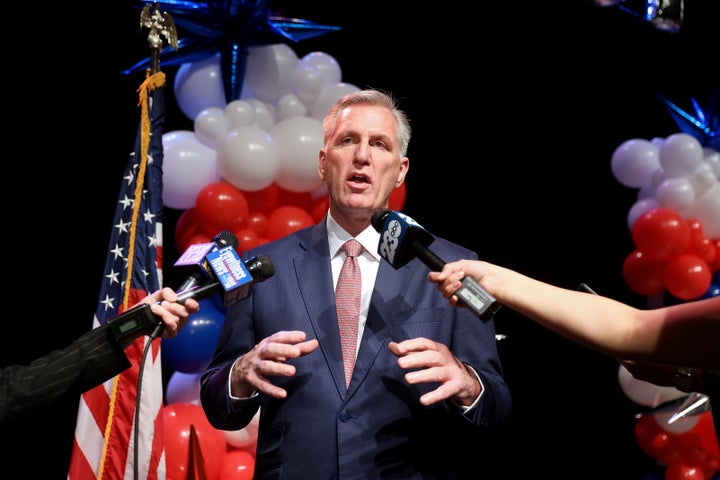 House Speaker Kevin McCarthy (R-Calif.) said this week that Republicans won't seek changes to Social Security or Medicare as part of their efforts to overhaul the federal budget.
The answer is a shift for McCarthy, who has not previously said Republicans would spare the popular retirement programs from their plans to cut spending ― though he has only spoken in vague terms, such as saying Republicans will "always protect" the programs.
HuffPost asked McCarthy's office if he intended to make such a definitive statement. We'll update this story if we get a response.
The California Republican has repeatedly likened the federal government to a teenager with a maxed-out credit card and said Republicans would impose discipline. So-called "entitlements" such as Social Security happen to represent a majority of the government's expenses.
Several other Republicans, including House Budget Committee Chair Jodey Arrington (R-Texas), have said they favored changing some aspects of Social Security and Medicare, though nobody has offered specific details. McCarthy has suggested that maybe President Joe Biden should figure out what to cut.
Former President Donald Trump said in a video last week that "under no circumstances should Republicans vote to cut a single penny from Medicare or Social Security." Trump's antipathy to entitlement reform has long been one of the biggest policy differences between himself and the Republican establishment.
In the interview that aired Thursday, the younger Trump reminded McCarthy about his dad's advice. "Like, we're crushing our own people who actually funded these things for their entire lives," he said, prompting McCarthy to cut him off and say Republicans wouldn't touch entitlements.
The Republican plan is to force Democrats to accept spending cuts by refusing to support an increase in the government's borrowing limit, threatening a potential default that could have catastrophic economic consequences.
"I'm simply saying, look, let's be responsible, let's be reasonable, let's be sensible," McCarthy said.
Popular in the Community