WASHINGTON — Kevin McCarthy (R-Calif.) became House speaker partly by empowering skeptical conservatives to force a no-confidence vote if he ever betrayed them.
Last week, McCarthy betrayed them, but so far the hard-liners haven't moved to take McCarthy's gavel away. Instead, on Tuesday a group of 10 Republicans voted against a procedural resolution setting up a series of votes on symbolic bills about gas stoves and regulations.
House Freedom Caucus member Rep. Matt Gaetz (R-Fla.) told reporters the Republicans were "frustrated" with how the House had been operating.
"We took a stand in January to end the era of the imperial speakership," Gaetz said. "We're concerned that the fundamental commitments that allowed Kevin McCarthy to assume the speakership had been violated as a consequence of the debt limit deal."
It's not clear if the group will continue to vote against its own agenda in order to fight McCarthy. The lawmakers also complained that the speaker had allegedly refused to hold a vote on a resolution relating to pistol braces.
Earlier on Tuesday, Freedom Caucus chair Rep. Scott Perry (R-Pa.) said that the group hasn't settled on a course of action.
"The Freedom Caucus is assessing the circumstances right now and trying to determine how we can improve our position," Perry told HuffPost. "We understand, generally speaking, what our adversary is, and we're working towards defeating our adversary, which is leftist, liberal destructive, weaponized policies — whether they come from the Republican Party or the Democrat."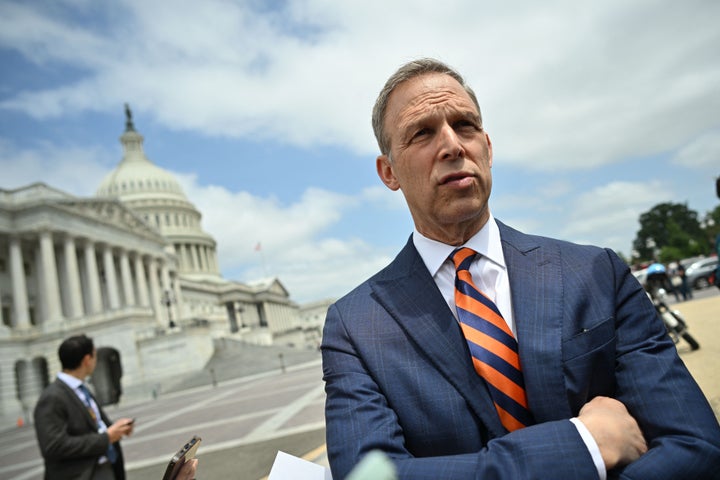 The Freedom Caucus backed McCarthy's approach to the Biden administration — a refusal to allow the federal government to borrow money to fund operations unless Democrats agreed to spending cuts and stricter "work requirements" in federal assistance programs.
But many members of the group recoiled at the deal McCarthy reached, which suspended the debt ceiling for longer than they wanted, cut federal spending by less than they wanted, and tightened safety net eligibility for some groups while loosening it for others. Echoing the sentiment of many conservatives, Rep. Chip Roy (R-Texas) last week called the bill a "turd sandwich," and said it was a "betrayal."
In January, McCarthy shored up his support among conservatives by agreeing to change House rules so that a single lawmaker can file a "motion to vacate the chair" and force a snap referendum on the speakership. Previously, such a motion required support from a majority of the party to trigger a vote. Roy also claimed McCarthy promised not to pass legislation with more Democratic than Republican votes, as was the case with the "Fiscal Responsibility Act."
A handful of Freedom Caucus members suggested last week that they favored filing a vacate motion, but none have done so. That's partly because there is no clear alternative to McCarthy — meaning the referendum could cause chaos to no obvious end. And several high-profile conservatives, such as Rep. Jim Jordan (R-Ohio), backed the bill in the first place, bolstering McCarthy.
Asked if a motion to vacate was off the table, Perry said only that "it's in the rules for a reason." When he was asked about the vacate motion last week, Perry said that he was focused on trying to defeat the debt ceiling bill and that whatever happens next, "We will decide once we've determined the disposition of this bill in its finality." President Biden signed the bill into law on Saturday.
Rep. Ralph Norman (R-S.C.), a Freedom Caucus member who only reluctantly backed McCarthy in January, and who called the debt ceiling deal "idiotic," suggested Tuesday that a reckoning could still come for McCarthy — but that it wouldn't be "fair" to file a motion to vacate now.
"It was a shock," Norman said of McCarthy shepherding the debt ceiling bill through the House with Democratic votes. "But this is a marathon, not a sprint."
McCarthy's allies claimed the media has continuously misjudged the speaker and his standing within the Republican conference.
"You underestimated us since the beginning of this Congress," Rep. Elise Stefanik (R-N.Y.), a member of McCarthy's leadership team, said. "We keep winning."
Popular in the Community