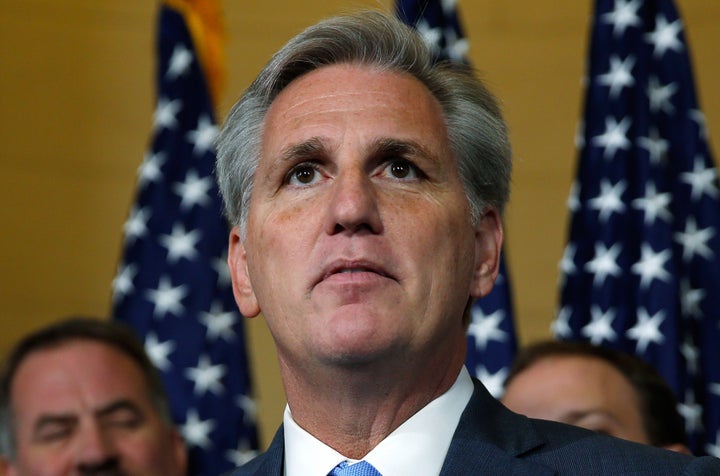 During an off-camera sit-down with Capitol Hill reporters, McCarthy argued that Trump "has a right" to name anybody to his inner circle of advisers. He said he didn't want to "pre-judge" Bannon, suggesting the Breitbart executive may not be responsible for the website's racist and misogynistic content, and said other Republicans have told him Bannon is different in person than how he's been cast in the media.
McCarthy also suggested that critics are demonizing Bannon just to scare people: "I know people are trying to create this fear and everything else."
Here's a transcript of reporters repeatedly asking McCarthy how he can defend Bannon, and McCarthy getting testy as the questions keep coming. This has been edited slightly for brevity.
He had a radio show on Sirius XM where he regularly entertained guests like Frank Gaffney and Pamela Geller, where they regularly trafficked in Islamophobic conspiracy theories, including one that said Huma Abedin was a Saudi agent. And his wife testified under oath in 2007 that Steve Bannon did not want his daughter going to a particular school because they were "too many Jews there." How can this appointment possibly be appropriate for American people watching this White House, and how can it be appropriate for you?
Rep. Kevin McCarthy: Well, the president-elect always gets to pick his team going forward. Steve Bannon and Reince Priebus worked very closely together in this campaign. One thing, when you go through a campaign, especially the campaign we saw on both sides, it's a difficult campaign, but you forge strong relationships. The president has a right to select who he thinks is best to be able to move through. I don't know Steve. I did talk to Steve yesterday. I talked to the president-elect again yesterday, I talked to Reince... The president-elect has to be able to select his best team. There will be a lot of different appointments to go through. What do they say, how many slots does a president have to fill? Is it more than 4,000? There's a lot of people to go through. So...
TZ: Hang on, I'm sorry. This is important. Jewish groups ―
KM: Are you saying that other people aren't important?
TZ: They are. I'm going to try one more if I can.
KM: Well I answered your question.
TZ: I've been here for 20 years, so I'm going to try one more if I can ―
KM: I haven't been here 20 years, and I'm the majority leader. So I'm going to go ahead ―
Another reporter: Do you feel like ―
TZ: Jewish groups, Muslim groups, have all criticized this ―
KM: Come on, we're moving on.
Chad Pergram, Fox News: Do you feel, though, that Republicans are willing to cede moral ground when it comes to the some of things that Donald Trump has said, just because you get the opportunity to pass tax reform, just because you get the opportunity to do Obamacare repeal, some of those issues? Do you feel by associating with people like Bannon or Trump, and some of the things he said, that you cede that moral ground just for the policy outcome?
KM: Listen. We're less than one week since this election. We're just now coming back into session. The president-elect is putting together his team to go out there. That's the right that he has to do... Our job here is to get this economy moving again and find the abilities that we can work and get the country moving.
CP: But that sounds like you are ceding that moral ground.
KM: For one thing, don't put words in my mouth. I answered your question. The president has the right to select his team, just as I do in my office.
Jennifer Bendery, The Huffington Post: Are you comfortable, personally, with the idea of someone like Steve Bannon having Donald Trump's ear?
KM: I do not know Steve Bannon and I take Reince Priebus, who I know very well ― his comments to me, based upon what I read there, what people have said, that's not the Steve Bannon that he knows. Reince has said this to me prior to their appointment, within their, in conversations in the campaign in others. I've always believed in giving somebody a chance, from that perspective as well. I don't like to prejudge people from others. Are we going to judge everything ― I don't know, I don't have a history of, did he say it or are we putting everything that was on Breitbart under him, so we put everything that's in your papers under you? I just don't know enough there from that standpoint. But everybody that I know that worked with him on the campaign says it's different than who he is ―
TZ: Your colleague got shot in the face and he called her a human shield.
John Bresnahan, Politico: You don't want to talk about Bannon, but there's millions of people out there who see an appointment of somebody like Bannon... that they are now in danger, that their citizenship, their status as American citizens is seen as "less than." They're worried about white nationalism, they're worried about the alt-right movement. How do you assure them that Republicans in Congress will protect them from the worst abuses of this movement? They're scared of their own future in this country.
KM [after talking at length about the meaning of a painting of George Washington crossing the Delaware River in 1776]: I know people are trying to create this fear and everything else. Elections is a contest and it gets heated moments. We do not have king or queens... I do not believe the Republican Party, from the basis of what we were created and where we stand for, and the premise of your question, is going to have that fear. And so, I do not know Steve. I do not know what he has said. If he has said that about Gabby Giffords, nowhere would I ever agree with those words. Nowhere would I ever stand behind those words. But Donald Trump has the ability to select who he thinks can move forward. The one thing I will say ― in this job, too long we want to tear people down. I've seen things said about me that I fundamentally know are not true, but it's on the Internet so it must be true. I'm tired of that. I don't care if you're a Republican or Democrat, I want to give people the benefit of the doubt.
Deirdre Walsh, CNN: But Mr. McCarthy, just like that painting symbolizes something to you, the appointment of Steve Bannon symbolizes something to people who didn't vote for Trump. By you being OK with it and moving forward like he's just a co-equal adviser like Reince Priebus ―
KM: Reince is the chief of staff, there's a difference.
DW: No, the announcement came out as co-equal advisers of the president-elect. That's what it said. So that's what he represents and that's a symbol, just like your painting is a symbol. So what do you say to people who are really worried about this person being steps from the Oval Office?
KM: Don't prejudge the new president. Give him an opportunity to govern. If there's something that he proposes that you disagree with, fight it. But why do you prejudge him when the election was less than a week away?
DW: You've never met the guy. What was his message to you?
KM: It was a short one. We're trying to get acquainted.
Support HuffPost
The Stakes Have Never Been Higher
Before You Go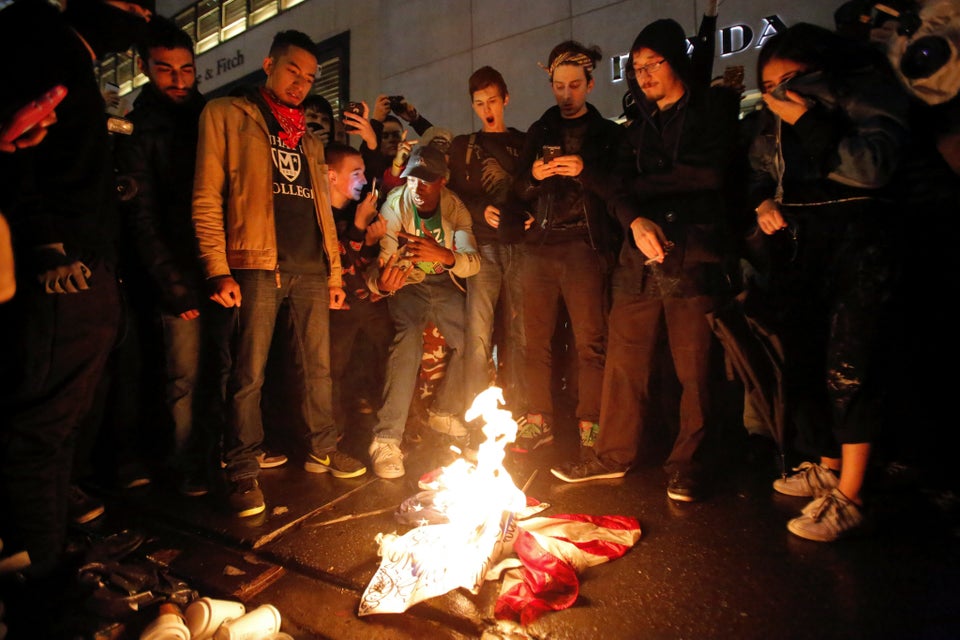 Donald Trump Win Sparks Protests Nationwide
Popular in the Community