The House of Representatives voted Tuesday to remove House Speaker Kevin McCarthy (R-Calif.) from his leadership post, a historic move that cues up further chaos in the GOP caucus.
See previous updates below: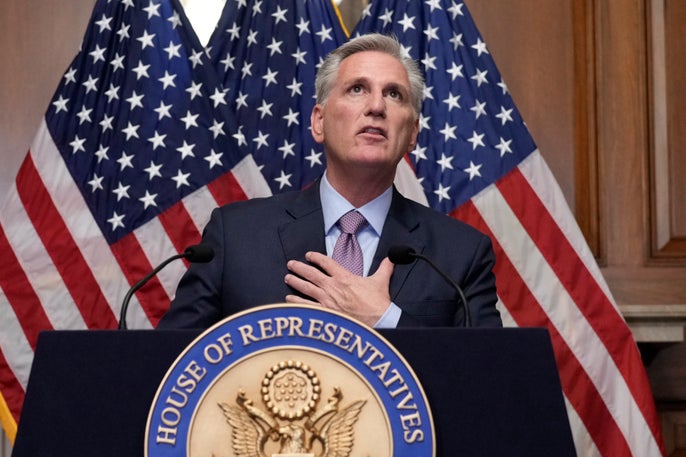 J. Scott Applewhite/Associated Press
5 Things To Know
1. McCarthy is no longer speaker of the House after eight far-right Republicans joined all Democrats to
strip him of his gavel
. It's the first time the House has voted its speaker out in the chamber's history.
2. The effort was
spearheaded by Rep. Matt Gaetz
(R-Fla.), a member of the far-right House Freedom Caucus, who had long threatened to file a resolution to oust McCarthy.
3. McCarthy said shortly after the vote that
he would not run for speaker again
, saying he didn't regret his tenure "choosing governing over grievance."
4. The former speaker blasted Gaetz and the Republicans who voted against him on Wednesday night, saying the Florida congressman didn't deserve to be called a conservative as he was "angry and chaotic."
5. It's anyone guess who could be the next speaker. Here are
six major contenders
, although all are largely the same ideologically and all but one are white men.
That's All For Now!
Let the jockeying begin.
Trump As Speaker? At Least One GOPer Has Said It.
At least one Republican lawmaker has thrown his support behind a new speaker: former President Donald Trump.
Rep. Troy Nehls (R-Texas) said he wanted to nominate Trump to fill the role, despite his many indictments.
It would appear doing so, however,
would violate House Republican Conference rules
, which bar anyone indicted for a felony with a possible sentence of more than two years to serve as speaker.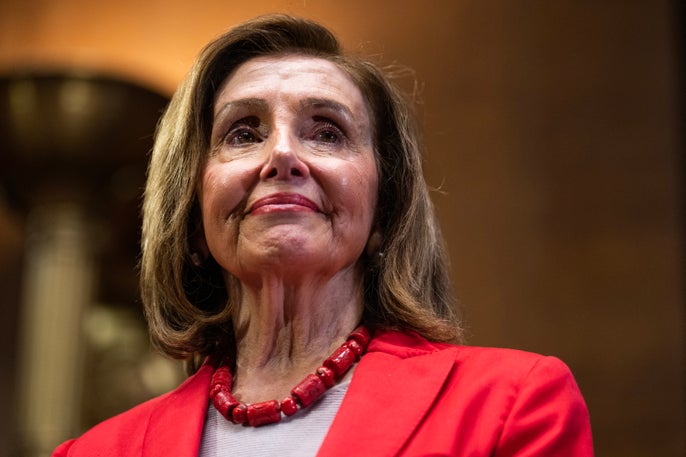 Acting Speaker McHenry Orders Grieving Pelosi To Vacate Hideaway Office
Acting Speaker Patrick McHenry (R-N.C.) ordered former House Speaker Nancy Pelosi (D-Calif.) to vacate her Capitol hideaway office by Wednesday, according to an email
obtained by Politico
.
McHenry's demand comes as Pelosi grieves the loss of her friend, Sen. Dianne Feinstein. She missed today's vote because she's in San Francisco attending the late California senator's memorial services.
"Please vacate the space tomorrow, the room will be re-keyed," an aide said in the email, explaining that the room was being reassigned "for speaker office use."
Hideaways are personal, unmarked offices in the Capitol. They're common among Senators but reserved for only the most senior members of the House.
Pelosi slammed McHenry's decision, saying in a statement that it's tradition to allow the former speaker a hideaway office and that she gave former GOP Speaker Dennis Hastert "a significantly larger suite of offices for as long as he wished" while she ran the house.
According to Politico, Pelosi responded to the email: "Sadly, because I am in California to mourn the loss of and pay tribute to my dear friend Dianne Feinstein, I am unable to retrieve my belongings at this time."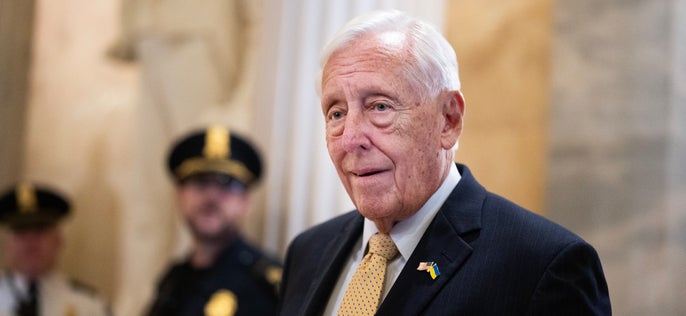 Hoyer: 'A Sad Day' For The House
Rep. Steny Hoyer (D-Md.), who served in the House Democratic leadership until earlier this year, called Tuesday "a sad day for the House of Representatives."
"As someone who has always had the utmost concern for preserving the integrity of this institution, I regret the circumstances in which the House found itself today," Hoyer said in a
statement
released Tuesday evening. "This day was, in part, a result of Republicans trying to accommodate a small, willful group of extreme MAGA Republican members, who will not be satisfied with any compromise that can be enacted in the political context that currently exists."
He said he hopes his caucus can work with the next speaker.
"There is a rational, bipartisan majority in the House to ensure that our country moves forward in a positive way," he said. "We should seek that path."
McCarthy Scorches Gaetz
McCarthy lambasted Gaetz in his press conference, saying his actions were all "personal" and retribution for
the ethics investigation
Gaetz is currently facing in the House.
"It had nothing to do about spending," McCarthy said of Gaetz's actions."Everything he accused somebody of he was doing. It was all about getting attention from [the press]. I mean, we're getting email fundraisers from him as he's doing it. 'Join in quickly.' That's not governing. That's not becoming of a member of Congress. And regardless of what you think, I've seen the texts. It was all about his ethics."
Later, he said he had "not heard [Gaetz] say one thing that is true."
He also went after the other seven Republicans who voted to oust him, saying they are "not conservatives."
"A lot of them I helped get elected, so I probably should have picked someone else," he joked.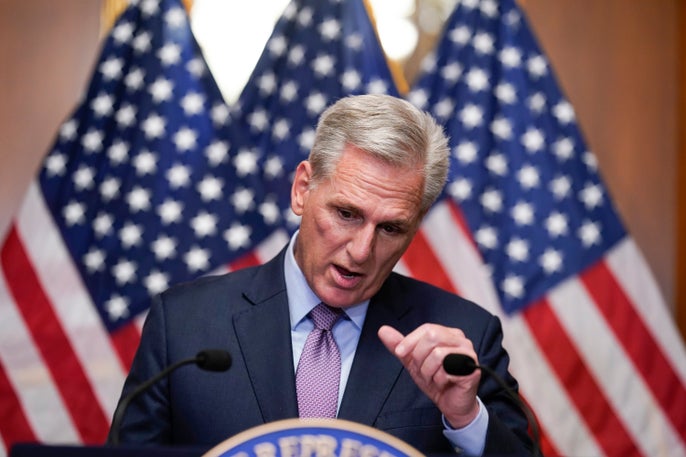 McCarthy Announces His Decision Not To Run
In a Capitol Hill press conference Tuesday evening, McCarthy officially announced he does not plan to run for speaker when House members vote on their new leader.

"I will not run for speaker again," he said. "I'll have the conference pick somebody else."

Earlier in his remarks, McCarthy said he didn't regret the way he approached his role.

"I don't regret negotiating. Our government is built on compromise," he said. "I was raised to solve problems, not create them."
Steve Scalise Floated As McCarthy Replacement
House Majority Leader Steve Scalise of Louisiana would "make a great speaker," GOP whip Tom Emmer of Minnesota, who has also been
floated
as a McCarthy replacement,
told
reporters.
Scalise, who's currently
undergoing chemotherapy
for blood cancer, told reporters that he has a good relationship with Emmer but hasn't "made any formal announcement."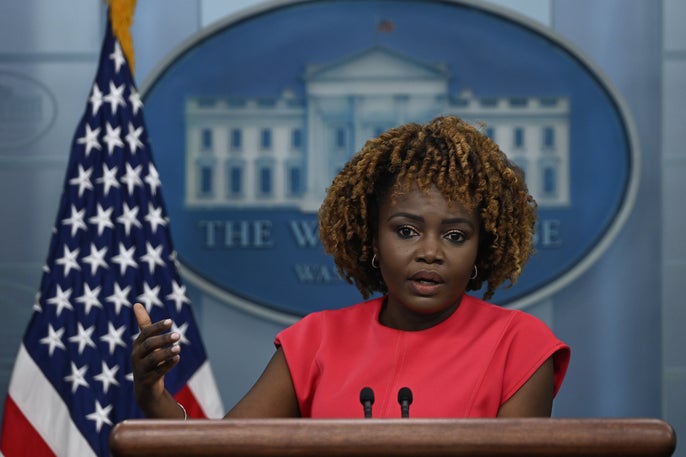 Anadolu Agency via Getty Images
White House Hopes For Quick Election
The White House said President Joe Biden remained "eager to work with both parties in Congress in good faith," calling for a quick election to find a new speaker.

"The American people deserve leadership that puts the issues affecting their lives front and center," White House press secretary Karine Jean-Pierre said in a statement. "Once the House has met their responsibility to elect a Speaker, he looks forward to working together with them and with the Senate to address the American peoples' priorities."
Rep. Hakeem Jeffries Hopes Republicans Will 'Walk Away' From MAGA Extremism
House Minority Leader Hakeem Jeffries (D-N.Y.) called the ouster a "solemn moment for the country and for the House" on Tuesday night.

"The Constitution gifted us a government of the people, by the people and for the people," he said in a statement. "House Democrats will continue to put people over politics and work together in a bipartisan way to make life better for everyday Americans."

Jeffries went on to express hope that "traditional Republicans" would stop flirting with "MAGA extremism."
Matt Gaetz: 'The Fight Is Not Over'
Gaetz said shortly after his victory the fight was "not over," adding the House must now elect a new speaker — likely one who will be more amendable to the demands of his far-right faction.
What's Next? We'll See.
House Republicans are
reportedly conferencing
this evening at 6:30 p.m. ET. It's unclear when a vote to select a new speaker will take place, or who will decide to throw their hat in the ring for that post. In fact, this could all end with McCarthy being voted speaker again.
As HuffPost's Arthur Delaney and Jonathan Nicholson
report:
"With McCarthy's ouster, the House enters uncharted territory. The mechanism used by Gaetz to engineer McCarthy's fall has never successfully been used before, and has only been in existence since the early 1900s.
The House will have to hold another series of votes to determine a new speaker, and there is nothing to prevent McCarthy from running again if he wants to."
Senate Republican Blasts 'Terrorist Attacks' Against McCarthy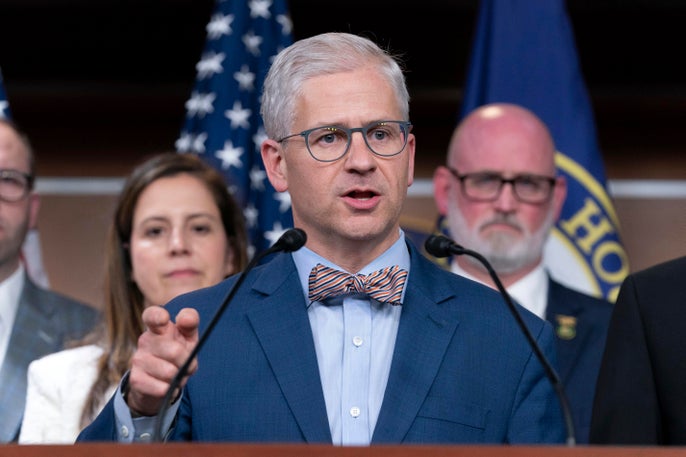 We Have A Temporary Speaker
Rep. Patrick McHenry (R-N.C.), a McCarthy ally, will serve as speaker pro tempore. He will serve in that role until a new speaker is elected.
DeSantis: 'I Opposed McCarthy When It Wasn't Cool'
Florida Gov. Ron DeSantis, a former congressman and founding member of the hard-right House Freedom Caucus, appeared to be the first GOP presidential candidate to voice support for ousting McCarthy on Tuesday, prior to the vote to remove him.
"I opposed McCarthy when it wasn't cool years ago, and he's really somebody that Donald Trump has backed and put into that position. I think they've not delivered results...The contrast between Florida delivering results and what you have in Washington is typically failure theater,"
DeSantis said in a clip Tuesday afternoon
, using the situation to knock Trump, the front-runner for the GOP nomination.
The rest of the field was silent in the immediate aftermath of the vote. Trump hasn't posted about it since Monday, when he criticized the House dysfunction: "Why is it that Republicans are always fighting among themselves, why aren't they fighting the Radical Left Democrats who are destroying our Country?" he wrote on Truth Social.
BREAKING: McCarthy Ousted
The House has officially voted 216 to 210 to oust McCarthy as speaker. Eight Republicans supported Gaetz's efforts.
8th Republican Votes In Favor Of Removing McCarthy
Rep. Matt Rosendale (R-Mont.) is the eighth Republican to vote in favor of the motion to vacate.
Another Republican Votes Against McCarthy
Rep. Nancy Mace (R-S.C.) is the seventh Republican to vote yes on the motion to vacate, making it that much more likely McCarthy will be ousted.
The Republicans Who've Voted To Oust Kevin McCarthy So Far
Six Republicans have voted in favor of removing McCarthy from his leadership position so far: Reps. Matt Gaetz of Florida, Andy Biggs and Eli Crane of Arizona, Ken Buck of Colorado, Tim Burchett of Tennessee and Bob Good of Virginia.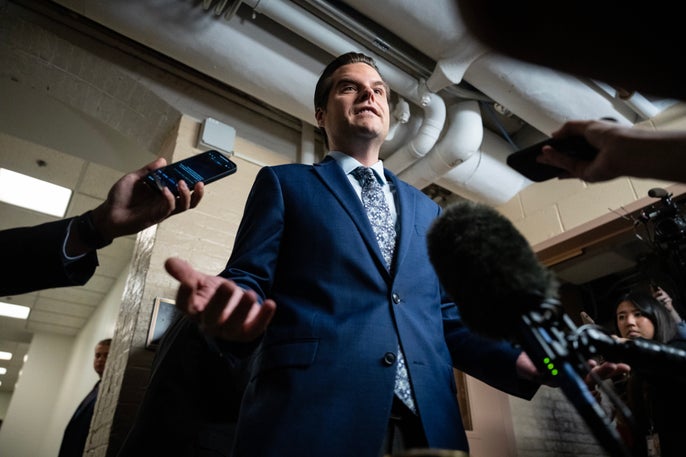 Gaetz Calls Out McCarthy Allies For Blocking Mics
Shortly before the vote kicked off, Gaetz called out McCarthy's allies in the GOP for blocking microphones on their side of the chamber, forcing him to speak alongside the Democrats.

"I tried to get one of the three podiums on the Republican side, and y'all wouldn't let me have one, so you sent me over here," Gaetz said. "But you know what, I'll make this argument at any desk in this building."
Vote On Motion To Vacate Underway
The House is now voting on the motion to vacate. If it succeeds, McCarthy will be removed as speaker. The vote is being taken by roll call, so it will take a while.
Biden Campaign Uses Gaetz's Words To Mock GOP
President Joe Biden's campaign is enjoying the debate on the House floor over McCarthy's future, especially Gaetz's blistering critiques of the Republican majority.
The campaign shared a clip of Gaetz's speech criticizing his fellow Republicans and their investigations into Biden on social media. Gaetz was responding to Rep. Jim Jordan (R-Ohio), who insisted Republicans' oversight efforts proved McCarthy was an effective speaker. Republicans have launched an impeachment inquiry into Biden
based on scant evidence
.
"It's hard to make the argument that oversight is the reason to continue when it sort of looks like failure theater," Gaetz says in the clip.
More Details From The House Floor
The House is doing something it almost never does: having an actual debate where the outcome is in at least some degree of doubt.

Following the 208-218 vote that defeated a measure to derail the ouster attempt against McCarthy, the House floor is crowded with probably 80% of the chairs filled by members. Aside from big joint session speeches and votes, this is a rare thing. Even more rare, the House members are listening.

Of course, none of that has meant a reduction in the vitriol of floor speeches. But instead of alternating between Democrats and Republicans, they have, so far, exclusively featured members of the GOP.

Rep. Bob Good (R-Va.) accused McCarthy of giving in to Democrats too easily, citing the debt limit deal earlier in the summer and this past weekend's stopgap funding bill.

"If you're not willing to say 'no,' then you're going to lose," Good said. "If not right now, then when do we fight?"

Rep. Tom Cole (R-Okla.) said most of the House Republicans want to keep McCarthy, aside from the 11 that voted with Democrats to keep the ouster resolution alive.

"The overwhelming majority of my party supports the speaker we elected," he said.

Cole also had a warning for Democrats: "Think long and hard" before inserting themselves into a GOP intraparty dispute.

He also said the anti-McCarthy dissidents had been causing chaos for a while now "for reasons only they understand."

Gaetz, the author of the ouster resolution, shot back, "Chaos is Speaker McCarthy."
Here Are The Republicans Who Voted Against Tabling McCarthy Vote
McCarthy and his allies failed to block a vote on a resolution put forward by Gaetz to kick him out of his speakership.

Eleven Republicans sided with all Democrats in voting "no" on tabling, or blocking, Gaetz's measure. The final vote was 208-218, with seven members absent.

Those 11 Republicans are Reps. Ken Buck (Colo.), Eli Crane (Ariz.), Warren Davidson (Ohio), Victoria Spartz (Ind.), Andy Biggs (Ariz.), Matt Rosendale (Mont.), Bob Good (Va.), Nancy Mace (S.C.), Tim Burchett (Tenn.), Cory Mills (Fla.) and Gaetz.

Rep. Dan Crenshaw (R-Texas) told reporters after the vote that there were a couple of GOP members in that group who were surprises.

"I think those members aren't really necessarily going to vote to vacate," said Crenshaw, referring to following through with a vote to remove McCarthy. "I think they're now on a path to maybe go ask for things from the speaker to gain their vote."

The House is now moving forward with a debate and vote on the resolution itself.
Gaetz Takes The Floor
Gaetz took the House floor to defend his efforts to oust McCarthy, arguing that his motion is needed to reform the chamber.

"Chaos is Speaker McCarthy," Gaetz said. "Chaos is someone we cannot trust with their word."

"I don't think voting against McCarthy is chaos," he continued. "I think $33 trillion in debt is chaos."
Debate Begins With Attack From Republican Congressman
Rep. Bob Good, a Republican from Virginia who was among the 11 Republicans that voted against the motion to table, is the first to speak in the debate period.

"I deeply regret that we are here in what was a totally avoidable situation," Good said, accusing McCarthy of not doing enough to block Democratic legislative priorities.

He also went after McCarthy's political ambitions.

"We need a speaker, ideally someone who doesn't want to be speaker," he said.
Debate Opens On McCarthy's Future
The House will now debate on the motion to remove McCarthy as speaker. Each side gets 30 minutes of debate, totaling one hour.

The vote is expected to proceed after the debate period.
UPDATE: Motion To Table Fails
The motion to table the vote on McCarthy's ouster has officially failed by a vote of 208-218. The House will now vote on whether McCarthy will remain speaker.
Motion To Table Appears Doomed
Eleven Republicans have now voted against the motion to table.

With a current vote tally of 208-218, it appears the motion is going to fail, setting up a vote on McCarthy's ouster. We'll update shortly with the final tally.
Vote Update
So far, 10 House Republicans have voted against the motion to table. That's not great news for McCarthy.

No Democrats have voted in favor of tabling the vote on McCarthy's ouster.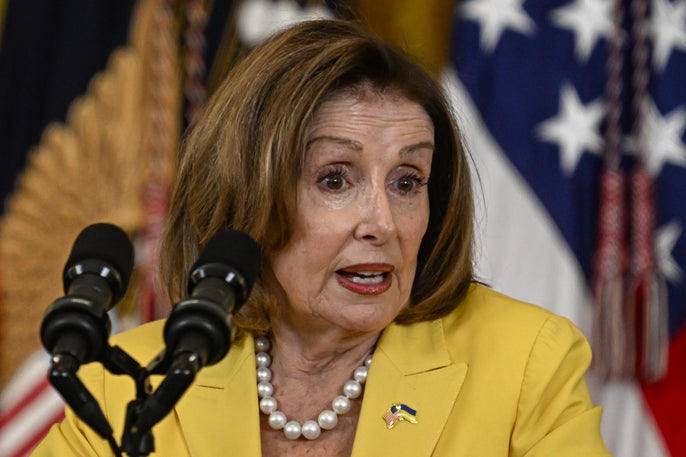 Why Nancy Pelosi Won't Be There
Former House Speaker Nancy Pelosi won't participate in the vote on McCarthy's position, as she's mourning the death of Sen. Dianne Feinstein.

"Sadly, Speaker Pelosi is grieving the loss of her dear friend Dianne Feinstein and will remain in San Francisco for the next few days to participate in official memorials and pay tribute to Senator Feinstein's towering legacy," Pelosi spokesperson Aaron Bennett said in a statement.

"She is very saddened not to be there for this historic vote," he continued.
Dems' Stall Tactics
Democrats took their time voting ahead of the McCarthy motion in order to give absent members more time to make it to the Capitol, but it wasn't obvious that a deciding vote was missing.

"I think we want to make sure every one of our colleagues has a chance to catch this very important vote," Rep. Jared Huffman (D-Calif.) told HuffPost.
Votes Are Beginning Now
The House is now voting on whether to table Gaetz's motion to oust McCarthy.
Trump Interjects
Taking a break from his own ongoing business fraud trial, former President Donald Trump hopped on social media to muse about the state of the Republican Party and pretend to play peacemaker.

"Why is it that Republicans are always fighting among themselves, why aren't they fighting the Radical Left Democrats who are destroying our Country?" the 2024 hopeful wrote on Truth Social.
What's Kevin McCarthy's End Game?
McCarthy is dangerously close to being kicked out of his leadership role. If he does, what happens next?
The short answer is, who knows! There isn't an obvious replacement, and there is nobody who currently has more support in the GOP conference than the California Republican.
One way forward is coming into focus: some Republicans are
reportedly vowing to renominate McCarthy
and then prevent the House from adjourning until he gets reinstalled.
It's reminiscent of McCarthy's approach to becoming the speaker at all. In January, he endured
14 failed votes and days of humiliation
before finally getting the votes to become his party's leader. It's looking like he may be ready to basically wear everybody down to the point of giving in and electing him to the post, again.
"You're asking why I'm confident," McCarthy told reporters earlier Tuesday. "Because who I am. And I just don't give up."
Biden Administration Says The GOP Chaos Hasn't Gone Unnoticed Overseas
White House National Security Council spokesman John Kirby said the failure of Congress to include additional help for Ukraine in the weekend stopgap spending bill as well as the chaos in the House were being noticed overseas.

"We know that the world is watching," Kirby said, adding that, despite the current leadership issues, most of the GOP caucus remains supportive of Ukraine. "There is a small minority of very vocal members…but they don't represent their party on that, they don't represent their leadership."
Frequent McCarthy Foe Says Now's Not The Time
HuffPost's Arthur Delaney reports that Rep. Ralph Norman (R-S.C.), who is frequently at odds with the House Speaker, will not be voting to oust him at this time:
Rep. Matt Rosendale Will Vote To Oust McCarthy
Rep. Matt Rosendale (R-Mont.) announced Tuesday he will support an effort to oust House Speaker Kevin McCarthy, becoming the sixth House Republican who has pledged to do so.
"Unfortunately, Kevin McCarthy violated his promise to the American people and the Republican Conference by working against them repeatedly and supporting ploys to aid the Left. This demonstration of failed leadership is exactly why I plan on supporting the motion to vacate this afternoon," the conservative GOP member
wrote on X, the social media platform formerly known as Twitter.
McCarthy can afford to lose only four GOP votes if every member of the House is present for the vote on Tuesday afternoon. Any Democratic absences, however, could make his path to remaining speaker easier.
Here's What To Expect Today
This afternoon's vote may be — and more important, may not be — the end of the matter about who wields the House speaker's gavel.

Think of it as a pro sports play-in game: to get to the formal ouster resolution and vote on that, proponents have to survive attempts to derail it.

That is what the first vote on Gaetz's resolution will be, a move by McCarthy supporters to keep it from actually coming to the floor where members would then be forced to vote thumbs-up or thumbs-down on the California Republican's future. Formally, the vote would be a "motion to table," basically to set the resolution aside indefinitely.

For McCarthy supporters, they'll be voting yes, while his opponents would be voting no. If the noes win, the next big vote would be on the ouster resolution itself. It is not clear exactly when that would be, though.

If McCarthy wins the tabling vote, that is, if the tabling motion is successful, it's game over for Gaetz, at least for now. He can and has threatened to bring additional ouster resolutions, but likely at the cost of further annoying his party colleagues.

If McCarthy loses the tabling vote, the resolution would be the next order of business and debate would start on that. In theory, McCarthy could lose the tabling vote but still win the vote on formally kicking him from the speaker's chair — but it would be unlikely, especially if the tabling motion loses by a big margin. He could try to find more votes while the debate on the resolution is ongoing, but again, that would be difficult.

But here's the weird thing: losing today does not mean McCarthy won't be back as speaker. There would be eventually another round of votes over who would be the next speaker, as in January, and McCarthy could run again for the post if he wanted.

McCarthy's strength has always been that there is no clear successor to him who would be palatable to all the wings of the House GOP. While it was a consensus move for then-Rep. Paul Ryan to succeed Speaker John Boehner when the latter stepped down under similar circumstances in 2015, there's no similar obvious protégé now.

Rep. Tom Cole (R-Okla.), chairman of the Rules Committee and veteran of intraparty House GOP politics, said last week he thought the same thing that netted McCarthy the gavel — his relentlessness — would mean he would keep it.

"Yeah, he'd be removed," Cole said. "We'd recess, we'd go down [to the Capitol's basement meeting room], we'd renominate [McCarthy], we'd come back up."

"As he said himself at conference, 'I've done 15 rounds. I can do 50. It's up to you guys.' I believe that," Cole said.
Democrats Officially Not Helping Out McCarthy
House Minority Leader Hakeem Jeffries (N.Y.) has confirmed that Democrats won't give McCarthy the essential votes he needs to keep his leadership position, reflecting what other Democrats had indicated earlier.

"Given their unwillingness to break from MAGA extremism in an authentic and comprehensive manner, House Democratic leadership will vote yes on the pending Republican Motion to Vacate the Chair," Jeffries said.

Republicans have "shown no willingness" to "find common ground on an enlightened path forward," unlike Democrats have, he said.

Jeffries informed members of his caucus on the plans during a closed-door meeting, The New York Times reported.
Rep. Summer Lee Explains Why She's A 'No.'
Rep. Summer Lee (D-Penn.) confirms she won't be voting to save McCarthy, referencing his unsavory past political behavior in a press release.

"McCarthy voted to sell out our democracy to a mob of armed white supremacists to become Speaker. He then sold his Speakership to help MAGA extremists criminalize abortion, cut Social Security and Medicare, ban Black history, gut workers' rights and voting rights, and sell out our children's safety to the gun lobby and corporate polluters. If we didn't stop him, he would have sold out the entire country to keep his little gig as Speaker of the chaos caucus.

"Why would I – or any Democrat — vote for a Republican speaker who supports Donald Trump and white supremacists? It's a NO from me."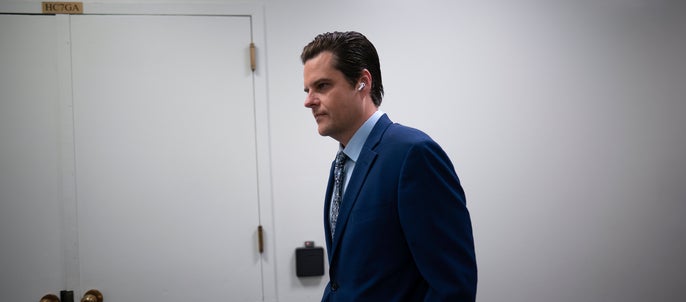 What's Happening On Capitol Hill
The scene in the House chamber ahead of potentially the first-ever successful vote to oust a House speaker: routine but not really.

A handful of lawmakers and staffers — around 20 — are on the House floor for the debate on whether to allow two funding bills to be considered today. (Democrats oppose this happening, while Republicans favor, as they mostly wrote the bills.)

But Rep. Matt Gaetz (R-Fla.), the GOP firebrand at the center of today's vote on whether to retain Rep. Kevin McCarthy (R-Calif.) as speaker, has been in and out of the chamber, sitting alone near the center aisle of the chamber. That's the one where lawmakers stake out seats to be able to shake hands with the president on State of the Union speech days.

The other man at the center of today's drama, McCarthy, was in the chamber briefly as well, to oversee the ceremonial trappings that accompany each day's opening — the daily prayer and the pledge of allegiance. McCarthy has shown himself to enjoy these small, fun perks of being speaker more than many of his predecessors.

But the biggest difference is in the House press gallery, located above the speaker's rostrum. About 40 or so reporters have claimed seats to be able to watch the floor directly, most sitting with laptops.

Because most votes on the House floor are predetermined (the majority party wins with Harlem Globetrotters vs. Washington Generals-level consistency) and the debate is rote talking points that have been heard so often before, reporters hardly ever watch the floor from the gallery. But with the votes regarding the ouster resolution still likely an hour out, no one wants to be left without a seat in case history is made.
Support HuffPost
The Stakes Have Never Been Higher
Popular in the Community