Rep. Kevin McCarthy (R-Calif.) will not run again for speaker of the House, he announced Wednesday.
"Doing the right thing isn't always easy, but it is necessary," he said during a press conference. "I don't regret standing up for choosing governing over grievance. I do not regret negotiating; our government is designed to find compromise."
"I'll have the conference pick somebody else," he continued, adding that the country was "too great for small visions" in reference to the Republicans who voted to remove him from power. "I hope you realize that every day, I did the job … I wanted to do it with a smile."
McCarthy was suddenly removed from his post on Tuesday in a shocking 216-210 vote, with eight Republicans siding with all Democrats in the chamber. The shocking outcome followed a motion by Rep. Matt Gaetz (R-Fla.) to see McCarthy's speaker's gavel taken away.
McCarthy first made the announcement to his Republican colleagues in a closed-door meeting shortly after the vote. Punchbowl News' Jake Sherman reported that the lawmaker had received an offer from Democrats to make a deal that would restore him to power but that McCarthy said he wasn't going to "sell my soul."
"When we come out of the next vote, let's elect that person on the first round," McCarthy reportedly said in the meeting. "If I have to be the sacrifice, so be it."
McCarthy's decision will only add to the drama that unfolded Wednesday when the chamber backed a resolution to "vacate the office of the speaker" for the first time in the House's history.
The House will effectively be leaderless until it elects a new speaker, although it's unclear who that could be amid an ongoing revolt from the far-right contingent of the Republican caucus.
Many of McCarthy's allies and others in the GOP were furious with Gaetz and the seven other Republicans who voted to remove him.
"We have eight people that do not want to be part of the governing majority," Rep. Don Bacon (R-Neb.) told reporters. "They are undependable. You can't count on them."
McCarthy added Wednesday night that the vote to remove him reflected a "real divide" within his party.
"You all know Matt Gaetz. You know it was personal. It was all about getting attention from you," McCarthy told reporters. "It had nothing to do [with] spending. And regardless of what you think, I have seen the texts. It was all about his ethics."
"They are not conservatives," he went on. "They don't get to say they're conservative because they're angry and chaotic. That's not the party I belong to."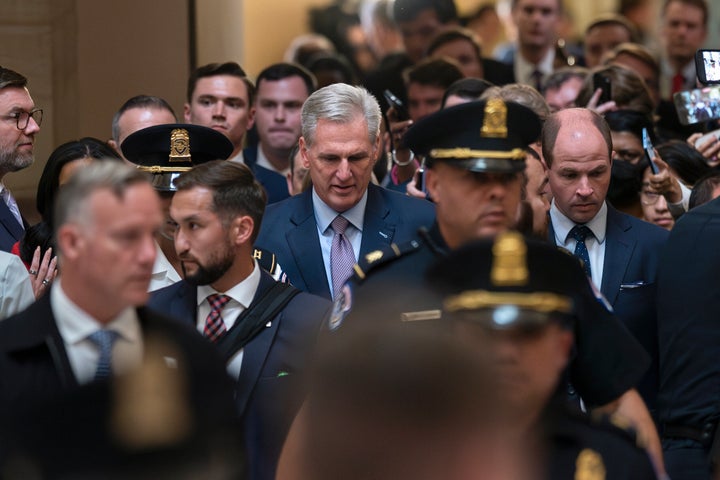 Gaetz immediately cast the vote as a political triumph, issuing a fundraising plea and castigating McCarthy as "Democrat-owned."
"The UniParty is STRIKING BACK HARD," he wrote in a fundraising message, referencing his small coalition of far-right lawmakers.
Support HuffPost
The Stakes Have Never Been Higher
Popular in the Community