An Irish multimillionaire who went missing eight months ago was found dehydrated and emaciated on a country road last week -- and in a bizarre twist, with an insult scrawled into his forehead.
Motorists spotted Kevin McGeever, 68, on a country road near Ballinamore, near the border with Northern Ireland, on Tuesday night. HuffPost U.K. reports the property developer, who had long nails, long hair and was not wearing any shoes, told the couple that picked him up that he had been kidnapped eight months ago and that three men had just thrown him out of a van. The word "thief" was reportedly written on his forehead.
"He had a pair of enormous eyes in a very thin face and his cheekbones stuck out. He was rubbing his beard with fingers that had long nails. He was very well educated, well spoken and polite and articulate," said Catherine Valley, who drove McGeever to the nearest town, according to The Guardian.
McGeever had been reported missing in June 2012 by his partner in the west of Ireland. According to Irish broadcaster RTE, McGeever claimed he was kidnapped at gunpoint from his home and was held in a shipping container for eight months, where his captors beat him and threatened to kill him.
So far police have only briefly interviewed McGeever, who is recovering in Mullinger hospital. "We are investigating reports that an injured man, in his late 60s, was found at the side of the road at 9:45 p.m. on January 29," a Garda spokesman said, according to Sky News.
Kevin McGeever fronted KMM Commercial Properties and made millions building and selling houses during Ireland's economic boom in the U.K and abroad.
Before his ordeal, McGeever lived in a swish property that was christened "Nirvana", and during the boom years of the Irish economy was estimated to be worth well over €3m.

The two security gates decorated with stained-glass features guard the entrance. The property is surrounded by immaculately groomed lawns, a cobble-lock driveway, a separate guesthouse and a glasshouse.

...

McGeever's initials, KMM, were branded across a EC120 helicopter in which he travelled the country.

When not taking to the air, he had a fleet of high-range vehicles to use – often with personalised number plates: a black SL55 AMG with tinted windows, a grey Porsche 911 GT2, and two H2 Hummers.
The Telegraph reports that the writing on McGeever's forehead was "written with ink that will fade in time," but that a number of essential details remain unexplained.
CORRECTION: A previous version of this article stated that the town of Ballinamore was located in Northern Ireland. It is located in the Republic of Ireland, near the border with Northern Ireland.
Related
Before You Go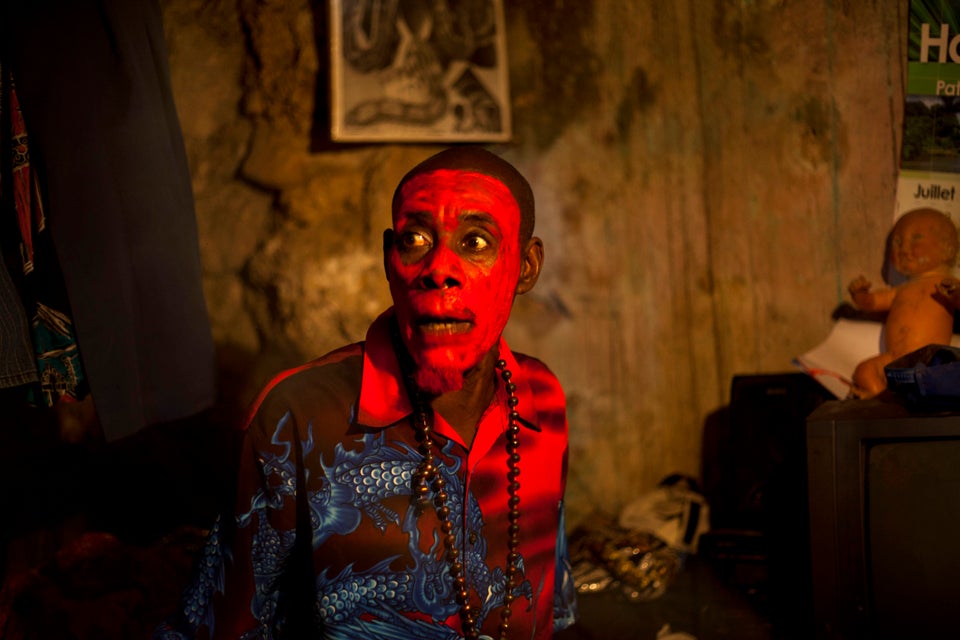 Week In Photos
Popular in the Community