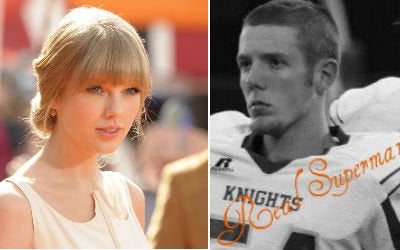 NASHVILLE, Tenn. -- The New Jersey teen who is fighting cancer and scored a date with Taylor Swift to The Academy of Country Music Awards is in the hospital and won't make the show.
A Facebook post Saturday says 18-year-old Kevin McGuire was admitted to the hospital Friday night and can't keep his date with Swift. It was not clear why McGuire was hospitalized.
USA Today reports that McGuire was taken to Children's Hospital of Philadelphia with a 103-degree fever.
"Just talked to Kevin McGuire," Swift said in a tweet. "He's not well enough to join me at the ACMs. Please keep him in your thoughts. I'll make it up to you, Kevin!"
Swift asked the Somerdale, N.J., resident to Sunday's ACMs after his sister started a campaign to get her to attend his prom. The reigning ACM entertainer of the year couldn't make the prom, but offered to go on the date instead.
"I am so sorry to announce this devastating news, but Kevin was admitted to the hospital last night, and is unable to attend the Academy of Country Music Awards with Taylor Swift. ... We appreciate everything you have done for us, and we know you are all hurt from this too. ... Please continue to pray for Kevin and his health, because that is the most important thing. As for Taylor, she is just as depressed as all of us to miss out on this date, and we are so thankful for the opportunity she has given us."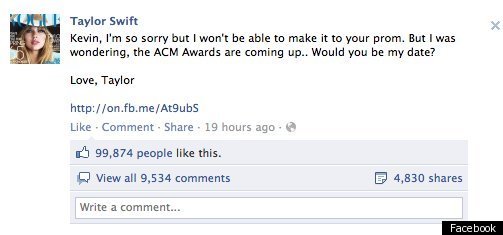 For more on the story, watch the video report below:
Related
Popular in the Community