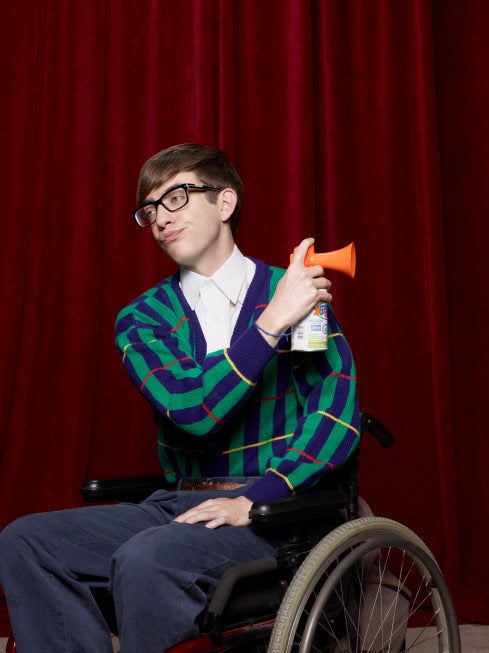 The cast of "Glee" often acknowledges that Kevin McHale is one of the best dancers in the group, even though his character is in a wheelchair.
Though McHale, who plays bespectacled glee club member Artie Abrams, may not be able to show off all of his well-honed moves too often on Fox's hit comedy, he definitely makes up for it with his vocal ability. The actor has even scored the approval of Dame Helen Mirren, who is lending her voice to "Glee." Mirren told OK! magazine, "He's got a great voice... and he's a great dancer!"
So it should come as no surprise that McHale is one of the forces behind "Glee's" upcoming Michael Jackson tribute episode. Being one of the King of Pop's biggest fans -- and having a part in nearly every Jackson song covered on the show -- McHale and co-star Harry Shum Jr. went to the writers and suggested a few Jackson classics for the episode.
HuffPost TV caught up with McHale to talk about the highly-anticipated Jackson tribute, Artie's new love interest and what band he's been trying to cover on "Glee" since Season 1. Hint: Darren Criss is also a big fan of the British quartet!
Yes! He better! [Laughs] Oh, thanks, but it's not really even a sweater vest. It's like grandpa sweaters that are eight sizes too big.
Is Artie ever going to get a style makeover?
I don't know. I thought about it and it would be cool, but when I actually tried to picture it, it just felt really weird. It's like, who is Artie without his glasses?
That was absolutely insane. The one number we did where everybody wore a different Michael outfit was just incredible. It was like everybody liked somebody else's more than their own. We had no idea what everybody was going to wear until we got to set and were like, "Oh my god! Look at yours!" We were all just freaking out. I had the "Thriller" jacket.
And that's the most iconic look! So Artie definitely won, right?
Yeah, I mean... I have to say that Heather's was pretty amazing too. She got the "Bad" outfit, with all the crazy belts around her. I thought that she looked incredible.
Which number was that for?
It was for "Wanna Be Startin' Somethin'" with Darren taking the lead.
Oh, well, thank you. It's so terrifying to sing any of his songs, so I'm glad that I can pull it off in a way that people think that because I'm actually terrified. There's a lot of pressure to get it right.
Was there any song that you particularly wanted to sing?
There's a number that Harry and I are doing that we really fought for, so we were excited to do it. "Black or White" is definitely another one that I was happy to do. Harry and I actually threw a few song ideas out there toward Ryan [Murphy] and the writers, and "Black or White" wasn't one of them, so I'm so happy that they kind of didn't listen to us there and added that one.
Are you and Harry the resident Jackson fans on set?
Of course there were more of us that were huge MJ fans, but Harry and I were kind of the ones that took the initiative to be like, "Okay, look: Here's what we would want to see, as huge MJ fans." And they really listened to us, which I thought was really nice. As the writers, they didn't have to listen to us, but out of respect, they took the time to listen to us because they knew how much we loved him. So that was nice, regardless of whether they used our recommendations or not.
Well, I'm really excited for the "Scream" duet between Artie and Mike Chang, Harry Shum's character, because I hear that Artie may be getting out of his chair again.
Maybe ... I don't know! It would be really awesome if he did, but regardless, I'm just really excited to do a whole dance number with Harry, whether it's in or out of the chair.
As one of the more talented dancers on set, do you ever get frustrated that you can't dance with the cast?
Not until recently, in this season. Actually, I think it's just Michael Jackson songs that I get frustrated over. When we were doing the Jackson Family Medley for Sectionals, I learned it first out of the chair, which was a stupid thing to do because then I knew all of the moves, and I knew that I could do it. Normally, like 99.9 percent of the time, I don't get frustrated. I just don't think about it because the character that I play just can't, so I just never think about it ... unless it's Michael Jackson.
What is the one number that you're most excited about in the Michael Jackson episode?
There are two numbers where we pay direct homage to the original videos, and those are my two favorites. One of those is mine and Harry's, so you definitely need to watch out for that one ... just because I'm in it. It's really surreal getting to reenact some of those videos.
I'm also really excited for Artie this season because it looks like he's finally getting a love interest, or maybe two? I hear Becky has a crush on Artie, but he's got his sights set on someone else. I have to say that I was a huge fan of Artie and Brittany.
I know! I was a fan of Artie and Tina and Artie and Brittany. I love it. I love when Artie's in a relationship because they're always substantial and last quite a while, and they always find fun stuff to do with Artie when he's in a relationship. So I'm really excited to see what they do with this one because it's definitely with someone that I've never really interacted with before. She's hilarious and awesome, so I'm hoping that they can milk it for all that it's worth.
Artie goes all out when he's in a relationship. He serenaded Brittany, protected her from the truth behind Santa Claus and accepted her magic comb. That's dedication.
He is until he makes some kind of irrational decision and yells at people and insults them. He's too critical at times, which is why he makes a great director.
That would have been awesome! Ricky was the man. It was so strange having him there because we were all super starstruck. He was just the kindest, nicest and most quiet man.
Did you have to learn any Spanish for that episode?
Oh, yeah. Me and some of the guys did a song recently, and it's the opening of the episode. It's completely in Spanish, and it literally was the hardest thing. I don't even know if we did one take where we got all of the words right. Cory [Monteith] was like, "You do know I'm from Canada, right?"
Is it a Spanish pop song, or one that you guys created?
No, it's a famous Spanish song. It's funny though. It's more for the humor than it is for the actual integrity of the number.
Oh, definitely. I'm so glad that we'll get to see each other, hopefully everyday. I'm sure it will be in a different capacity because they, of course, will have graduated. I'm just happy that they will be around, but I guess we'll see what happens. I have no idea!
What do you hope for Artie's senior year?
I don't know. It's kind of crazy because half the stuff he's done already, I could have never imagined him doing. I think senior year is the year when you kind of get over being cliquey and stop getting bent out of shape over the small stuff. You finally start becoming yourself. You're starting to see Rachel and Finn finally coming into their own and Mercedes is finally going after a man, so senior year is a really exciting time. I'm hoping that they make some bold choices for Artie.
I know that you're a huge fan of Kanye West, and I just want to say that I think there needs to be more Kanye on "Glee."
I completely agree! There should be a "Watch the Throne" episode! I would love it if Artie thinks that he is Yeezy for a whole episode. That would be great.
You're also a huge fan of McFly, so when are we going to hear McFly on "Glee"?
I think I have another year, hopefully, to convince Ryan to let me do a McFly song. But the problem is that I have no idea which song. It was the same with the whole Michael Jackson thing. They knew that I really wanted to do Michael, but I could not pick a Michael song, so they kind of did it for me. But they knew Michael Jackson. They don't really know McFly, so I'm really going to have to go in and kind of sell it. There needs to be an entire presentation.
I think "All About You" would be a great fit for Artie, especially if he's trying to serenade a girl. That would be a nice one, right?
Yeah, "All About You" would be incredible. I know Darren [Criss] and I talked about doing "All About You." We both love McFly.
"Glee" returns from its winter hiatus on Tues., Jan. 17 at 8 p.m. EST on Fox.
Watch the clip below from the "Yes/No" episode to see McHale's moves in action, as Artie performs a mashup of Maroon 5's "Move Like Jagger" and The Rolling Stones' "Jumpin' Jack Flash."
Calling all HuffPost superfans!
Sign up for membership to become a founding member and help shape HuffPost's next chapter