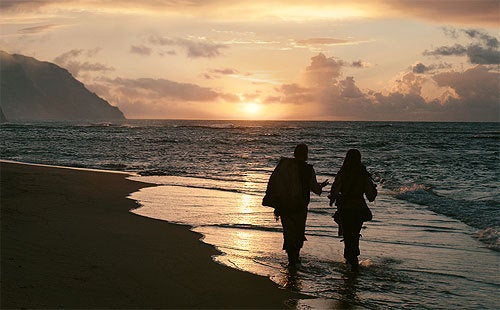 All my life's a circle - Harry Chapin
And given the course of his 40-year acting career, Kevin McNally would most definitely agree with this statement.
"The first movie that I ever did was The Spy Who Loved Me. I was one of the crew members on that British submarine which got swallowed by a super tanker," McNally recalled. "We shot those scenes at Pinewood Studios on what was then the world's largest soundstage. This building was so big that it actually had its own micro-climate. And as a kid who was just starting out in the business, I was absolutely thrilled to be acting in a James Bond movie. To have a role to play in this big budget Hollywood production, to be a part of this famous series of films."
But that was 1976. Now jump ahead to 2010. And where does McNally find himself? Back at Pinewood Studios. Where -- as he was shooting the Fountain of Youth sequence for Pirates of the Caribbean: On Stranger Tides -- Kevin once again found himself standing on the world's largest soundstage. Which is now officially known the Albert R. Broccoli 007 Stage.
"Mind you, it's not the exact soundstage where I shot The Spy Who Loved Me. That building has burned down twice since then," McNally said. "But even so, it was still great to be back at Pinewood Studios. Once again acting in another big budget Hollywood production."
Of course, if you had asked Kevin back in 2002 (when he initially auditioned for the role of Joshamee Gibbs in The Curse of the Black Pearl) if he thought that the first Pirates of the Caribbean would spawn a top grossing film series, he'd have laughed in your face.
"To be honest, I thought this movie would be safe for me to do because nobody would ever see it," McNally snorted. "I mean, how long had it been since Hollywood had produced a successful pirates picture at that point? Everyone remembers what a disaster Cutthroat Island was."
But then Kevin actually got to read the Black Pearl script and realized that this project wasn't going to be your typical pirate movie.
"People don't really give Ted Elliot & Terry Rossio the credit that I think they deserve for the scripts that they've created for the Pirates of the Caribbean movies," McNally stated. "These are really well-crafted stories loaded with lots of fun dialogue, lots of great character moments for actors to play."
Kevin was reminded of this back in June of 2010. When -- just before production of On Stranger Tides officially got underway in Hawaii -- Geoffrey Rush hosted a party for the returning members of the cast in his hotel suite. Where -- to refamiliarize them with the characters they were about to play -- Rush then ran the first three Pirates movies back-to-back.
"Which turned out to be a really smart thing to do because this screening then reminded us all of how much fun these characters were to play," McNally continued. "More importantly, how much we enjoyed working with one another on those first three films."
Which bring us to Johnny Depp, the actor that always surprises Kevin.
"Whenever I'm reading the script, I can never really imagine what he's going to do with a scene," McNally explains. "Which is why I always look forward to that first take. To see what sort of choices Johnny is going to make as an actor."
But the biggest surprise came when Kevin reached the final page of the On Stranger Tides screenplay. Which (SPOILER AHEAD) revealed that Gibbs and Captain Jack Sparrow were heading off for a brand-new adventure, armed with a bag full of bewitched shrunken pirate ships.
"When I read that scene, I turned to Rob (Marshall, the director of On Stranger Tides) and said 'I get to walk off into the sunset with Johnny Depp? Really?,' " McNally chuckled. "And Rob said 'If that's what you want, that's what we'll do.' So that's how we actually shot that scene on the beach in Hawaii."
Captain Jack Sparrow (Johnny Depp) and Joshamee Gibbs (Kevin McNally) walk off into a Hawaiian sunset together. Copyright Disney Enterprises, Inc. All rights reserved
So given that Gibbs survived Pirates 4 and was last seen in Captain Jack's company, does that then automatically mean that Kevin's character is coming back for Pirates 5? Kevin suddenly got philosophical when the topic of this pending sequel (which will supposedly begin shooting late next summer) came up.
"Who knows. Gibbs could get eaten by some off-screen sea beast between Pirates 4 and Pirates 5," McNally said. "Don't get me wrong. I love making these movies. I love working with two consummate professional gentlemen like Mr. Rush and Mr. Depp. But I'm not the one who gets to decide here if my character comes back or not."
"That said, I do hope that they bring Mr. Gibbs back. He seems to be the only sensible character in the Pirates series," Kevin continued. "Plus Gibbs usually occupies a very important role in these stories. He's the one who typically questions Captain Jack's motives. Which makes this character a very useful device, at least when it comes to clarifying key plot points for the audience."
But until the sun finally rises on Pirates 5, McNally has been keeping himself busy. Most recently by acting in two Edgar Allan Poe-related projects, the TV movie Poe as well as John Cusack's soon-to-be-released mystery-adventure The Raven. And later this month, Kevin will also be putting in an appearance on the CW's long-running hit, Supernatural.
"I have to admit that I enjoy acting in films & TV shows like Supernatural that have some sort of pop culture significance. Which is why I'm proud to have a Doctor Who and a Miss Marple on my resume. Not to mention having working with actors like Tom Cruise and Rowan Atkinson," McNally concluded. "But to have started my movie-making career by playing a sailor in a James Bond movie. And then -- over 30 years later -- to find myself back at Pinewood Studios. Once again playing a sailor, only this time in a Pirates of the Caribbean film ... You can't get much more pop culture than that."
Captain Jack Sparrow (Johnny Depp) and Joshamee Gibbs (Kevin McNally) walk off into a Hawaiian sunset together. Copyright Disney Enterprises, Inc. All rights reserved
Well, here's hoping that Kevin McNally's character avoids an off-screen demise. More importantly, that Joshamee Gibbs & Captain Jack Sparrow get to walk out of that sunset which they walked into at the end of On Stranger Tides and then have even more adventures when Pirates 5 sails into theaters sometime in 2013.
Jim Hill is an award-winning entertainment writer who lives in New Boston, N.H. Over the past 30 years, he has interviewed hundreds of veterans of the animation and themed entertainment industry and written extensively about The Walt Disney Company.
Jim is currently working on a behind-the-scenes history of the development and construction of Disneyland. For his more immediate musings on movies, TV shows, books and theme parks, please check out his blog, jimhillmedia.com.
Popular in the Community