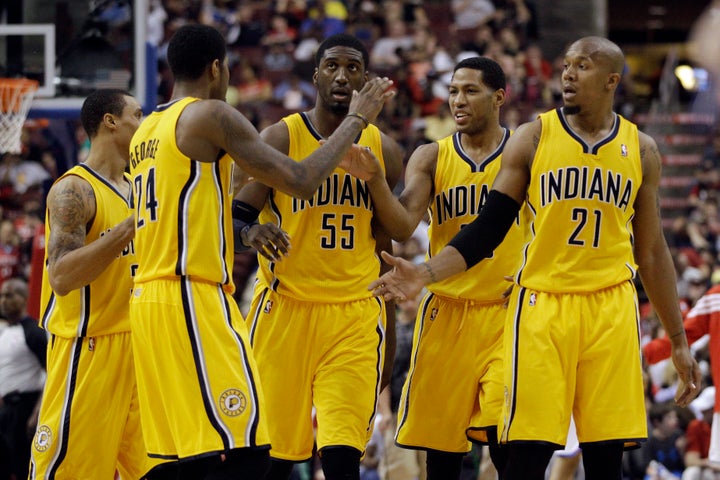 When Indiana Pacers power forward David West proclaimed that "you kind of have to pick your poison with us" during the second round of the NBA Playoffs against Miami, he merely repeated what many already knew: Indiana is a very good basketball team.
But after finally losing the series to the Heat in six games, the Pacers proved they would be a worthy foe in the Eastern Conference next season. But that would rely on whether the team could manage to re-sign its talented young All-Star center Roy Hibbert. Still just 25 years old, Hibbert was the key factor in Indiana's playoff run, displaying tremendous shot-blocking skills while also showcasing his ability to score and pass from the paint. Indiana ultimately matched Portland's offer sheet on Hibbert -- who was a restricted free agent -- agreeing to pay him a robust four year, $58 million contract.
The Huffington Post caught up with recently anointed Indiana GM Kevin Pritchard to discuss Hibbert and his array of offseason moves.
How much of a challenge was it to match Hibbert's deal?
First of all, I would say that we were prepared for it -- we had an idea that it could be coming. When you prepare for it, you know that you have to do a couple things. Number one is, you still have to analyze the situation. You gotta go into the market place and see where there are players and can you get replacement player(s). So that was very important to us, to make sure we had a process and knew what the process was going to be. Now that being said, we had a very, very good feeling that we would match anything. We knew what his max was. We knew if it got to there, we were going to match it.
What do you expect from him now that you are paying him $15 million next season?
Anytime you have a contract like that, expectations rise, but with Roy, we know who he is. We know that he's a great kid. He loves basketball and he loves being in this community. Just by giving him a contract, doesn't make him all of a sudden an unbelievably better player. We know that he has a work ethic and we think he'll get better, and that's how you grow into that. For us, that's more important than anything -- that he keeps attacking being better every day.
Let us shift to George Hill. Was there any doubt that you were going to resign your local product?
These are high-priced contracts but we feel great about this team. Anytime you have the fifth best record in the NBA -- even though it was a shortened season -- the thing that was important to us was bringing back the same starting five, because they've earned it. They've earned the right to come back and compete again. Our owner [Herb Simon] made a commitment that he wants to win and be successful, and there was only one way we were going to do that, which was to bring back our guys.
What is the next step for Indiana to become that elite team in the East and actually beat a team like Miami
You know, we gave them a run for their money. They have arguably the best player in basketball and a couple of top ten players, so it's difficult to get over that hump. What we feel what was very important is that we have continuity -- continuity through keeping our starting five and trying to build a really good bench. That's why we brought in [Ian] Mahinmi, Gerald Green and D.J. Augustin.
Do you envision Mahinmi and Hibbert playing together or is he strictly in a backup role to Roy?
His first job is as a backup, but we do like his ability to step out and shoot the ball. He's got really good feet and he can really run, so we think he can slide over to the four some, but in coach [Frank] Vogel's system, there are point guards, wings and then there's bigs. So there's not much of a difference in each position. What differs is who you can guard, and we think Ian's got a chance to guard fours in our league -- maybe not the stretch fours, but certainly the traditional bang, post-up fours.
What does Augustin bring you? He is a smaller point guard, but he can do a lot of things.
We really like his change of pace; he's a great pick-and-roll player and we feel like with our shooters on the wing and some of our bigs, he won't be looked upon to score as much as he did [in Charlotte], but be more of a playmaker, more traditional get in the paint and find players -- and he does that really well. Because of that, we think he's got a chance to really help our second unit, but also our starters, trying to get them easier shots than we had in the playoffs.
If there is one thing your club has to really improve on, is there something that sticks out?
I think there's a couple things. We really wanted to have some size in our frontcourt, specifically off the bench, so Mahinmi becomes even more important. Having length at the rim seems to be very important, not just against Miami, Chicago, or Boston, but against everybody. And we really wanted to have some scoring punch from the wings, and we think Gerald [Green] has got a chance to be that -- it remains to be seen. But here's what we really like about some of our guys coming off the bench: our timeline seems to have synchronized. What I mean by that is DJ's 26, Gerald's 26, Mahinmi is 26, Tyler [Hansbrough] is still young, but you know, that second group has an opportunity to grow together too.
Was it tough to deal Darren Collison given that he's been a nice player for a couple years now?
Absolutely -- him and Dahntay [Jones]. First of all, they were a big part of winning a lot of games this past year and the turnaround of the team. Now Darren, he's been an unbelievable pro and he wants to be a starter, so I think it's sort of a misconception that you gotta get value back on every trade, and there is some truth to that. Darren has been a terrific kid for this ornaiztion; he wanted to go to a place where he had a real chance of starting, so there's a human element and we get that. It was important to our owner, it was important to [team president] Donnie [Walsh], so we decided to do that.
What about [Duke rookie] Miles Plumlee? Can he give you some tough minutes this year, or is he a couple of years away?
Well, he has been a pleasant surprise. It's awfuly early, but he's very athletic. He's gotta get stronger, but we think he's got a bright future and that he can get some minutes here and there, so we're excited about that.
Have you been surprised with some of the things we've seen transpire in free agency, for example the offer sheet which Houston signed Jeremy Lin to?
The one thing I know in the NBA is surprising things do happen. We're normally not surprised by many things.
What would you say to people who say Indiana is very good, but they don't have a superstar?
I'd say that's exactly right, and there's a lot of ways to build a team. There have been championship teams like the Detroit Pistons, who had seven, eight really good players. We think that's a great way. Now, that doesn't take anything away from our players. I would just say, we've built a team and we like that.
Email me at jordan.schultz@huffingtonpost.com or ask me questions about anything sports-related at @206Child.
Plus, check out my HuffPost sports blog, The Schultz Report, for a fresh and daily outlook on all things free agency and listen to my radio spot on 1280 The Zone Friday afternoons at 1 ET. Also, tune in at 8:30am ET Thursday mornings on Memphis 56 Sports Radio, right here.