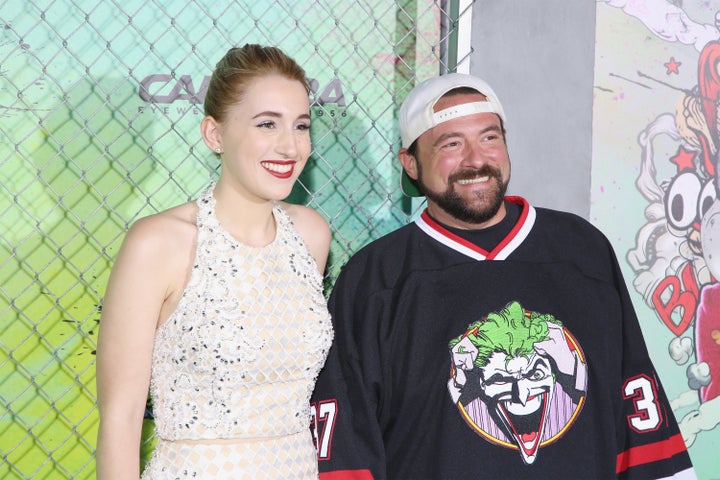 Kevin Smith and his daughter, Harley Quinn Smith, have some words of advice for the internet trolls of the world. 
Over the weekend, Harley posted a photo of herself on Instagram and was met with some serious hate from one troll who clearly has too much time on his or her hands. 
"You're ugly as shit," the commenter wrote. "And that steaming horse shit of a movie, yoga hosers, should be banned. Fuck your talentless cunt of a father for trying to compare it with the matrix. You're cancer and I sincerely hope you end up like Lindsay Lohan and dead."
Whoa. What even compels someone to write such hateful things? (Seriously, this person needs a life.)
When Kevin saw the comment, he entered protective-dad mode and shut down the hater before providing him with a little life advice. 
"What it's like to be my daughter: 17 year old @harleyquinnsmith_ received this message simply for the heinous crime of posting a pic of herself on @instagram," he wrote. "I have zero clue what the reference to #TheMatrix is all about but, wow — way to unload on a teen girl because YOU have nothing to do in life."
He went on, noting that his daughter thought the comment was funny, telling her dad, "I'd be mad if I had a tiny dick and anonymous voice too."
"But here's a nickel's worth of free advice for folks like this Troll: if you hate me (or my kid) this much, the better use of your time is to make YOUR dreams come true, instead of slamming others for doing the same," Kevin continued. "The best revenge is living insanely well — so if you wanna get back at a 17-year-old girl for the grievous crime of enjoying her life, the best way to do it is to succeed in your OWN existence."
"Attacking teen girls on the Internet is the saddest form of masturbation that exists and requires no discernible skill or talent," he added. You can read his whole message below: 
Harley also responded to the troll with a post of her own. 
"At first I was like alright that hurts, but then I realized who the actual fuck cares???" she wrote. "Why should I let this sad ass troll who clearly either has a stick so far up his ass it's affecting his moral compass or is compensating for an insanely small dick ruin my day??"
Harley decided to take the high road and "laugh it off."
"No matter what, there are always going to be people in your life that are either jealous of you, don't like you or perhaps are just looking to be negative, but you can't let them get to you because if you let them upset you then they're winning," she added.
"Don't ever let some stranger on the Internet try to bring down your self-confidence because you are wonderful just the way you are!! Kill em with kindness kids," she concluded. You can read her response in full below:
Calling all HuffPost superfans!
Sign up for membership to become a founding member and help shape HuffPost's next chapter
BEFORE YOU GO