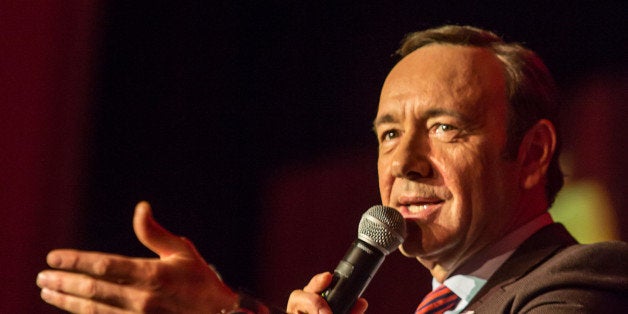 WASHINGTON -- Fundraisers in the nation's capital are overwhelmingly political and tied to the next election cycle, and authenticity can be hard to come across at the high-dollar events.
But the atmosphere at a private dinner Saturday for the Kevin Spacey Foundation at the Mandarin Oriental hotel was far removed from the political wrangling that was taking place less than a mile away as the threat of a government shutdown loomed over the U.S. Capitol.
The purpose of the fundraiser was for actor Kevin Spacey to raise both funds and awareness for his nonprofit, which fosters emerging talent in the performing arts through scholarships and grants. It was also an opportunity to remember Spacey's late friend Jack Lemmon, whom he described as a father figure and "the greatest mentor of my life."
Spacey was just 13 years old when he met the legendary actor at a workshop. He recalled how inspired he was when Lemmon praised his talent and encouraged him to pursue acting as a profession. It took more than 10 years for their paths to cross again, when Spacey was cast alongside Lemmon in a 1986 production of "Long Day's Journey into Night."
"I've had a remarkable career," Spacey said, noting he was able to do everything he wanted from a very young age. "I'm a lucky son of a bitch."
Others are not so fortunate, and Lemmon would often speak about the importance of "sending the elevator back down," Spacey said. Spacey made Lemmon's advice into the motto of his foundation, which launched in 2010.
Kevin Spacey Foundation program director Steve Winter said the organization got its start when Spacey starred in Sam Mendes' adaptation of "Richard III" at the Old Vic in London two years ago. The organization began holding acting workshops with Spacey as part of a project called "Richard's Rampage."
Since then, the KSF has launched scholarships with Regent's University in London that cover full tuition fees for a three-year Acting and Global Theater degree. Spacey himself will give a masterclass to the scholars and their classmates every year.
The group also offers grants to help anyone in the U.S. or U.K. get a project off the ground, and on Saturday, the KSF announced a worldwide talent search, dubbed "The Elevator Initiative," which aims to discover a global theater company that will embody the KSF's mission.
"It's people like Jack [Lemmon], it's people like Joe Papp, it's people like Alan Pakula, who in my life took me under their wing, believed in me, gave me a chance, were incredibly positive to me at a really critical moment in my career and my life that I absolutely attribute to why I have a career," Spacey told The Huffington Post. "I would not have a career had it not been for someone like Jack Lemmon."
"He always believed that if you've done well in the business you want to do well in, then it's your obligation to spend a good portion of your time sending the elevator back down to those who want to come up," Spacey added. "So that's what this is about."
Chris Lemmon, the late actor's son, was on hand for the dinner and paid tribute to his father by reenacting some of his most memorable onscreen moments. Spacey also entertained the crowd by crooning classics such as "Ol' Man River" and "Pure Imagination." He performed with a local youth jazz band, once again reminding attendants of the evening's focus: harboring young talent.
Spacey acknowledged to HuffPost that funding for the arts was not a priority at the federal level, with Congress tightening the purse strings more and more each year, but he said he remained optimistic about private donations.
"I realize I'm in a position to raise money while others might not be, but I do think we're going to start to see over the next decade more and more money for the arts and the culture that is so important to all of our nation coming from the private sector and from corporations," he said. "I just think that's how it's going to be."
Though much of the night was devoted to music and remembrance of Lemmon, Spacey, who plays the scheming House Majority Whip Francis Underwood on Netflix's "House of Cards," cracked a few jokes about the current political climate.
He told the crowd that real-life House Majority Whip Kevin McCarthy (R-Calif.) conveniently left the event just as his Democratic counterpart, Maryland Rep. Steny Hoyer, showed up, and joked that "part of the problem is they're never in the same room." (Both congressmen stayed a short while before returning to the Capitol for an all-important vote on funding for the federal government.)
"They don't have a lot to worry about except whether there'll be a government shutdown," Spacey remarked, adding that he believed in both lawmakers.
He didn't spare Sen. Ted Cruz (R-Texas) either, pointing to his marathon speech on the Senate floor last week.
"My understanding is if you filibuster, you can't use the restroom," Spacey told the crowd. "Well, apparently taking the piss in the Senate for 21 hours doesn't count."
It was no wonder then that when HuffPost asked what made for better political theater -- "House of Cards" or the 113th Congress -- Spacey quipped, "Congress is much more unpredictable, and I think funnier."
Calling all HuffPost superfans!
Sign up for membership to become a founding member and help shape HuffPost's next chapter