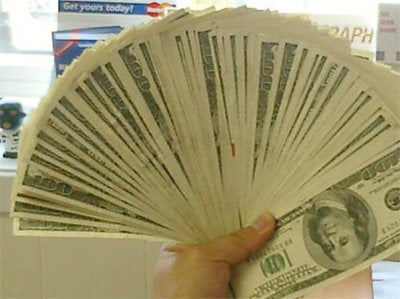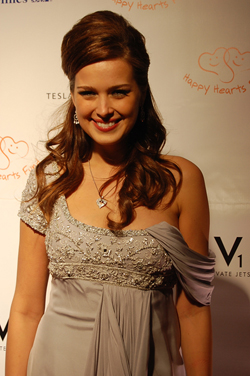 Although Petra Nemcova's 2008 gala for her Happy Hearts Fund was on Wall Street, Monday night at the Cipriani, there was no sign of a recession in sight. The theme of the night, "A Masquerade in Venice," welcomed New York's elite, bringing in droves of lovely ladies in carnival masks and floor-length gowns to the $2500 a seat dinner.
Kevin Spacey (who left shooting for his new film The Men Who Stare at Goats to come), on whether or not it's hard to raise money in these times, tells us, "No, it's hugely important particularly in these times that we constantly remind people that governments can't do everything. Certainly in the past eight years this particular government hasn't done a lot."
Highlighting the importance of raising funds through corporations and individual donors, he continues, "We shouldn't allow organizations like Happy Hearts or any other organization that does this kind of work to suffer during times like this. So it's hugely important that we don't fall into the trap of saying, 'Oh, it's going to be harder to raise money.'"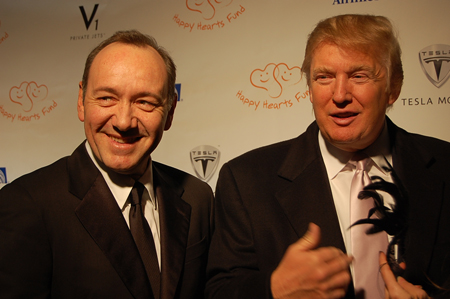 Petra Nemcova founded Happy Hearts after surviving the 2004 tsunami in Thailand, which took the lives of 300,000 people, including her then fiancé, fashion photographer Simon Atlee. Turning the tragedy into something positive, she launched the fund in 2006 to implement educational programs for children in disaster-struck areas. It exists in 12 countries, including Nemcova's home country the Czech Republic, as well as Sri Lanka, Peru, Vietnam, the Congo, and the United States (New Orleans).
"A few months ago when the recession started, many of the gala dinners from different charities cancelled; and we were discussing it with our board and I said, you know what, even if we raise one dollar, that's one dollar that can make a difference in children's lives," Nemcova, decked out in a diamond-heart necklace, tells us. "But it's not even about the funds; it's about amazing people with beautiful hearts coming and creating a sense of community and raising awareness for what we do."
Host of the night, SNL head writer Seth Meyers welcomed guests who filled the enormous giant hall with "How nice it is there are still rich people!" Seth had been lured to host by all of the hot supermodels present, including Marisa Miller, Mary Alice Stevenson, Molly Sims, and Petra herself, who he described as the "2nd hottest philanthropist," in the country, second only to the very sexy Bill Gates. "The last time there were this many rich people in the same room," he said, "they were asking for a bailout."
Meyers announced that he was wearing black in mourning, like his fellow comedy writers, for while McCain/Palin wouldn't necessarily have been the best for our country, they sure did make for some good material. And the effects are real, as shown by last week's gay-joke heavy SNL episode. But he thinks that Palin is good-hearted, donating her wardrobe to charity, for anyone who wants to dress like "the pornographic version of middle school principal."
Wyclef Jean was honored for his work with his Haitian foundation Yéle Haiti, which implements programs in education, health, and the environment in Haiti. After performing at Petra's gala last year, they teamed up with the Happy Hearts foundation to help deliver computers into schools in Haiti. "A generation cannot move forward without technology," he told the crowd. "It's the key to everything."
On Jean's last trip to Haiti (with pal Matt Damon), he talked to a 104-year-old man, asking him the secret to eternal life. The man whispered, "Everything that your wife tells you, tell her that she's right." Jean described this spirit of laughter amongst disaster as a life trend in Haiti, and expressed that people make something out of nothing there, so imagine if they were given something.
Next up Stewart Rahr, President, CEO of Kinray, was awarded the Heart of Gold. He thanked his friends for coming out to celebrate with him, David Fincher (director of the most anticipated film of the year The Curious Case of Benjamin Button), who flew across the country to see him , and Donald Trump, who traveled 30 blocks to be there. He said Trump "has not stopped complaining for the last 30 minutes about how unhappy and obligated he feels to be here tonight." But regardless of any ill will, Rahr announced that Fincher and Trump were donating $50K each to the Happy Hearts Fund. "There is no gift bigger than giving back," he said. And he should know. Rahr donated $1 million toward underwriting the event, so that all donations raised would go 100% toward the fund.
When asked if it is tough to give in these times Rahr tells us, "Yeah, everything's tough. But as [Armenian-American billionaire] Kirk Kerkorian said, 'There's no luggage rack on a hearse,' so it's OK for me."
The opulence continued with a live performance by Cirque du Soleil. The trapeze artist lost her balance for a moment, but thankfully she was wired. She hopped back onto the bar with ease and continued to swing throughout the high ceilings of the Cipriani. "Let's give it up for Cirque du Soleil," Seth Meyers intervened. "Wow, those are words I never thought I'd say."
Famous auctioneer Simon de Pury hosted the live auction. Bids were slow at first, with $20K buying a package to Germany to see heavyweight boxer Wladimir Klitschko. "I didn't even know you could fly business class to Mannheim, Germany," quipped Meyers. "This is your chance." The bids increased though as the celebs became more recognizable, including a $28K package called "The Fabulous Life of Russell Simmons," which included a week stay in his Hamptons estate, and a case of Krug, (although Simmons himself doesn't drink).
The first ever 100% electric sports car, made by Tesla, went for $160K. The winner donated it back to Happy Hearts, and it sold again for $150K. To top off the night, a package called, "Super Trio," included a tennis lesson with Serena Williams, a night out in London with Kevin Spacey, and the chance to hang out backstage at a U2 concert with the Edge. The price of this priceless package? $130K. With the auction raising $648,000, and the donations from the night, Petra's fund walked away with a total of $3,448,000.
Kevin Spacey took the podium to honor David Hryck, partner at DLA Piper, the world's largest full service law firm. Spacey picked up a sleek Smartphone and said, "I'd like to auction off this Blackberry that I found on the podium. I'm sure it has some amazing numbers in it, and now that I'm looking, some very naughty text messages. Wow, Petra."
Quincy Jones, (who earlier auctioned off a day with Q for $30K) awarded the final golden heart to Jeffrey Tarrant, CEO of investment firm Protégé Partners. The night ended with an "American Boy" performance by Estelle, who traveled for one day from Germany to perform. Wyclef Jean, this time able to just enjoy the entertainment, hung out in the pit, surrounded by dancing supermodels.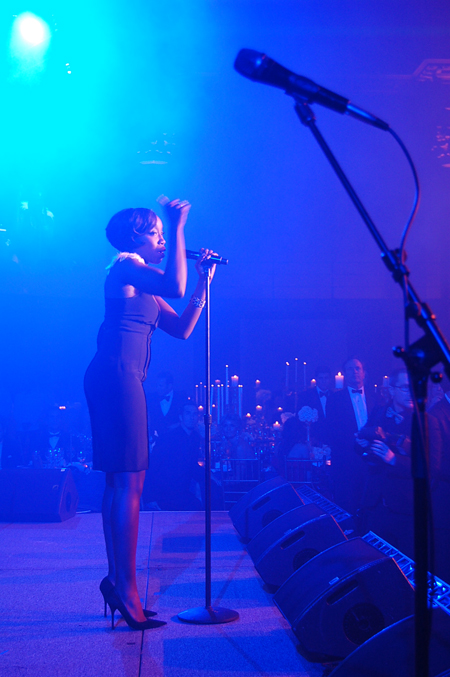 REAL LIFE. REAL NEWS. REAL VOICES.
Help us tell more of the stories that matter from voices that too often remain unheard.