In February, I attended the Product of the Year (POY) awards ceremony hosted by Saturday Night Live's Rachel Dratch and Ana Gasteyer. Established 30 years ago, POY is the world's largest consumer-voted award for product innovation and covers 38 countries with the purpose of guiding consumers to the best products in specific markets and rewarding innovation and quality in manufacturing. Products are decided by 40,000 consumer votes in a national representative survey conducted by research partner Kantar TNS.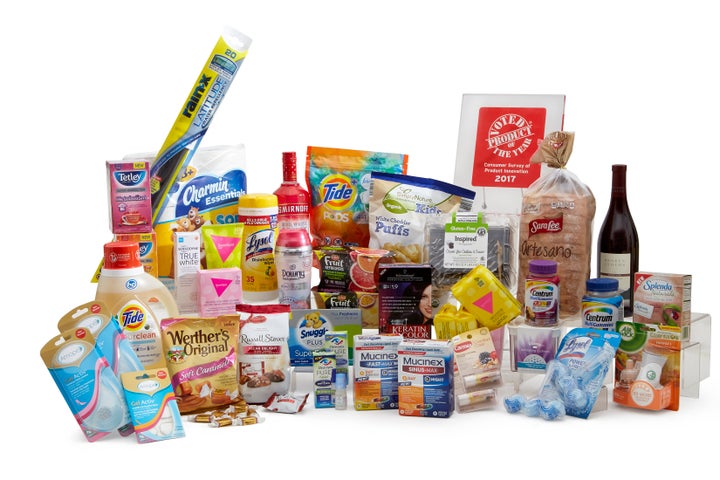 After the awards ceremony at Edison Ballroom, I interviewed CEO of Product of the Year Mike Nolan about key consumer product innovation trends in the U.S. and across international markets for 2017.
(Mike's children don't believe he was a professional rugby player in the mid 90's, with London Irish under Clive Woodwood.)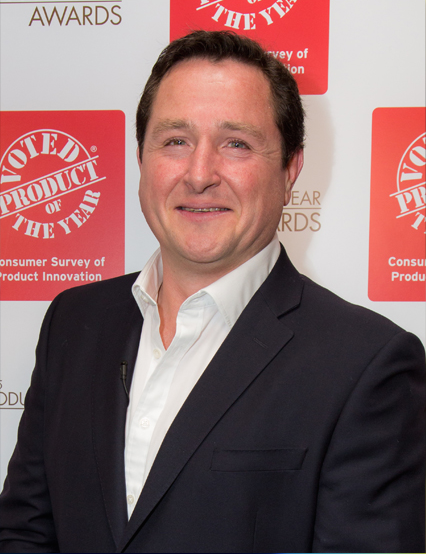 How are global corporations using innovation to gain the attention of new consumers?
Many global corporations, including Procter & Gamble, Henkel, and Reckitt Benckiser Group (RB) are successful not only because they can maintain loyal customers, but also because they are effectively gaining the attention of new customers through product innovation. Understanding how to introduce meaningful product innovations to the consumer market is key, and the first step in doing so is identifying and understanding your ideal customer.
Innovations should be introduced in order to satisfy the wants and needs of the ideal customer, and to provide a solution for that customer's problem or desire, big or small. Henkel solved customers' problems by eliminating the need to go the hair salon to cover greys when they introduced the Schwarzkopf Keratin Color, an easy way for people to dye their hair at home.
A few years ago, Apple introduced Siri to make users' lives easier via voice-activated commands. Auto companies like Toyota and Tesla introduced hybrid and electric cars to mitigate driving's negative impact on the environment. All around us, companies are working to satisfy consumers' needs by introducing new innovations to their products, both big and small, that are solving problems and answering questions that users did not even know existed.
How are global companies providing new, exciting products for committed brand loyalists?
Brands need to keep their customers excited with new product launches that will keep customers on their toes, while maintaining a balance so they don't alienate loyalists. By maintaining brand and product attributes that customers appreciate, and evolving those products to introduce newer and better qualities or properties, brands are able to maintain loyal customers and remain competitive in their industry.
The Kleenex brand has been trusted by families for years for their lines of tissues and towels. This year, though, they broke away from their core product and made their first foray into facial cleansing products with Kleenex Facial Cleansing, Exfoliating Cushions. Not only does this product appeal to a loyal, trusting Kleenex customer, but it also appeals to beauty customers who may not have previously been loyal Kleenex consumers.
What are consumer product innovation trends in the U.S. for 2017?
One key consumer product innovation trend we are seeing in 2017 is sustainability, which can be seen across categories like home products and food. For example, Procter & Gamble just launched its first bio-based laundry detergent, Tide purclean. This product, which won a 2017 Product of the Year Award in the Liquid Laundry category, is made with bio-friendly materials and is also produced with 100% renewable electricity sources, as well as in a site that sends no manufacturing waste to landfills. Through this product launch, Procter & Gamble is showing they understand what is important to their customer.
For food and beverages, what is not in a product is often as important as what is in it. Heartland Food Products Group understands that consumers are looking for healthy, natural food products, and introduced the SPLENDA Naturals Sweeter to give consumers what they are asking for. With zero calories, this product is made with Reb D, an extract from the stevia leaf, and is made without added flavors, preservatives or GMOs, eliminating ingredients that customers do not want. The Sara Lee Artesano Bakery Bread is made without high fructose corn syrup, artificial flavors and colors, and was also a 2017 Product of the Year Award winner.
Another rising US trend in the consumer products space is private label. This year, ALDI launched two new products that won 2017 Product of the Year Awards, which include the ALDI Broken Clouds Pinot Noir and the ALDI SimplyNature Organic White Cheddar Puffs. Consumers are showing a continued trust in private label or store brands as more and more retailers introduce higher quality private label goods.
A third trend that has been on the rise for 2017 is all-in-one products. Convenience is key, and American consumers want to be able to accomplish multiple tasks with one single product. The Lysol Power & Fresh 6 Automatic Toilet Bowl Cleaner accomplishes 6 actions all at once — it saves consumers money, and its automatic cleaning actions save a lot of time. The Rain-X Latitude Water Repellency Blades are another all-in-one product which not only wipes away water, but also simultaneously treats windshields with a water repellent coating.
What are changes in the retail environment?
Online shopping is continuing to grow across the US and worldwide, as it is more convenient than shopping in store. This trend is pushing many retailers to evolve their business models, as many Americans shop almost exclusively online at retailers like Amazon, which serve as a one-stop shop with all types of goods that can be purchased easily. Also under the e-commerce umbrella, services like FreshDirect and PeaPod are popular in cities, where all groceries can be ordered online and scheduled for delivery.
Because of the increasing popularity of e-commerce as compared to the brick-and-mortar retail store, many stores have closed their doors completely. However, some big box retailers have introduced promotions and programs to better serve consumers' needs and keep them from shopping only with competitors. For example, Walmart recently launched a new free two-day shipping program for all online orders over $35.
While online shopping booms, sometimes shoppers need a certain product right away but they don't have time to navigate the aisles of a large store. This is addressed in the American retail environment with the expansion of convenience stores and the decline of superstores. Retailers like Walmart and Kmart closed hundreds of doors across the US last year due to a decline in brick-and-mortar sales, and department stores like Macy's also took a hit, announcing the closure of many of their locations.
We can clearly see this shift toward online shopping in the US market. According to the National Retail Federation, online retail is expected to grow between 8-12% this year, while brick-and-mortar sales are expected to grow at a rate of only 2.8%.
Support HuffPost
The Stakes Have Never Been Higher
Related
Popular in the Community