A $700 billion industry, restaurant industry was one of the first to adopt social media to engage with its customers. Now, nearly 9 out of 10 restaurants are embracing social conversation across multiple communities and platforms. Industry's marketing teams are some of the most creative in terms of both social content and real-time engagement.
At Sprinklr we got curious about who is winning in digital and why. Using Social Business Index we harvested the data for the industry and ranked performance across seven social metrics, including followers, impressions, and engagement, to see which companies are at the top of their game. Infographic at the end of the post offers some key visual insights and you can find the detailed analysis here.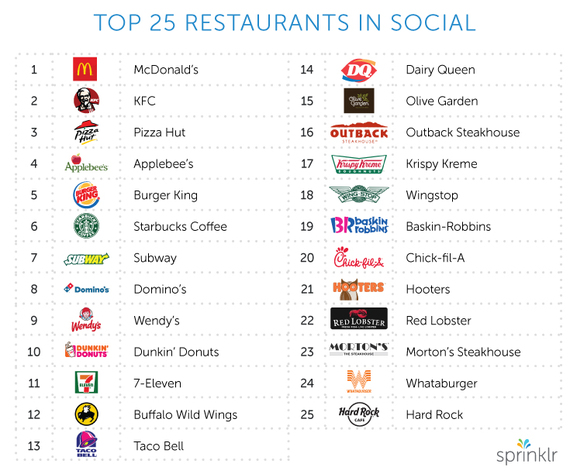 Rankings are great, but we wanted to understand why some of these companies were able to stay relevant and continuously engage their customers. Here's what we learned.
It's clear that the restaurant industry is making social a priority. Looking at the data and the top-performing brand content, we recognized the overall themes that are relevant for fast food chains and sit down restaurants alike.
Here are 4 lessons marketers can learn from the top brands in the industry:

1. Build sustainable relationships with your customers
Most successful brands such as McDonald's, Applebee's, and Burger King are engaging frequently with customers across all platforms. Whether answering a question about a new product or reaching out to an upset customer, these brands prove that it's crucial to participate in, not sit on the sideline of, the conversation about your brand. In other words, don't just do social, be social. Your customers will develop a stronger emotional connection with your brand and, if you address their concerns in real-time, some of your nay-sayers may just become your most loyal advocates.
Brands shouldn't be afraid to develop strategies for up and coming networks like Instagram and Pinterest that may not yet have fully developed ad platforms. Dunkin' Donuts uses Instagram to elevate their brand through visual content and connect with a new segment of their fan base.
Even more adventurous are brands such as Taco Bell who use truly emerging networks such as Snapchat and Vine to connect with a younger generation. These brands see the value in experimenting and using social to do just that - be social with their fans in a fun and exciting way.
Social conversations can be used to shape your brand image once your audience is substantial and your strategy is aligned with your other marketing activities. Are you a fast food restaurant aiming to build a healthier persona? Is your brand suffering from a PR scandal and looking to connect with your community? Participating in the conversation with your engaged followers allows you to align your public image with your brand content strategy.
McDonald's, for example, is currently running a transparency campaign focused on Millennials in which they answer consumer questions about their ingredients, their products and their food preparation. The company acknowledges consumer concerns about the quality of their products and is working to set the record straight.
4. Engagement quality trumps fan/follower numbers
Wingstop, a chicken wing chain that targets sports fans, is emphasizing audience engagement across all their platforms. An astounding 30% of Wingstop's almost 1 million followers engage with their content. The brand targets sports fanatics and chicken lovers alike, featuring the social activity of passionate fans on their website and creating a community of loyal brand advocates.
Engagement will increase when you produce meaningful, targeted content that is more relevant to your fans, regardless of how many fans there are. Wingstop communicates effectively with their small community, proving a huge audience isn't the only way to win at social.
You can find additional information in the infographic below and data details in the full report.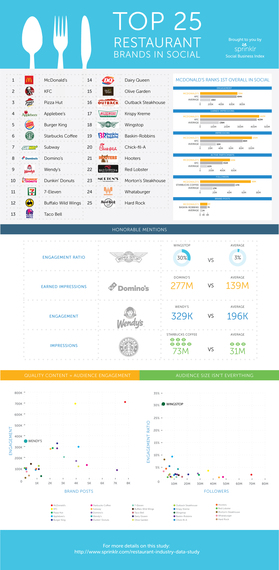 Related
Popular in the Community