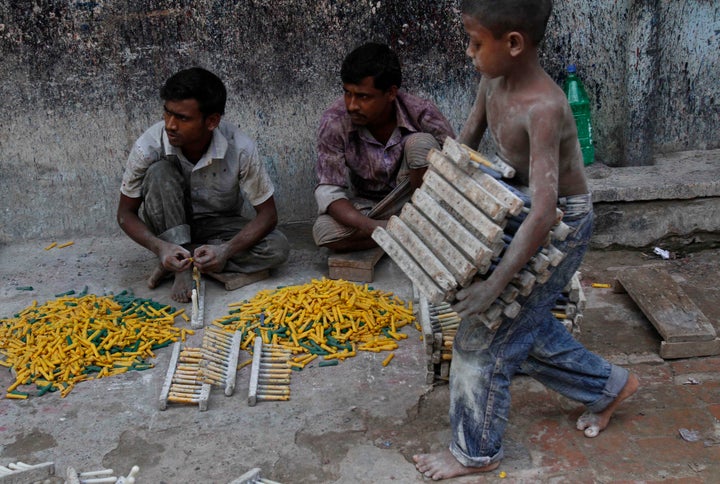 The Clinton Global Initiative took a frank look at human trafficking with a panel that included MTV, the Body Shop and a student who busted a trafficking ring.
CGI, an annual meeting that brings together leaders from around the globe to tackle some of the world's most pressing problems, convened Tuesday to Thursday.
A trafficking panel discussion on Thursday centered around everything from the role of pimps to the legislation that's emerged from both grassroots and organized advocacy.
Human trafficking, defined by the panel as the illegal trade of human beings for forced labor or sex, is a $50 billion business with about 20 million modern-day slaves worldwide.
Read on to see how CGI highlighted the need for action against human trafficking:

"mtvU Against Our Will Campaign"
mtvU, MTV's College Network, announced at CGI the launch of "mtvU Against Our Will Campaign." The program aims to shed light on the growing problem of modern-day slavery and to provide a platform for student activists working to wipe out the worldwide problem.
The website will spotlight student actions, providing young people with inspiration and resources to create change.
"College students often wake up the world to atrocities," Stephen Friedman, President of MTV, said during the panel discussion. "What we will do in the campaign is follow these inspirational young people who are leading the charge. mtvU is giving them a microphone.
As part of the campaign, mtvU released a series of PSAs that will explore how victims are treated like property, delve into the demand and expose the way pimps manipulate children.
One video tells the story of girls who were brought to the U.S. and forced to work in a hair-braiding salon for 14 hours a day without pay.
mtvU has partnered with Free the Slaves, Girls Education and Mentoring Services (GEMS) and Polaris Project.
Outside of mtvU, the general network will feature specials this fall on the topic. The series will include interviews with human trafficking survivors, stories of student activism and a look into the work that still needs to be done.
The campaign will highlight the connection between the commercial sex industry and slavery as well.
mtvU will visit campuses around the country this fall and spring.
Chinny, a recent grad of Kennesaw State near Atlanta, shared at CGI how her curiosity has lead her to pursue a law degree in hopes of someday prosecuting those involved with trafficking.
While in college, she and a group of friends investigated a case of human trafficking near her school. "We started observing this restaurant and saw the staff arrive and leave in a van every day," said Chinny, who prefers not to use her last name. She reported it to Immigration and Customs Enforcement, which followed the case and discovered that it was part of a larger trafficking ring outside of Atlanta.
Chinny later lobbied against human trafficking in Capitol Hill in 2008, helping to keep safe houses open and functioning.
The Body Shop announced at CGI that it will soon present an anti-trafficking petition to the United Nations. With more than 7 million signatures garnered in about a year, it's one of the biggest petitions ever presented to the UN, according to Sophie Gasperment, Body Shop executive chairman.
The Body Shop, a line of natural, ethically produced beauty products, first launched an anti-trafficking campaign in 2009 in 65 countries. The company has not only created awareness and raised funds, but it's also engaged with governments around the world.
Gasperment said that the company has presented national petitions to 26 governments and 15 have committed to taking action against trafficking.
She sees her company as more than just a product line.
"We use our stores and our teams to leverage a business model to create change," Gasperment said. "I just hope it will inspire other businesses to join us and do the same."
Alliance To Stop Slavery And End Trafficking

The Alliance To Stop Slavery And End Trafficking, founded by actress Julia Ormond, is an advocacy organization that works for systemic change. Ormond used her opportunity at CGI to call on the business community to help stop trafficking.
"This is a huge Pandora's box for businesses to be brave enough to open," Ormond said at CGI. "There is a piece of the solution that only business can do. The NGO community can't do it. It's up to them to bring the business ethic to the table and find it themselves.
She explained business leaders should take a hard look at their supply chain and limit contracts to slavery-free organizations.
Ormond's organization was instrumental in helping pass legislation in California that requires large businesses to go public with their trafficking policy.
"When you travel the world, as we've all done, you sit down with a trafficking victim," Ormond noted. "You sit down with a boy who jumped ship while he was working in the fishing industry and floated on a barrel for days. After that, then, I find it hard to go into a meeting with a business leader…"
Calling all HuffPost superfans!
Sign up for membership to become a founding member and help shape HuffPost's next chapter