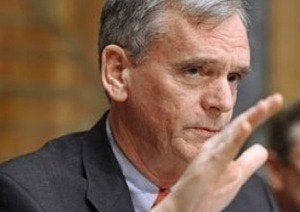 Two Republicans on the Senate Banking Committee presented starkly different messages Wednesday on a key provision in the financial reform bill making its way through the Senate, possibly foreshadowing an intra-party split as the bill approaches a floor vote.
Judd Gregg, of New Hampshire, said that the bill does not do enough to address Too Big To Fail. Rather than allowing financial regulators to kill failing companies, the bill keeps them propped up -- perpetuating the problem of firms being Too Big To Fail.
"The core of the problem is whether or not you have conservation, or whether you have resolution," Gregg told reporters after his speech at a U.S. Chamber of Commerce summit in Washington. "In other words... if the company should go into resolution, it should be resolved. It
should not survive."
Bob Corker of Tennessee, who recently engaged in bipartisan negotiations on the bill with Senate Banking Committee Chairman Christopher Dodd (D-Conn.), said just the opposite during his address to the assembled crowd.
Corker said he is "pretty proud" of the bill's section that deals with killing failing large financial firms, something regulators did not do in the case of Fannie Mae, Freddie Mac and AIG. Rather, taxpayers bailed them -- and hundreds of other firms -- out, to the tune of hundreds of billions of dollars.
The bill "absolutely ensures that if a company fails, it goes out of business," Corker said.
There is a "strong preference for bankruptcy," said Corker. The bill "absolutely resolves [failing firms] out of business."
Officials from the Treasury Department and Federal Deposit Insurance Corporation helped in drafting that section of the bill, Corker added.
The difference in messaging between Gregg and Corker could mark a break between Corker and his Republican colleagues, many of whom oppose fundamental aspects of Dodd's bill.
Related
Popular in the Community