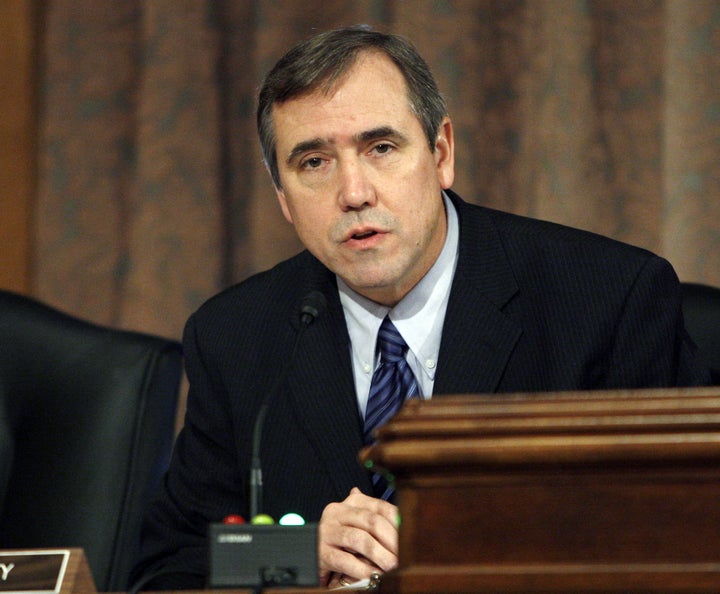 WASHINGTON -- Sen. Jeff Merkley (D-Ore.) is urging President Barack Obama to pledge a new round of foreclosure relief during his State of the Union address next week. In a letter to the president obtained by The Huffington Post, Merkley said the administration's current anti-foreclosure programs have proven woefully inadequate, and pushed for a more thorough program to keep families in their homes.
"A record one million families lost their home to foreclosure last year," Merkley wrote. "Next week, Mr. President, you will have the attention of the nation. I urge you to use this opportunity to renew efforts to tackle the national foreclosure crisis."
Merkley's call for presidential leadership on foreclosures comes as infighting among federal regulators appears to have stalled out key reforms to the bank divisions that work with troubled borrowers and process foreclosures.
The FDIC has been pushing to impose new requirements on the operations of those divisions, which are known as mortgage servicers. The agency has been engaged in heated negotiations with other regulators at the Federal Reserve and the Office of the Comptroller of the Currency (OCC). According to a source familiar with the negotiations, the Fed had initially opposed the plan, but agreed to support the rules after a few weeks of negotiations. The OCC, however, which is currently responsible for regulating the largest mortgage servicers -- Wells Fargo, JPMorgan Chase, Bank of America and Citigroup -- has resisted those rules. The OCC has never publicly sanctioned a mortgage servicer, despite widespread court findings of servicer fraud in the foreclosure process.
The Treasury Department, which had supported the new rules, had expected an agreement between agencies by Friday, Jan. 14, according to a spokesman. That anticipated agreement has not yet come to fruition.
But Treasury itself is engaged in a delicate dance on foreclosure policy -- defending the foreclosure prevention program criticized by Merkley, even as it urges sweeping reform of the bank divisions that participate in that program.
"The goal of the [Home Affordable Modification Program] was to prevent three to four million foreclosures," Merkley wrote, "but to date, fewer than 600,000 homowners have been approved."
Merkley is a persistent advocate for financial reform, and co-authored a key provision of last year's Wall Street overhaul legislation known as the Volcker Rule, which bars banks from speculating with taxpayer money.
At a Wednesday meeting of the Mortgage Bankers Association, Cindy Gertz, Treasury's Director of Operations for HAMP, praised the servicers involved in the Treasury plan, noting that they had ramped up staffing in order to deal with the foreclosure flood. Treasury spokeswoman Andrea Risotto told HuffPost that Gertz's praise for servicers was restricted to HAMP, and not to any other servicer activities. But servicer abuses within HAMP have been widely documented, with borrowers frequently making good on loan modification arrangements only to be foreclosed on.
Risotto noted that Treasury has a "compliance agent" that inspects servicers once a month to make sure banks are implementing the program correctly. Nevertheless, servicer employees have admitted to fraudulently robo-signing hundreds of foreclosure documents a day as a matter of ordinary procedure. Treasury has never sanctioned a servicer for violating HAMP rules, and maintains that it has no authority to do so, because the program is voluntary for banks.
But as Treasury defends servicers with one hand, it is also demanding fundamental reform of the servicer industry with the other. On Tuesday, Treasury Secretary Timothy Geithner called for an overhaul of the way servicers are paid, arguing that the status quo is a "broken" system.
Regulatory agencies are debating whether to include standards for servicer conduct in new "skin-in-the-game" regulations for the mortgage bond market. The Wall Street overhaul legislation contains a provision requiring banks to retain at least five percent of the default risk whenever they sell mortgages off to investors. But there's a key exception to the rule: for standardized, top-quality loans, banks will not have to retain any of the risk. The FDIC hopes that by including mortgage servicing rules in the definition of a standardized, top-quality mortgage, they can create a new gold standard for mortgage lending that is immune from current abuses.
But these new regulations would only reform the way that servicers operate with regard to new mortgages. They will not help the millions of borrowers already trapped in unaffordable loans, nor will they provide a way to manage the widening gyre of fraud allegations and other improprieties that pose massive potential losses at the nation's too-big-to-fail banks.
In a speech Wednesday, FDIC Chair Sheila Bair warned, "Chaos in mortgage servicing and foreclosure is introducing a dangerous new uncertainty into this fragile market." Bair suggested creating a foreclosure disaster fund akin to the BP oil spill fund that would compensate wronged homeowners and investors, while capping liabilities for big banks.
Merkley wants to find a solution that deals with homeowners already facing foreclosure (and bank fraud). He's pushing for a six-point program to overhaul the current foreclosure system, including new standards for servicer conduct and new legal mechanisms to provide debt relief to deserving families.
Central to the program is a reform of the bankruptcy code, dubbed by Merkley as "lifeline bankruptcy reform." Mortgages are currently excluded from the bankruptcy process, so even if borrowers declare bankruptcy -- a process that is difficult to qualify for and comes with serious financial penalties -- they cannot get debt relief on their mortgage. By making mortgages subject to renegotiation in bankruptcy under the supervision of a judge, Merkley hopes to establish a process that would allow borrowers to remain in their homes without simply granting a get-out-of-debt free card to everyone whose home value has declined since the collapse of the housing bubble.
"This makes much more sense than paying for modifications," economist Dean Baker, co-Director of the Center for Economic Policy and Research, told HuffPost. Under HAMP, the Treasury pays servicers $1,000 to implement each loan modification, plus an additional $1,000 for every year that borrowers keep paying on the modified loan.
A similar program for farm loans was adopted during the mid-1980s and helped thousands of family farms avoid foreclosure, and a recent IMF report suggested bankruptcy reform as an effective solution to the U.S. mortgage mess. The same report found that the high rate of foreclosure may be responsible for between 1 percent and 1.25 percent of the U.S. unemployment rate, currently at 9.4 percent.
Mortgage bankruptcy reform was endorsed by then-Sen. Barack Obama during his presidential campaign, but died in the Senate in Spring 2009 amid weak backing from President Obama. Senate Republicans, who pushed for bankruptcy to be the appropriate way to deal with faltering megabanks, did not believe that consumers should receive the same treatment. Several bank-friendly Democrats also opposed the bankruptcy overhaul, prompting Sen. Dick Durbin (D-Ill.) to fume that banks "frankly own the place," referring to Congress.
Merkley also calls for an end to the "dual-track" system, in which mortgage servicers begin the foreclosure process even as they negotiate loan modifications with troubled borrowers. The system allows banks to foreclose as quickly as possible if the modification falls through, but also leads to many unnecessary foreclosures as banks improperly continue with foreclosures on successful modifications. Merkley would also require servicers to establish a single individual to contact borrowers, preventing paperwork mix-ups and other bank confusion which lead to improper foreclosures, and establish an independent party to review whether banks have followed the rules on foreclosures.
OCC policy already bans the dual-track system unless the process is required by mortgage bond agreements, but the OCC is yet to enforce that ban with any sanction against banks that violate it.
The potential impact of other elements in Merkley's plan is less clear. He would implement a "short-refinance" plan, which would allow homeowners who owe more on their loan than their house is worth to refinance into a new loan at the current value of their home. Government agencies would then pay the existing bank to expunge the remaining debt levels. But Baker was skeptical that such a program would be workable. With home prices down dramatically nationwide from their bubble-level peaks, even outright housing speculators will be sure to seek relief, triggering a government payout to the very banks who caused the problem by lending recklessly in the midst of a bubble. "There is not going to be any plausible means test that you can put in place that will prevent almost anyone in this situation from taking advantage of the opportunity," Baker said.
Merkley would also provide a $5,000 tax credit for first-time homebuyers in an effort to boost home sales. But Baker said such an arrangement is unlikely to be an efficient mechanism to lift the struggling housing market.
REAL LIFE. REAL NEWS. REAL VOICES.
Help us tell more of the stories that matter from voices that too often remain unheard.