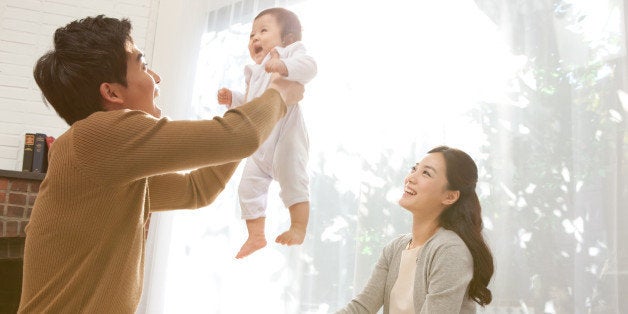 9BLISS sat down with renowned pediatrician, Dr. Harvey Karp -- most widely known for his (incredibly) popular book, The Happiest Baby on the Block and its sequel, The Happiest Toddler on the Block. Dr. Karp dedicates his professional life to educating parents and children on his techniques while teaching as an Assistant Professor of Pediatrics at the USC School of Medicine.
In his 30 year career, Dr. Karp has helped countless new parents (including celebrities like Madonna, Pierce Brosnan, and Michelle Pfeiffer) soothe their babies to sleep and get some shuteye themselves. And yes... we mean that Madonna.
We asked him for the inside scoop on his game-changing series. Here's what he had to say:
9BLISS: What inspired you to create the Happiest Baby series?

Dr. Karp: Early in my medical training, I often heard that when babies cry that there's really nothing you can do about it; babies simply just don't sleep well. It was when I learned about a tribe in Africa whose mothers were able to soothe babies in under a minute almost 90% of the time that my interest really piqued. I was interested in studying this contradiction of information. As a parent, there are three primary tasks that you've got to manage with a newborn: feeding, crying, and sleeping. I was shocked that there was so much research done on feeding but not on crying or sleeping. I spent the next twenty years researching these topics in my practice.
9BLISS: Sleep deprivation is something that expecting parents are told is inevitable. How can being sleep deprived affect you? Why is it so important to instill healthy habits?
Dr. Karp: Lack of sleep is a bigger complaint of parents than not having enough money! A BabyCenter survey done in 2012 reported that 50% of new mothers get an average of six hours of sleep a night during the early months. Studies have shown that brain impairment at this level of sleep operation is equivalent to someone who is drunk! It's conclusive that lack of sleep can lead to numerous other health issues, including post-partum depression. In order to avoid the negative "sleep-drunk" side effects, make sure you know how to soothe and put your baby to sleep (which will allow you to sleep better as well). My book, The Happiest Baby Guide to Great Sleep, is a great resource for getting your child to bed safely and provides further information on the importance of sleep.
9BLISS: You've helped millions of parents around the world soothe their babies and speak to their toddlers. What's the most important concept to understand about your techniques? How can expecting parents plan to implement them?
Dr. Karp: The huge takeaway is this concept (as discussed in The Happiest Baby on the Block) that babies are "born too soon," and the first 3 months of birth should be treated as the "4th trimester." Knowing that your child ideally wants to be in the mother's uterus for the first three months of life is an important perspective to understand. The two most critical tools I would recommend are "The Happiest Baby" DVD and the Super-Soothing Sleep CD. Visually seeing the soothing techniques performed allows parents to implement them correctly, which is so important. I think about it like learning to tie your shoes -- you can read about learning to tie your shoe, but having somebody show you how makes a huge difference. The CD is different than any other noisemaker as it most closely matches the quality of sound the baby hears in womb.
9BLISS: What is baby colic? Is there anything during pregnancy that women can do to prevent colicky babies?
Dr. Karp: Colic is medically defined as an infant crying for more than three hours a day for more than three days a week for three weeks. Colic has more to do with a baby's temperament or personality, rather than science, so there isn't a prevention technique. Colicky babies need rhythmic simulation. No matter how colicky the baby, the techniques discussed in my book should be able to help soothe the baby if done correctly. It's really about triggering a physiological reaction.
9BLISS: You're an expert on environmental risks. Are there any habits that parents (and our pregnant readers) can add to their daily routine to prevent unnecessary exposure?
Dr. Karp: A great thing to do is visit the Environmental Working Group website. They have lists of all different types of products you may be using and rate them for safety. When you put creams on your body that can penetrate deep through the skin internally, it's important to know what could potentially be dangerous. Led paint (whether from an antique crib or on window sills in houses built before 1970) is another common risk I tell new parents to be aware of. Hardware stores carry tests you can use to confirm what you're using is safe. New carpeting has a lot of chemicals as well. If you buy a new carpet for your nursery, do this early, and let it air it out for a couple of weeks.
9BLISS: What is the best piece of advice you have for dads-to-be?

Dr. Karp: Dads are often the best baby calmers in the family. While terrible at breastfeeding (ha!), they are very good at baby calming. They are a great support for moms and an equal member of the team. I like to remind both moms and dads that the current "nuclear family" (mom, dad, and child) is a huge misconception. All through history babies have been raised by groups of people and often numerous extended family members. For parents today that are doing it on their own, it can be a burden! You can survive, but it is important not to be too judgmental or critical of your parenting or the parenting of others.
This post originally appeared on 9BLISS. For more updates on baby prep & pregnancy, get on the list at 9BLISS.com.