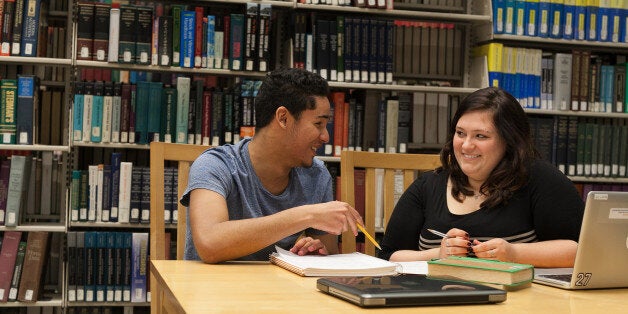 A little over a year ago, I was thrust into the national spotlight when I attended the College Opportunity Summit at the White House. During President Barack Obama's speech, he pointed to me as an example for other students, noting that where we come from does not determine our ability to excel in school and beyond. From there, I was invited to sit with First Lady Michelle Obama during the 2014 State of the Union address; again, President Obama mentioned me -- Estiven Rodriguez, born in the Dominican Republic, a non-native English speaker and about to become a first-generation college student.
For students like me, the pressure to succeed is high enough; my story already had been told before I even stepped onto the campus of Dickinson College last fall. My first weeks were a difficult transition. As a student who never needed to be organized in high school, and whose weakest skill was time management, I was not meeting my academic potential. So I reached out to my first-year mentor, Brooke Serra, for help.
Brooke, a senior English major, and I were part of a new mentoring program at Dickinson for all first-year students, and I had been assigned to her group. These First-Year Interest Groups (or FIGs, as they're known on campus), would meet throughout the academic year. In addition to upper-level student mentors, we also had the support of staff and alumni.
Brooke was always there for me. She helped me create a weekly schedule including my classes and extracurricular activities. I sometimes texted her at midnight, 1 a.m., even 2 a.m., asking her to read one of my essays. In high school, I rarely used any planner for more than a day, but I started to realize this was no longer high school, and I could no longer rely on my inherent abilities. I knew that I needed to follow Brooke's advice and stick to the schedule.
I remember worrying about an essay assignment in my First-Year Seminar: Latin American Short Stories, and was disappointed when I received a C+. After seeking help from Brooke, as well as from my professor, and following my study schedule -- including 12-13 hours a week in the library -- I achieved an A in my next paper.
Overall, my academic performance continued to improve. As the weeks progressed, I was no longer confused in class and began actively participating.
I had a mentor in high school but I wasn't expecting to find that relationship in college. I had been part of a program in New York City called Blue Engine, which provided one-on-one instruction and helped to prepare students like me for college.
I saw in Brooke what I had seen in my high-school mentors and mentioned to her that she would make a great BETA (Blue Engine Teaching Assistant). So she applied, and this July she will be moving to New York City to join the Blue Engine team.
Looking back on my first semester as a college student, I know that having a mentor was important, because resources were available at all times. I became a more responsible student and a different, better version of myself. Brooke also learned how much of an impact one person can have on another. I had reinforced her passion to work with high-school students, preparing them for their college experiences and giving them the tools to succeed.
For students entering college in the fall, Brooke and I have one piece of advice: Find a mentor. Mentorship is mutually beneficial, and we would not be the people we are today without this experience. Thanks to our FIG program, we have learned from each other and established a friendship that will continue long after Brooke graduates from Dickinson. This mentorship-turned-friendship has helped both of us learn about ourselves, our passions and, most important, the ways in which we can become better students -- and better citizens of the world.
Estiven Rodriguez is a first-year student and Posse Foundation Scholar at Dickinson College. A new TIME documentary follows his journey to the 2014 State of the Union address, where President Barack Obama shared Rodriguez's story as the son of a Dominican factory worker who is now a first-generation college student. Estiven's mentor, Brooke Serra, also contributed to this piece.
Calling all HuffPost superfans!
Sign up for membership to become a founding member and help shape HuffPost's next chapter