WASHINGTON -– Nevada rancher Cliven Bundy has become something of a folk hero among the anti-government, pro-property rights crowd, thanks to his recent standoff with the federal Bureau of Land Management. Some landowners in the path of the proposed Keystone XL pipeline want to know where the support for them has been, since their private property will actually be taken away without their approval.
Bundy and his supporters don't recognize federal ownership of the land where his cattle have been grazing illegally for more than two decades. He refuses to pay grazing fees, arguing that he has "ancestral rights" to the land -- an argument that a federal court has rejected, and which may not be historically accurate. The issue came to a head earlier this month after BLM officials seized hundreds of Bundy's cattle, and armed right-wing and anti-government groups flocked to the desert for a standoff. BLM returned the cattle shortly thereafter, citing concerns about the safety of its employees and the public.
That includes third-generation Texas farmer Julia Trigg Crawford, who has been fighting for years to prevent TransCanada from running the southern portion of the Keystone XL pipeline through her property. Crawford's 600-acre farm is in Direct, Texas, where she raises soybeans, wheat, corn, and cattle. She turned down TransCanada's original offer for her land. The company took her to court to claim eminent domain to take it anyway.
"They didn't have a right to take my land against my will," Crawford told The Huffington Post this week. She had just returned to Texas from a Keystone XL protest in Washington, where she joined other ranchers and tribal groups.
Crawford said she's worried about the pipeline's effect on cultural and environmental aspects of the land. But mostly she said she's mad that TransCanada could essentially take her land without her permission. She is trying to get the Texas Supreme Court to hear her case, arguing that the company should not have had the ability to claim eminent domain in the first place.
"A foreign corporation building a for-profit pipeline doesn't meet the standards for eminent domain," Crawford said. The state Supreme Court turned down her first appeal, but she's trying again.
In South Dakota, rancher John Harter has been fighting TransCanada's attempt to run the northern leg of the pipeline through his property, near Colome. Harter was in court on Monday, where he said TransCanada was trying to force him to sign a settlement agreement.
That land, Harter said, has been in his family since 1939 -- ranched first by his grandfather, then by his father, and, since the early '90s, by him. He said he was reluctant to agree to pipeline from the beginning, but knew TransCanada would probably force it on him. He verbally agreed to a route that was amenable. But then, he said, the company changed the proposed route without consulting him.
"You never really had an option of saying no," Harter told The Huffington Post. "I did not want it on my property. But you find out, if you say no at all, then they start threatening that if you don't do this, we'll use eminent domain. They were doing that rom the start. I heard that right away from the people. They said if you don't sign the way they want, they'll take it from you.
"My greatest concern is contamination of the water and land," said Harter. "This thing is so high-risk."
His neighbors, he said, have agreed to let the pipeline come through. "They're living in the moment, taking the money and not worrying about it, because we won't be around," said Harter. "I guess for some reason I can't do that."
Eminent domain concerns are the main reason that, on April 18, the Obama administration delayed a final decision on the northern pipeline route. In February, a Nebraska state court declared the proposed pipeline route through the state invalid, throwing out a law that would have allowed TransCanada to declare eminent domain. Nebraska is appealing the decision to the state Supreme Court. In the meantime, with no legally sanctioned route through the state, the Obama administration said it cannot make a final decision on the pipeline.
Jane Kleeb, director of anti-pipeline group Bold Nebraska, said that it's hypocritical that right-wing groups have jumped to Bundy's defense while advocating for the pipeline. "These farmers and ranchers are facing a real property rights issues, versus Bundy who just didn't pay" fees, said Kleeb. "If this was a green energy project, or wind project, Republicans would have been outraged from the beginning."
While TransCanada has not used eminent domain in Nebraska, she said the threat of it forced many landowners to agree to settlements. "Farmers and ranchers were terrified," Kleeb said.
In an email to The Huffington Post, TransCanada spokesman Davis Sheremata defended the company's approach. "The eminent domain process is one that we do not like to use, but sometimes have to when we cannot reach an agreement about compensation," he wrote. He also said that the company has not used eminent domain in Harter's case -- the company is only trying to get him to sign an agreement previously reached with him.
"It is really unfortunate that some of these activists are trying to make this an 'us versus them' debate when 100 percent of the landowners in South Dakota and Montana have already negotiated generous agreements with TransCanada to access their property for Keystone XL. And in Nebraska, where the pipeline route recently changed, already 79 percent of landowners have agreed to terms." (It seems that Harter's opposition would put TransCanada under "100 percent" in South Dakota.)
"We recognize that while there may be some vocal opponents to Keystone XL, they do not represent the majority of landowners along the approved route, or Nebraskans for that matter," Sheremata continued. "While we recognize that not everyone will support this pipeline, our land team works very hard to build good relationships with landowners and that is what they are doing in Nebraska every day."
Pipeline opponents said property concerns should be getting more attention.
"The folks who have been leading the fights in the states is farmers and ranchers, and in the past few years, tribal leaders," Kleeb said. "You're talking about setting a precedent that a foreign corporation can use eminent domain against an American landowner for a private project."

Support HuffPost
The Stakes Have Never Been Higher
Before You Go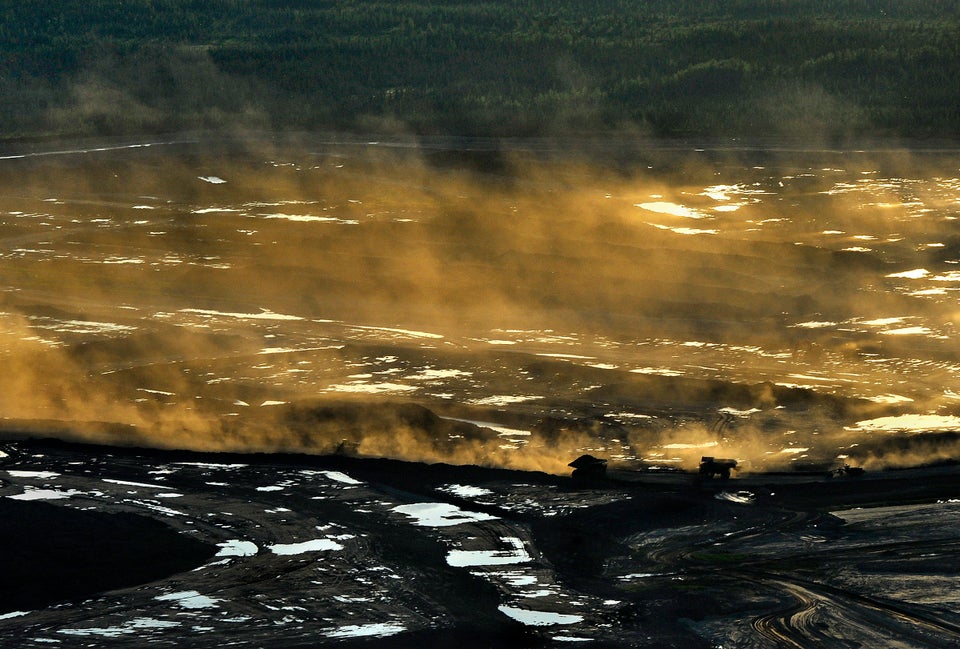 Keystone XL Pipeline Report Highlights
Popular in the Community