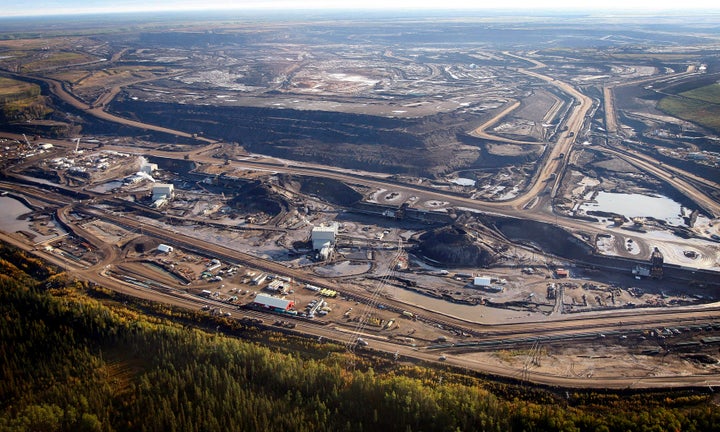 Opponents of the Keystone XL pipeline proposal continued their assault Monday on what they consider a corrupt federal approval process for the project, releasing dozens of new email messages between State Department employees and a lobbyist for the company behind the pipeline, TransCanada.
The emails, part of a growing cache obtained by the environmental group Friends of the Earth, focus on the interaction between TransCanada lobbyist Paul Elliott, a former deputy campaign director for Secretary of State Hillary Clinton's failed 2008 presidential bid, and representatives of the State Department, which is currently weighing approval of the Keystone XL project.
While no emails between Clinton and Elliott have been released, the newest messages reveal a cozy and solicitous relationship between Elliott and State Department staff -- particularly one member of the senior diplomatic staff at the U.S. Embassy in Ottawa, Marja Verloop.
"The emails between Verloop and Elliott are extremely friendly and illustrative of a cozy and complicitous relationship," Friends of the Earth said in a memo released Monday morning. "They are filled with emoticons and contain an invitation to visit Ottawa's 'winter wonderland,' acknowledgment that Elliott obtained his job as a lobbyist 'precisely' because of his connections, and an offer by Verloop to hand-deliver an invitation to Elliott. The emails also indicate that Elliott succeeded in securing multiple meetings between TransCanada and high-level officials at the State Department."
In one particular exchange from September of last year, Verloop is seen cheering for Elliott after he secured support for the pipeline from Democratic Montana Senator Max Baucus. "Go Paul!" Verloop writes. "Baucus support holds clout."
A previous cache of emails concerned interaction between Elliott and Nora Toiv, a special assistant to Secretary Clinton's chief of staff, Cheryl Mills. Friends of the Earth suggested those emails provided "evidence of agency bias" and showed that "the State Department was doing favors for TransCanada during the Keystone XL review."
State Department officials have previously argued that the email exchanges only demonstrate that Elliott -- an aggressive lobbyist by any light -- was nonetheless unable to gain audience with key agency decision makers, and was instead routed to lower-level staff with no influence over the permit application.
Wendy Nassmacher, a spokeswoman for the State Department's Bureau of Oceans and International Environmental & Scientific Affairs, which is overseeing the permit application, said in an email message that the agency is "committed to a fair, transparent and thorough process" and that both the State Department and the U.S. Embassy in Ottawa have been in communication with both industry and other stakeholder groups, including "environmental organizations, potentially affected landowners, and native American or First Nations communities, both in the United States and in Canada."
"No individual or group has been given unfair advantage," Nassmacher said. "Our policy was to meet with all interested parties at the Assistant Secretary level or below. In fact, Department of State officials have had over 100 meetings with environmental and industry groups, including with Friends of the Earth."
Elliott did not reply to an email seeking comment, but Shawn Howard, a spokesman for TransCanada, said it was "absurd to suggest that any one person might influence a process" that involves numerous government agencies -- including not just the State Department, but also the Department of Homeland Security, the Department of Transportation, the Department of Defense and the Department of Justice.
"Mr. Elliott was and is simply doing his job -- no laws have been broken," Howard added. "His role is very similar to the job that over 60 registered -- and unregistered -- DC lobbyists for 10 environmental groups perform."
The TransCanada spokesman said his company would like to see Friends of the Earth produce all email correspondence that its lobbyists have had with government officials. "The environmentalists continue to use sound bites over substance and facts, attacking anyone who disagrees with their point of view."
Last week, Friends of the Earth called on the Justice Department to open an investigation into Elliott for violating the Foreign Agents Registration Act, which requires that "persons acting as agents of foreign principals in a political or quasi-political capacity to make periodic public disclosure of their relationship with the foreign principal, as well as activities, receipts and disbursements in support of those activities."
The $7 billion, 1,700-mile proposed Keystone XL pipeline would carry crude oil from Alberta across the border with Canada in Montana and traverse five other states before reaching refineries on the Texas Gulf Coast. Because the project would cross an international border, a permit is required from the State Department.
Friends of the Earth, along with the Center for International Environmental Law and Corporate Ethics International, sued Secretary of State Hillary Clinton last May after repeated attempts to obtain correspondence between Elliott and the agency through the Freedom of Information Act were rebuffed.
In late August, however, the State Department began to comply with the request, delivering 34 pages of emails. Friends of the Earth says more documents are expected.
UPDATE: This article has been revised to include comments from TransCanada spokesman Shawn Howard and the State Department's Bureau of Oceans and International Environmental & Scientific Affairs.
Related
Popular in the Community