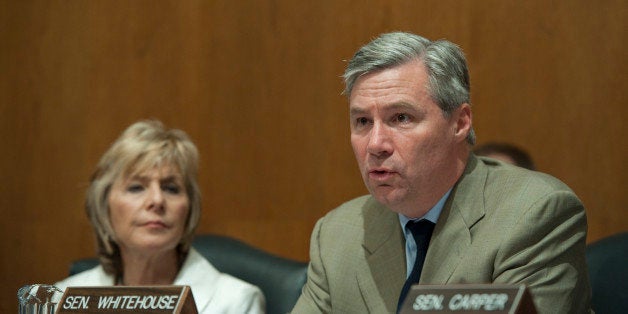 WASHINGTON -- Democratic Sens. Barbara Boxer (Calif.) and Sheldon Whitehouse (R.I.) are calling on the Obama administration to evaluate the potential health impacts of tar sands development before deciding whether to approve the Keystone XL pipeline.
The State Department on Jan. 31 issued its final environmental impact statement, which looks at the potential hazards the pipeline poses to waterways, soil, air quality and wildlife, as well as its contribution to climate change. But in a letter to Secretary of State John Kerry, Boxer and Whitehouse call that report "woefully inadequate" in its consideration of the potential human health concerns related to the proposed 1,660-mile pipeline, which would carry as much as 830,000 barrels of oil per day from the Alberta oil sands in Canada to refineries in Port Arthur, Texas.
The senators asked Kerry to "complete a comprehensive human health impacts study" before deciding whether the pipeline is in the national interest, which is the next step in the decision process.
The pair held a press conference on Wednesday to highlight concerns about the health impacts on communities near extraction sites in Canada, as well as in communities near the Texas refineries that would process the crude. The senators and pipeline opponents worry those communities could face higher rates of certain types of cancer and respiratory disease.
"I don't believe that the EIS that was done has given a through look at the health impacts to people who will feel it, and that is just plain wrong," said Boxer at Wednesday's press conference. "I don't think it's been looked at, and I don't think this public health issue has been brought to the American people ... It's a tale of horrors."
The event featured Dr. John O'Connor, a family physician who works in a community near oil extraction sites in Alberta, who said he has seen high rates of cancers that he believes are linked to tar sands development. "This is an ongoing tragedy," said O'Connor, who worried that the pipeline will increase the amount of oil extracted.
The event also featured Hilton Kelley, an environmental justice activist from Port Arthur who is concerned about the air quality and health impacts should the tar sands oil, also known as bitumen, be refined there. Port Arthur, he said, already has three major refineries, four chemical plants and an incinerator -- it doesn't need a bitumen refinery, which is heavier and contains chemicals not found in conventional crude.
"Once this pipe is built and this bitumen or tar sands is pumped in, we already know it's laced with heavy metals. We already know it has a huge amount of benzene and other dangerous toxins," said Kelley in an interview with The Huffington Post. "This would increase the emission levels in the city of Port Arthur. We should not be increasing the emissions. We should be looking at ways to decrease these levels."
Whitehouse also raised concerns about the contractor that created the EIS for the State Department. That group, Environmental Resources Management, has been accused by other Democratic lawmakers and environmental groups of having a conflict of interest due to a prior relationship with TransCanada. Whitehouse said that while he does not know if the analysts had a technical conflict of interest, the EIS "certainly brings with it the point of view and the worldview of the oil industry," he said.
Whitehouse said he hoped Kerry would consider the potential health concerns as he weighs the project. "It's very important that fresh eyes take a look at this and consider all of the impacts of tar sands," Whitehouse said.
REAL LIFE. REAL NEWS. REAL VOICES.
Help us tell more of the stories that matter from voices that too often remain unheard.
BEFORE YOU GO
PHOTO GALLERY
U.S. Capitol Photos