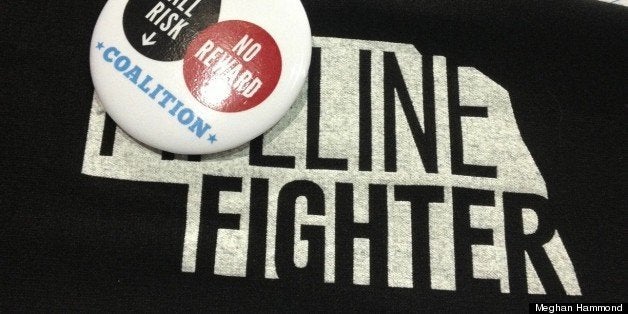 Like most of the pipeline supporters at the hearing, Vokes wore a polished suit. But the engineer informed those gathered in the Heartland Event Center in Grand Island, Neb., that he's actually a former employee of TransCanada, the pipeline operator, who has since turned whistleblower. Vokes described shoddy practices, cut corners and a "culture of intimidation and coercion."
"TransCanada management has not demonstrated the moral fiber to ensure compliance," Vokes told the three-member State Department panel considering the environmental impact of the pipeline ahead of the White House decision on the project.
Hundreds of pipeline opponents, many dressed far less formally in red and blue "Pipeline Fighter" baseball shirts and black armbands, stood and cheered.
"We were told to be quiet and not clap and cheer, but we do anyway," Meghan Hammond, a Nebraskan family farmer, told HuffPost from the hearing room.
Whenever pipeline backers took the stage, opponents removed their black armbands and raised them into the air. They held the bands high as labor union and industry representatives, as well as local welders, pipeline workers and a former administrator for the federal Pipeline and Hazardous Materials Safety Administration during the Bush administration, pleaded with the State Department to approve the project.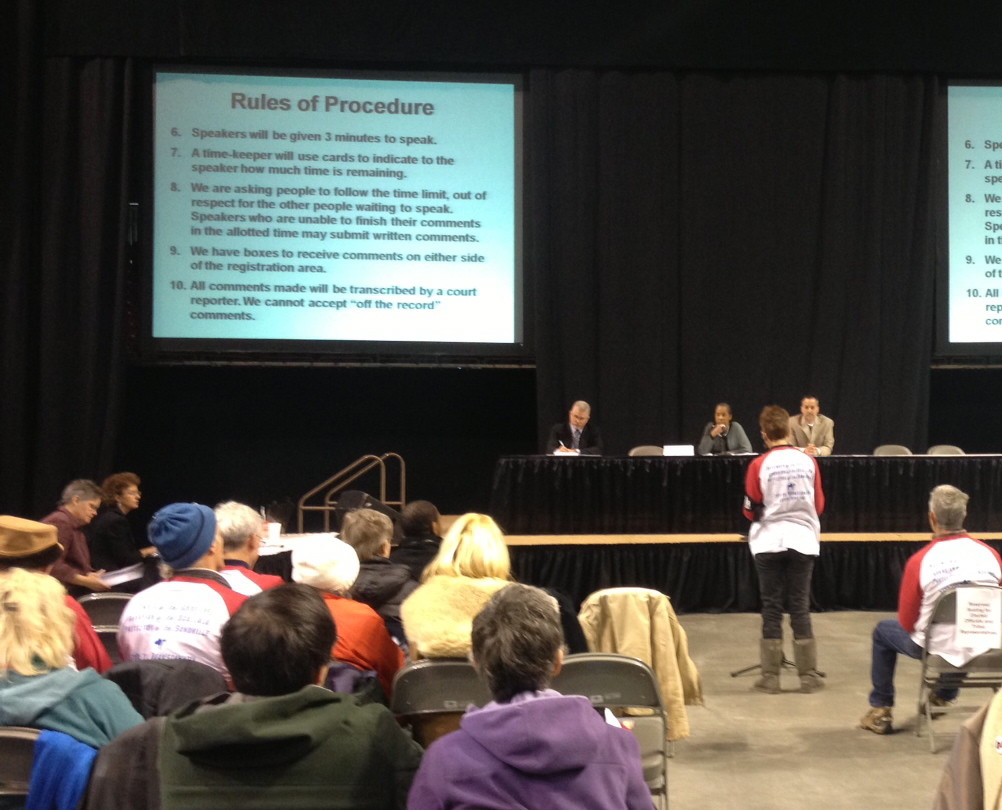 Supporters and critics of the pipeline shared their comments with a State Department panel. (Meghan Hammond)
The supporters argued that Keystone XL was in "the best interest of America," promising more jobs and less dependence on foreign oil. One suggested that the State Department review -- which concluded the project would be "environmentally sound" -- was "thorough and transparent." Another pointed out to the farmers in attendance that they relied on products created from oil, such as fertilizers, insecticides and fuel.
"There is no compelling reasons not to approve this project," said Tom Gross, director of pipeline and gas distribution for the United Association of Journeymen and Apprentices of the Plumbing and Pipe Fitting Industry of the United States and Canada.
Farmers, ranchers, Native Americans and other critics, who outnumbered the TransCanada supporters, stepped forward to share what they considered to be reasons to reject the project -- ranging from drinking water and clean air to indigenous rights and climate change. Many of those arguments have been covered by HuffPost in its series on people in the path of Keystone XL.
The environmental impact statement "has just as many holes as the pipelines that keep leaking their way into our news," said Jim Tarnick, a Nebraska farmer, noting a lack of soil studies or water analyses. He also highlighted recent major pipeline spills in Kalamazoo, Mich., and Mayflower, Ark.
Residents who lived near both of these pipeline accidents also came to testify, bringing with them pictures.
Faith Spotted Eagle, of the Yankton Sioux in South Dakota, said her people "reject this intrusion of any threats to our land, water and children."
She said the State Department's claim of 159 consultations with her tribe was a "gross misrepresentation."
Many speakers criticized the State Department for underestimating Keystone's climate impact in the environmental statement. A report published on Tuesday by a coalition of environmental groups estimated that the pipeline will carry and emit the equivalent of at least 181 million metric tons of carbon dioxide each year. The State Department's analysis said the project wouldn't significantly alter cimate change.
To the tune of "Blowing in the wind," a Wisconsin childcare worker posed questions to the State Department representatives: "How many times must scientists say climate change is nothing to scoff? How many times must legislators vote for Keystone because they're at Koch Brothers' trough?"
Randy Thompson, chair of the "All Risk, No Reward" campaign, which launched anti-pipeline ads ahead of the hearing, said the Keystone fight had "turned into a heavyweight bout between ordinary citizens of this country, a foreign corporation and, in some cases, our political figures."
"President Obama has to make a decision," said Thompson, wearing a white cowboy hat and black shirt with his armband. "He's going to have to declare a victory. The question is, is he going to raise the heavy hand of big oil or raise the hand and spirits of the American people?"
Among the other "Pipeline Fighters" that took the mic on Thursday: a teen poet and an Omaha meteorologist.
Overall, out of the first 107 people who testified, hearing attendee Mark Chavez counted just 23 in favor of the pipeline. Of those, he said, 22 came from representatives of the oil and gas industry. With hours still to go, he added that most of the pipeline supporters had already departed.
Of course, not everyone with an interest was able to attend, including Juan Parras, an activist in Houston. Parras has been defending his environmental justice community of Manchester from the prospect of even dirtier air with Keystone XL.
"Had I been there, I would have taken a quote from the president himself, when he was addressing the issue of gun control," Parras told HuffPost in an email. "He made it clear to the public that the Congress of the U.S. failed to act responsibly in addressing gun violence and gun control -- that the majority of citizens in this nation have clearly stated we support good gun control legislation."
"I would urge the president, that on the issue of the Keystone pipeline, the majority of citizens feel just as passionate in requesting him to deny the Keystone pipeline," added Parras. "It is within his power to hear us and rule in our favor."
Calling all HuffPost superfans!
Sign up for membership to become a founding member and help shape HuffPost's next chapter