 WASHINGTON -- The battle over the Keystone XL is threatening to impinge upon the U.S. Senate race in Massachusetts, with California billionaire Thomas Steyer, who opposes the oil pipeline, threatening to spend big money to influence the outcome.
A former hedge fund manager turned environmental advocate, Steyer has joined forces with a handful of young Massachusetts advocates to pressure Rep. Steve Lynch (D-Mass.) to relinquish his support for the proposed pipeline, which would run from Alberta's tar sands in Canada to oil refineries along the Gulf Coast. Lynch previously voted in favor of expediting approval of the pipeline. His rival in the April 30 primary, Rep. Edward Markey, is the ranking member on the House Natural Resources Committee and an outspoken opponent of the project.
In a public letter, Steyer called on Lynch to do one of two things by "high noon" on Friday: "Either act like a real Democrat and oppose Keystone's dirty energy. Or, get a sworn, binding statement -- with securities law enforcement -- from TransCanada and the refiners that all of the Keystone-shipped oil will stay here." Otherwise, Steyer warns, he'll "launch an aggressive public education campaign" aimed at hurting Lynch's electoral chances.
The Lynch campaign was unimpressed. "This letter reads like something out of a James Bond film -- a billionaire making threats and issuing ultimatums that expire at 'high noon,'" said spokesman Conor Yunits. "Like President [Barack] Obama, Congressman Lynch supports an all-of-the-above energy strategy, and he is not going to respond to threats and ultimatums."
"While we are still hoping against hope that Lynch will come to his senses and announce his opposition to the Keystone XL pipeline by Friday, if he does not, we are definitely planning to move forward to make sure people know he's prioritizing polluters over the people," said Craig Altemose, one of the environmental activists on the letter.
Last year Steyer spent tens of millions of dollars on California ballot initiative Proposition 39, which channels more money into clean energy projects by closing a tax loophole for out-of-state corporations.
But his involvement in the Democratic primary could prove a headache for Markey, who's called on primary candidates of both parties to reject money from outside interest groups.
The so-called People's Pledge was modeled after an agreement between former Sen. Scott Brown (R) and his opponent, sitting Sen. Elizabeth Warren (D), to curb outside campaign spending in last year's Senate race.
Republican contenders in the 2013 Senate race have declined to make the commitment, noting they don't have the connections or campaign funds of their more established Democratic rivals, according to Reuters.
"Ed Markey categorically rejects attempts to violate the spirit of the People's Pledge, and urges groups and individuals on both sides to respect the pledge to keep outside advertisements off Massachusetts airwaves," said Markey campaign manager Sarah Benzing. "Unlike the Republicans in this race, who have flatly refused to follow the lead of Scott Brown in condemning the influence of Karl Rove and the billionaire Koch brothers in our politics today, Ed Markey is committed to passing a constitutional amendment that would clean up our elections by repealing the court's misguided Citizens United ruling."
Environmentalists are undeterred. "We are planning a kick-off on Friday with a mobile billboard," said Altemose in his email. "We're also talking about documenting how many times people make the bogus claim that this pipeline will help with our energy independence, and issuing a report naming just how many times that's been claimed, and who's been making the claim."
The State Department, which has authority over the pipeline's final approval, is in the midst of a 45-day public comment period. A decision by the Obama administration is expected late this summer.
Support HuffPost
The Stakes Have Never Been Higher
Related
Before You Go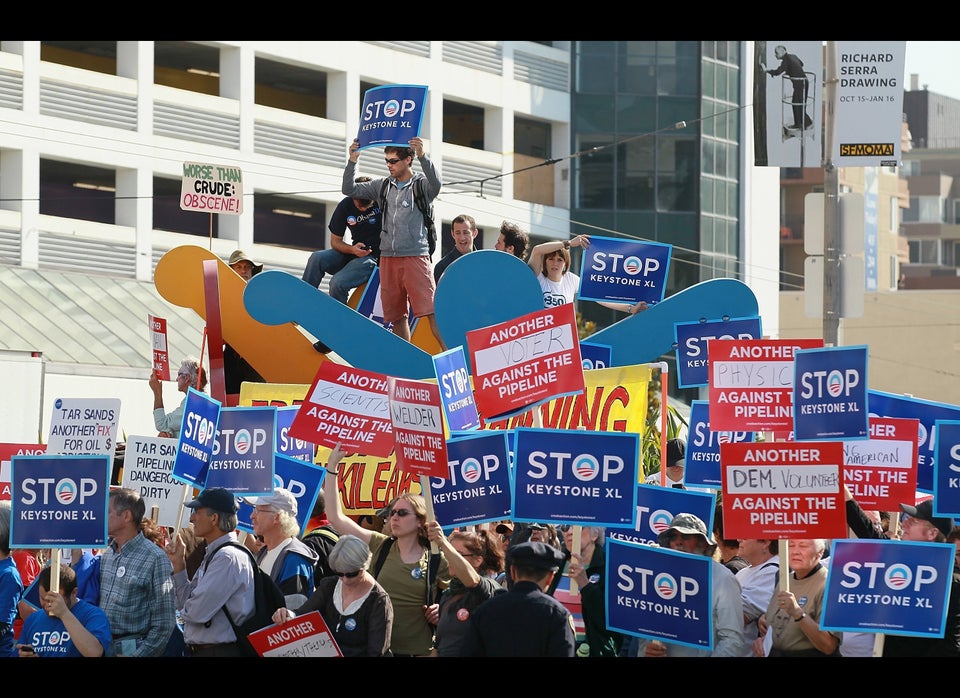 Keystone XL Protests
Popular in the Community