 Raymond Ladouceur remembers when he could dip a cup into the Athabasca River for a drink. He remembers when the trout and muskrats were plentiful -- and when his community was healthy.
Despite recent heart surgery, Ladouceur, 72, still fishes and traps, as he has his whole life at Big Point in Fort Chipewyan, Alberta. He snared his first fox at age 6 and recalled waddling home with the animal around his neck, its body dragging between his legs.
But times have changed, said Ladouceur, an elder with the Métis Canadian aboriginal people.
"Now, you can't drink water from the river. It's too dangerous," Ladouceur told The Huffington Post, taking a break from chopping wood. "We're seeing deformed fish, which I'd never seen in my whole entire years. And something in that water is killing the muskrats."
Ladouceur lives some 100 miles downstream from the heart of Alberta's oil sands development. The sands underlie about 140,000 square kilometers (54,000 square miles) of Canadian boreal forest and peat bogs -- an area about the size of Florida -- and hold around 170 billion barrels of recoverable oil. Since mining began in 1967, at least two-thirds of the land has been leased for extraction with mining operations on about 715 square kilometers (276 square miles).
"Chemicals have been coming down here for years, ever since the oil companies got started," Ladouceur said, adding that, when the winds are blowing right, he can smell the tar-like stench and see the pollution "hanging in the air."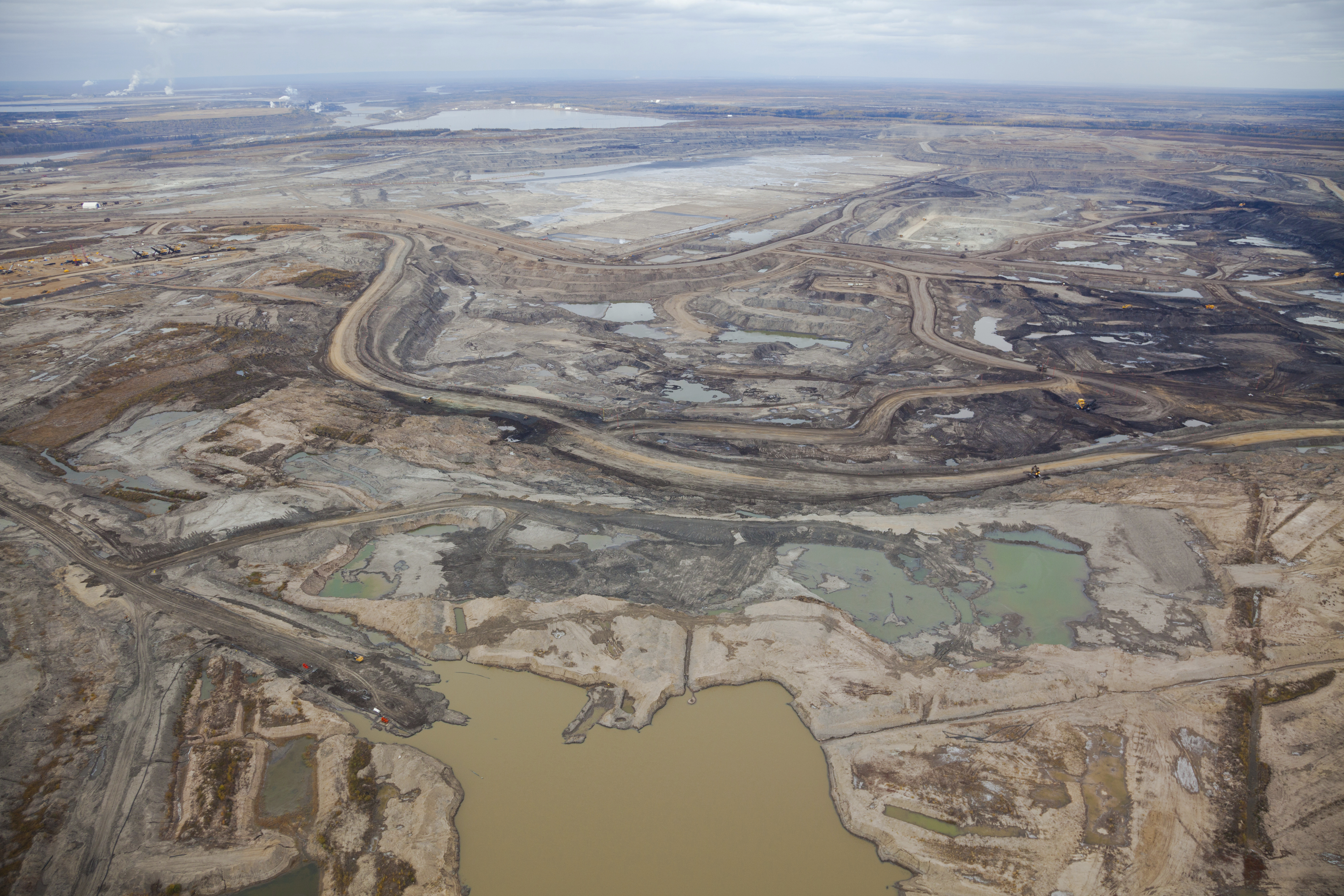 A pit mining project in Alberta's oil sands near Fort McMurray and the Athabasca River. Ladouceur said he's witnessed the land and water -- along with his community's health and livelihood -- degrade over the decades since development began. (Getty)
The area of oil sands development is expanding rapidly and likely to accelerate should President Barack Obama approve the Keystone XL pipeline. The controversial project would transport heavy crude from Alberta's oil sands to refineries along the U.S. Gulf Coast. Obama's decision is expected this summer.
Pipeline proponents, including Canada Minister of Natural Resources Joe Oliver, have said the benefits of harvesting and piping the energy resource outweigh risks. In an interview with HuffPost, Oliver highlighted the promise for both Canada and the United States of more jobs and less dependence on unfriendly oil-rich nations.
"Together we can achieve energy independence," Oliver said. "That's an important thing."
But folks like Ladouceur take a different view. "By gosh, isn't our health worth more than any damn oil?"
Ladouceur said he believes air and water sullied by arsenic, polycyclic aromatic hydrocarbons and other toxic chemicals from oil sands development may be to blame for cancer that's taken the lives of many old and young people in his community, including eight family members, as well as his own cardiovascular disease.
Dr. John O'Connor, who pushed Ladouceur to get lifesaving heart surgery, said such connections are "ripe for investigation."
Since he began regular visits to the small northern community of Fort Chipewyan in 2000, O'Connor said he's seen a lot of ailments, from respiratory problems to skin rashes. Still, it's the unusually high number of cancers, especially the rare ones, that struck the doctor and made him actively ask, "Where is it coming from?"
Such questioning got him into trouble, he told HuffPost from Fort McCay, a small community near the oil sands, where he said he also treats rare conditions that include bile duct cancer.
In 2007, state and federal officials filed a complaint with the Alberta College of Physicians and Surgeons, saying that O'Connor was raising "undue alarm." It took him more than 2 1/2 years to get himself absolved and keep his license.
Other scientists have reportedly faced government-led undermining and "muzzling" over findings that dirtied the image of oil sands development.
Officials maintain that people needn't fear oil sands health effects.
John Muir, a spokesman for Alberta Health, told HuffPost that the Royal Society of Canada concluded in 2009 that there was no evidence linking oil sands operations to cancer. The report said the "strong and recurring perception of potential cumulative health risks by many community members" could itself "lead to stress-related health issues."
Muir emphasized that the overall incidence of cancer in Fort Chipewyan is not statistically higher than the Albertan average.
Alberta's cancer board in 2009 confirmed a 30 percent greater rate of cancer in Fort Chipewyan than the Alberta average. The frequency of some types of cancer was eight times greater in Fort Chipewyan, O'Connor noted.
Counting and comparing cancers in a community of 1,200, such as Fort Chipewyan, is unlikely to show statistical significance unless the rates are extremely high, however. The population is simply too small. That's why scientists like O'Connor want a study that goes further than counting cases, to measuring contaminants in residents' blood.
"The cancer board suggested a comprehensive health study be done," said O'Connor. "That never happened."
Natural Resources Minister Oliver said he was unaware of health reports that may suggest a problem. "The conclusion has historically been that there is no concern. If there were new issues then they would be taken into account," said Oliver.
He added that health is an "issue to take seriously," and touted a joint effort announced this week between the Canadian government and Alberta to enhance environmental monitoring around the oil sands, and to make results available online.
"If well-managed, it could be a significant step," said David Schindler, an ecologist at the University of Alberta. "But if run by politically connected ministries, it will be a propaganda portal, not an information portal."
Schindler published a study in 2010 that showed high levels of arsenic, lead, mercury and other toxins in waters flowing from industrial plants through the oil sands. His research was confirmed by a study published in January that found the oil sands industry has been sending toxins into the air and water for decades -- with pollution increasing in proportion to the size of oil sands development.
"The fish are swimming in a soup of different chemicals," said Schindler. "Each one is probably below levels that would cause harm by itself, but there are likely some additive or synergistic effects."
"Given the parallels in the cases from various locations," he wrote, "it seems likely that some chemical or suite of chemicals in crude oil is causing the malformations."
Ladouceur said he still eats fish from local lakes and rivers, although he tries to avoid the bad-looking ones -- those with strange growths or two tails, for example -- and always cooks his catch well. Unfortunately, as Schindler explained, deformities may not equate with contamination since they can develop while the fish is an embryo and cooking only rids meat of bacteria, not chemicals.
Water quantity is also a worry in Fort Chipewyan, due to the combined impacts of drought, damming and industrial water use. Athabasca water flows are about one-third lower than normal, according to Schindler.
"The big problem with Keystone XL and other pipelines," said Schindler, "is that if we build them, we have an excuse to continue with this horrid pace of oil sands development."
Chief Allan Adam of the Athabasca Chipewyan First Nation said he wants development slowed. He noted his frustration with the Alberta and Canada federal governments, who have brushed off his people's concerns, telling them "everything is okay."
"The fact remains that people are getting sick, and there are no reasons they should be getting these illnesses," Adam said. "I could honestly tell you that it is not all okay. Something is wrong."
In late March, a pipeline breach at a Suncor Energy oil sands facility leaked more than 2,000 barrels of contaminated water into the Athabasca River. Based on samples taken after the spill, Suncor reported in a statement that there had been "no detrimental impact on aquatic life." The company said it planned to have results from tests downstream at Fort Chipewyan by the end of April.
"We need stronger regulations, stronger environmental reviews and monitoring systems that are credible enough for both parties," Adam said. "Until we get those things in place, we don't think its right that further approval of the project should go ahead.
"We aren't totally against development," Adam added. "We're against the pace of development and our questions going unanswered."
Ladouceur said he has a similar attitude. His sister works for Suncor Energy. His brother spent 28 years with another oil sands company.
"People in Fort Chip can't say too much because family members are working over there," Ladouceur said.
"I'm not against employment, but I'm against pollution," added Ladouceur. "If the oil outfits don't quit polluting, we're finished."
Part of a series on people living along the proposed path of Keystone XL.
Calling all HuffPost superfans!
Sign up for membership to become a founding member and help shape HuffPost's next chapter