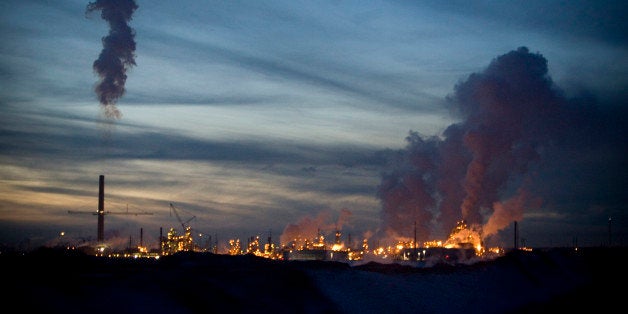 If completed, Keystone XL would transport 800,000 barrels of tar sands oil per day from Alberta, Canada, down to Gulf Coast refineries in the United States. The Obama administration has delayed a decision on the section of the pipeline that would cross the U.S.-Canada border, which needs approval from the State Department to proceed.
Carbon Tracker's new report indicates that while Keystone XL would increase revenues for oil sands companies in the short term, the long-term profitability of tar sands is questionable, given fluctuating oil prices and growing concerns over carbon emissions. Environmental concerns may lead to increased regulations to curb emissions, the report contends, which could affect potential profits from oil sands (also known as tar sands).
But the immediate, potential windfall from Keystone may make the oil sands attractive to investors, according to Carbon Tracker co-adviser Mark Fulton.
"We're saying, 'Watch out,'" Fulton said, adding that even if Keystone XL is built, tar sands development would still be "really on the margin of what's profitable" for investors. The study describes tar sands development as "risky high-cost, high-carbon projects, dependent on rising oil prices." If investors put too much capital into Alberta oil sands and then oil prices don't meet expectations, Fulton said it could be a "very rough ride" for investors.
Environmentalists have expressed anxiety over the climate impacts of continued tar sands development. Fulton said those concerns could prompt increased environmental regulations, which could make the oil sands less profitable for investors.
It remains to be seen whether the Keystone XL pipeline will even be built. During a speech on climate change in June, President Barack Obama said carbon emissions are a key concern in the pipeline's approval. "Our national interest will be served only if this project does not significantly exacerbate the problem of carbon pollution," Obama said. "The pipeline's effect on climate will be absolutely critical to determining whether this project will go forward."
"U.S. producers and refiners along with Canadian companies have signed long-term (18-20 year), binding commercial contracts with customers to move oil from Canada and the U.S. to the refining hub in the Houston area," TransCanada spokesman Davis Sheremata said in an email to HuffPost. "Our customers have put millions of dollars on the line to ensure their product reaches the markets where they are needed -- now and for a long time to come."
And last week Shawn Howard, another TransCanada representative, told The Washington Post that "even with the growth of U.S. production in places like the Bakken or other fields, the U.S. will continue to rely on millions of barrels every day and KXL is a part of helping get more safe, secure and stable supplies of oil to refineries, especially on the U.S. Gulf Coast."
However, Mark Lewis, external research adviser to Carbon Tracker, said that the benefits of Keystone XL may not come to fruition, particularly for investors. Lewis said in a statement that "the vision of improved prices it promises could quickly be wiped out by increasing costs, meaning investors who believed the mirage of improved oil-sands economics with KXL will be left disappointed."
Calling all HuffPost superfans!
Sign up for membership to become a founding member and help shape HuffPost's next chapter
BEFORE YOU GO
PHOTO GALLERY
Keystone XL Protests