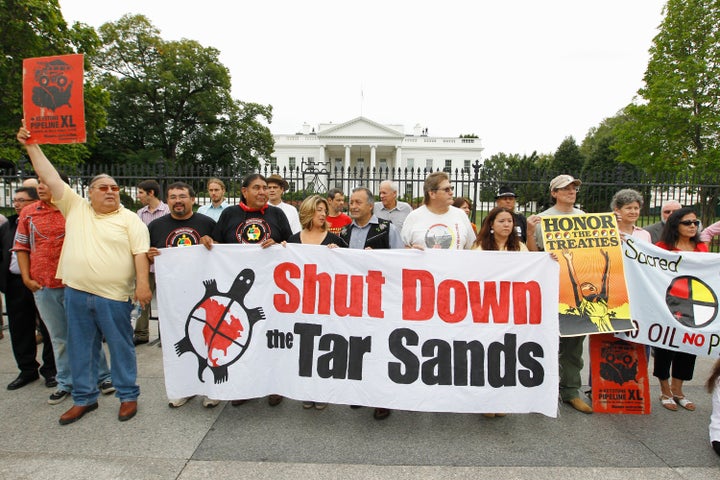 WASHINGTON -- Environmentalists on Tuesday called on the Department of Justice to investigate a Canadian oil lobbyist who failed to disclose his status as a foreign agent, specifically that he had served as a former aide to Secretary of State Hillary Clinton, before lobbying the State Department on behalf of TransCanada's Keystone XL oil pipeline.
"Paul Elliott, a government relations employee of TransCanada, has acted as agent of a foreign principal and therefore violated the Foreign Agents Registration Act. We respectfully request that you immediately open an investigation of this matter," wrote Friends of the Earth attorney Gail Harmon in a letter to DOJ officials on Tuesday.
The call for DOJ investigation of the company's lobbying activities comes after dozens of emails between Elliott and the State Department revealed the TransCanada lobbyist -- who in 2008 served as Clinton's national deputy campaign manager -- barraged members of the administration with letters praising the oil pipeline project and even sought to mediate meetings between State Department officials and TransCanada executives.
The State Department, which in August completed its environmental assessment of the project, is currently reviewing the proposed tar sands oil pipeline to decide whether TransCanada will be allowed to construct its 1,700-mile pipeline from tar sands in Canada to oil refineries in Texas.
More than two dozen State Department emails obtained by the advocacy group Friends of the Earth under a Freedom of Information Act request provide an unusual glimpse into the lobbying for the Keystone permit, which has become a battleground in the national debate over how to address climate change.

They show how Elliott tried to exploit relationships built in political campaigns, with mixed results. The emails are almost all between Elliott and a special assistant to Cheryl Mills, Clinton's chief of staff. All three knew one another from working on Clinton's presidential campaign.
Further, the emails show that officials floated the idea of a two-year delay in the pipeline's review to a TransCanada lawyer and that Elliott was lobbying the State Department on behalf of TransCanada for more than a year before he first registered as a lobbyist.
The Foreign Agents Registration Act holds that all persons acting as agents of foreign corporations disclose their relationship with the foreign principal, as well as any activities and disbursements in support of those activities
"The American people need to know when foreign entities are trying to influence the actions of the U.S. government," said Friends of the Earth President Erich Pica in a statement on Tuesday. "Unfortunately, the Canadian oil corporation behind the Keystone XL pipeline was trying to do just that, and its top lobbyist failed to disclose what he was up to. The Justice Department has a responsibility to investigate this serious violation of law."
"Moreover," Pica said, "State Department officials must explain why they maintained a cozy relationship with this unregistered foreign agent while he lobbied them illegally. Why did State Department officials provide insider information and coaching to Mr. Elliott and TransCanada? This is more evidence that the State Department has failed to meet its responsibility to conduct a thorough, unbiased review of the proposed pipeline."
If approved, the Keystone XL pipeline would pump 700,000 barrels of heavy crude per day from Canada's tar sands to refineries along the U.S. Gulf Coast. For perspective: Obama recently released 30 million barrels of oil from the Strategic Petroleum Reserve over a 30-day period.
The state of Nebraska stands to endure the most damage from the pipeline.
"It is the location of the pipeline that has caused the greatest concern for me and my constituents," said Sen. Ben Nelson (D-Neb.) at an Appropriations Committee hearing on the State Department's budget last week. "Upon crossing into Nebraska, the pipeline would run through the Sandhills and over the Ogallala Aquifer which provides the drinking water for two million people and supports $20 billion in agriculture."
According to the emails, members of Congress lobbied by Elliott include: Sens. James Inhofe, John Thune, Jon Tester and Lisa Murkowski, as well as Reps. Herseth Sandlin and Peter Welsh.
Elliott's emails also state that he met with a "Senator Nelson," though whether he met with Sen. Bill Nelson of Florida or Sen. Ben Nelson of Nebraska is not verified. Since the pipeline would run through Nebraska and not Florida, Elliott was almost certainly referring to the latter, but the Nebraska senator's office was unable to immediately verify whether he ever met with the lobbyist, but they underscored the senator's concern for the issue.
Popular in the Community