 According to the nonpartisan group, 66 percent of Americans favor construction of the pipeline, which would extend from the tar sands in Alberta, Canada through the Midwest, while only 23 percent oppose it.
The organization also surveyed views on other environmental topics and found that Americans were divided in their views on climate change and fracking. The survey found that 69 percent of Americans believe that there is solid evidence that the world is warming, up two percentage points since 2012. On fracking, the controversial drilling process by which a mixture of water and chemicals is used to extract oil and natural gas, 48 percent of respondents said they supported the practice, while 38 percent said they opposed it.
Rep. Tim Griffin (R-Ark.), who represents the affected district, reiterated his support for Keystone XL Wednesday, following the ExxonMobil-owned Pegasus pipeline spill. "Despite this accident, pipelines are the safest way to move oil," the congressman said in a local radio broadcast.
Yet some residents along the Keystone XL's route are not as confident. "If you live in rural Nebraska, a localized spill is nothing short of a catastrophic, life-altering disaster," Ben Gotschall, a Nebraska rancher and environmental activist, told HuffPost's Lynne Peeples. TransCanada spokesperson Grady Semmens suggested that a significant spill from the Keystone XL pipeline would be unlikely. However, the first Keystone pipeline was expected to leak only once every seven years but saw at least a dozen spills in the first 12 months since being completed.
Before You Go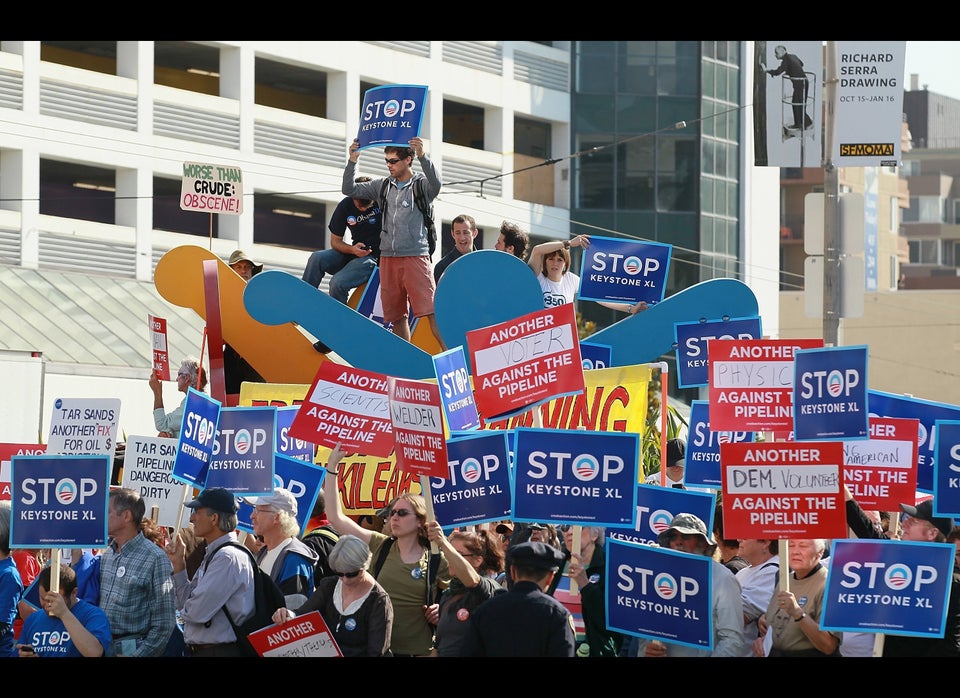 Keystone XL Protests
Popular in the Community