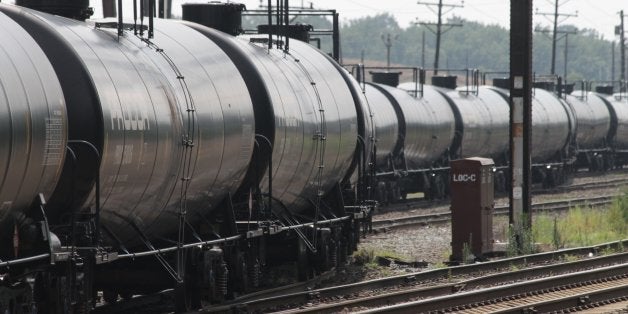 WASHINGTON, Oct 29 (Reuters) - U.S. officials weighing the climate impact of the proposed Keystone XL oil pipeline connecting Canada to U.S. Gulf Coast refiners are zeroing in on the question of whether shipment by rail is a viable alternative to the controversial project, industry sources say.
As it prepares a final environmental review of the $5.3 billion oil pipeline, the State Department has asked crude-by-rail executives about supply-chain logistics, market dynamics and potential obstacles to delivering 830,000 barrels per day of Canadian crude to Gulf Coast refiners, as Keystone would do.
The fate of the pipeline may hinge on the answers.
If there is enough evidence that the oil sands region will quickly grow with or without the 1,200-mile line, that would undercut an argument from environmentalists that the pipeline would turbocharge expansion.
President Barack Obama, who will have the final say on the project, has said he could bless the pipeline if it does not significantly worsen climate change - a move that would satisfy the oil industry and the Canadian government.
In March the State Department concluded that halting the project would do little to slow oil sands output, since crude-by-rail transport could nearly fill the gap. But the Environmental Protection Agency disputed that, saying higher rail costs could limit growth.
Canada's crude-by-rail sector has grown since that review, with five new loading terminals in western Canada expected to move as much as 450,000 barrels per day (bpd) of heavy crude by the end of 2014, relieving a glut of oil in the region and seeming to prove the strength of crude-by-rail.
Yet even rail operators caution that moving the fuel on the tracks would be only a supplement - not a substitute - for TransCanada Corp's Keystone pipeline.
Apart from the logistics, rail remains the costlier option - a point that environmentalists could seize on as the final decision on Keystone draws nearer. The extra dollars spent on shipping could slow investment in some of Canada's higher-cost projects, analysts say.
"We can move large volumes, but it will always be a niche service," said Gary Kubera, whose company, Canexus, expects to be equipped to move 100,000 bpd by the end of next year.
A State Department spokesman declined to comment on details of the Keystone review, saying officials want input from stakeholders, scientists, engineers "and others with expertise in key areas of concern related to the proposed project."
The State Department and the EPA - which also has a say in the Keystone review - have said they are wrestling with whether approving Keystone would spur greater development of Canada's oil sands - and worsen climate change by stoking greenhouse gas emissions. Extracting crude from oil sands requires a huge exertion of energy.
If the State Department softens its oil-by-rail findings, Keystone foes might have more ammunition to block a project they say will greatly increase greenhouse gas emissions. A final decision is due next spring.

In the past several months administration officials have heard from crude-by-rail operators that expect to profit as they connect oil sands producers with distant refiners. Some are now building terminals that were barely contemplated a year ago.
"We offer producers another transport option apart from pipelines," said Jarrett Zielinski, president of Torq Transloading, which is already shipping some 35,000 barrels of heavy crude a day and is planning to expand.
Five loading docks for heavy crude are now being built in western Canada under a number of partnerships between energy and rail companies and should be positioned to move a share of that crude overstock in the years to come, executives say.
"We remain very, very confident that rail is here to stay as not a replacement for pipelines, but as a supplement to pipelines," Stew Hanlon, president of Gibson Energy Inc., a logistics company, told investors in August about a Canadian loading project.
The energy sector longs for pipelines that can provide cheap, reliable links to heavy crude refineries in Texas and Louisiana. RBC Capital Markets estimated that up to 450,000 barrels per day of oil sands projects could be delayed without Keystone XL.
It takes roughly $17 to send a barrel of heavy crude to the Gulf Coast via rail compared with roughly $10 in a pipeline, industry sources said, and there is a shortage of terminals that can accept the heavy crude.
Starting next year, crude pipelines will be so congested that rail will become a vital tool for relieving the glut, according to a Goldman Sachs report on the sector.

The State Department has not yet reached a final conclusion on Keystone's climate impacts, several industry sources said, but that work should be finished in the coming weeks.
Once the State Department review is completed, foes and supporters of the pipeline are likely to begin a fresh lobbying blitz. And administration officials have said they will be open for more public comment on a project that has been in limbo since 2008.
Regardless of whether Keystone is approved, industry officials say even more pipelines will be needed to keep oil sands production meeting industry expectations.
"Crude-by-rail is the safety net," said David Smith, president of Canadian logistics company Keyera, which is behind two crude-by-rail projects. (Reporting By Patrick Rucker, editing by Jonathan Leff, Frank McGurty and Douglas Royalty)

Support HuffPost
The Stakes Have Never Been Higher
Related
Before You Go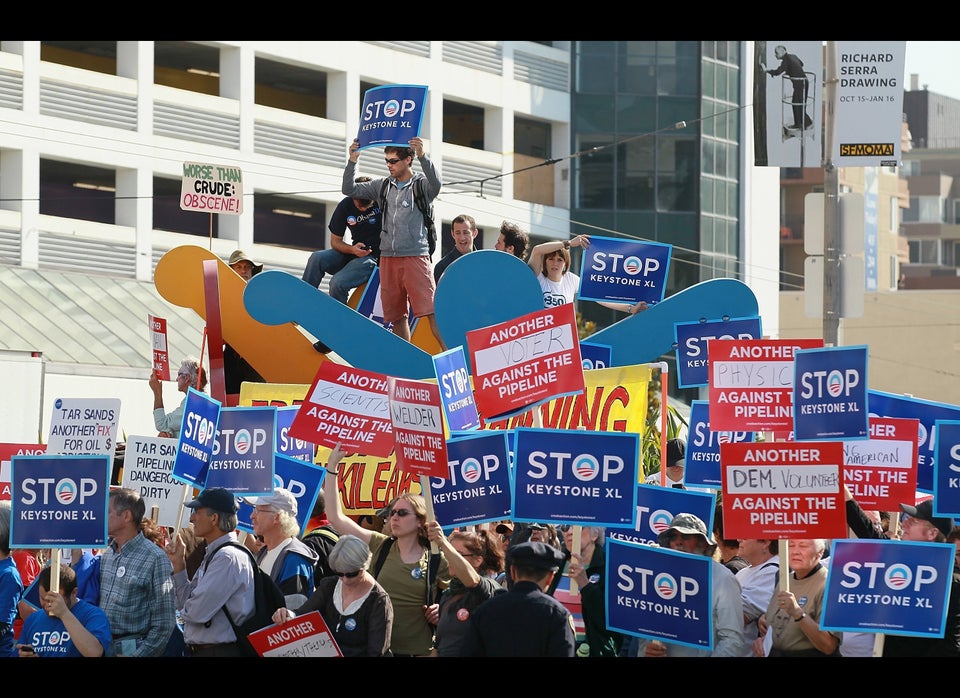 Keystone XL Protests
Popular in the Community