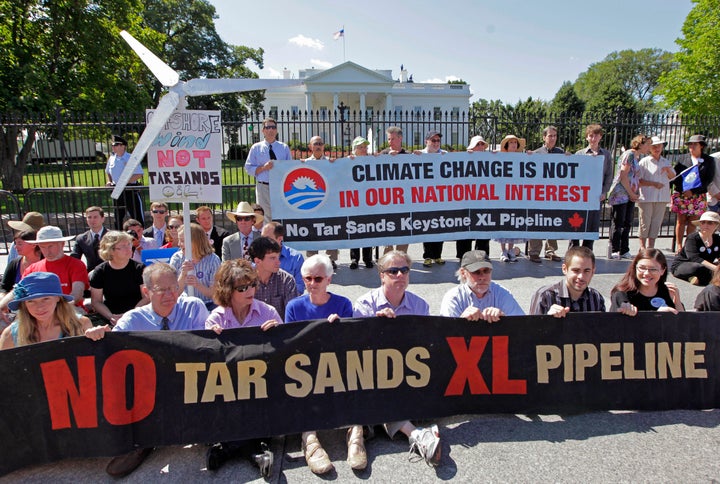 David L. Goldwyn, who until earlier this year had served as Secretary of State Hillary Clinton's Special Envoy and Coordinator for International Energy Affairs, said in an interview aired over the weekend that Clinton would likely approve plans for a contentious pipeline to deliver oil from Canada's tar sands to the Texas Gulf Coast.
"I think that balancing jobs, energy security -- a country which has increased production potentially the size of Libya -- I think the case for a pipeline is overwhelming, and she will approve it," Goldwyn said, speaking to Platts Energy Week, an energy-themed television program.
On Friday, the State Department issued its final Environmental Impact Statement, concluding that the proposed 1,700-mile pipeline would have "no significant impact" on the environment and recommending that the project move forward, despite warnings from environmental groups that, among other things, the project would help accelerate the warming of the planet.
The department was quick to say that the EIS did not represent a final decision and that a public comment period -- as well as public meetings to be held in states though which the pipeline would run -- lay ahead. "This is not a decision document," said Kerri-Ann Jones, an assistant secretary with the State Department's Bureau of Oceans and International Environmental and Scientific Affairs, in a phone call with reporters on Friday. "This is a document that presents the analytical and the data information that we have regarding the environmental impacts."
Goldwyn's comments, which were apparently taped before the State Department's environmental analysis was released, come near the conclusion of a program in which he discussed the impacts of turmoil in Libya on world energy markets.
Jump to 6:48 in the video below:
State Department officials still need to make a "national interest determination" before allowing the project to go forward, but industry groups were quick to embrace the environmental analysis as a prelude to job creation.
"The country is now one step closer to construction of the pipeline, which will create thousands of jobs, generate economic growth and establish energy stability," said Chip Yost, the vice president for energy and resources policy with the National Association of Manufacturers. "This project is estimated to create 20,000 high-paying manufacturing and construction jobs and will provide access to affordable sources of energy. Manufacturers use nearly one third of our nation's energy supply, so reliable, affordable energy is critical to global competitiveness."
John Monaghan, a legislative specialist for environmental policy with the conservative Heartland Institute, said in a statement: "As this report reiterates, failure to complete this project will cause greater harm to the environment at a greater cost to the American people. Now is not the time to wage symbolic crusades when billions of dollars of direct investment into the economy are at stake."
But the State Department's environmental assessment of the Keystone XL project was quickly assailed by environmental groups, who, along with the Environmental Protection Agency, have found previous iterations of the document wanting.
"It is utterly beyond me how the administration can claim the pipeline will have 'no significant impacts' if they haven't bothered to do in-depth studies around the issues of contention," said Susan Casey-Lefkowitz, international program director of the Natural Resources Defense Council, in a statement issued over the weekend. "The public has made their concerns clear and the administration seems to have ignored them."
"At a time when the United States should be doing everything in its power to reduce carbon dioxide pollution and speed the transition to cleaner fuels, the Keystone XL pipeline would be a step backward," the Center for American Progress, a progressive research and advocacy organization, said in a statement issued Monday.
Critics of the project argue that its construction would stimulate full-scale production of Alberta's so-called tar sands -- a gooey mixture of sand, clay, and oil -- and require extensive processing, which would entail the use of large amounts of water and energy, in order to produce marketable hydrocarbons.
Full-scale exploitation of the tar sands would add copious amounts of new greenhouse gases to the atmosphere, and some climate experts have suggested that doing so would essentially condemn the planet to runaway global warming.
Other opponents have expressed concern about potential leaks in such a pipeline. They have pointed to earlier phases of TransCanada's Keystone project, which has experienced a dozen leaks in a year of operation, as reason to reconsider the Canada-to-Gulf extension.
Goldwyn is now an energy consultant with the firm Goldwyn Global Strategies.
Popular in the Community