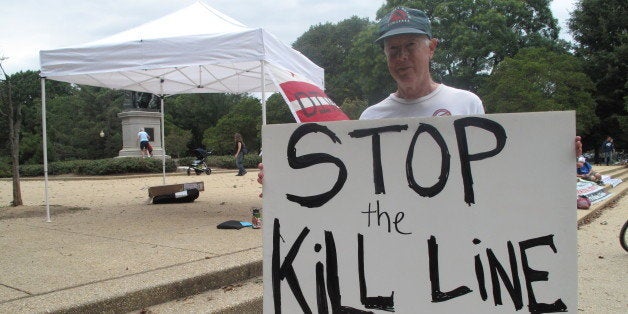 WASHINGTON -- Despite the gray skies in Washington on Saturday, more than 100 protesters carrying handmade signs showed up in Lincoln Park to call on the Obama administration to reject the Keystone XL pipeline.
The protest was part of the "Draw the Line" campaign, a day of action led by the environmental group 350.org that included 200 rallies in nearly 50 states. The protesters argue that approving the proposed oil pipeline from Alberta, Canada, to Texas would hinder the Obama administration's climate plans. DC Divest, a group petitioning the government of the District of Columbia to stop investing in fossil fuel companies, coordinated the local event, which drew about 140 people.
Organizers had laid out a tarp with cans of paint, poster board and stencils so that participants could make their own orange and black signs. At another table, a sign illustrated how climate issues like sea level rise would affect the region.
"I'm hoping that we send a clear message to President Obama that the climate movement is more unified than ever before against the Keystone XL pipeline, that the Keystone XL pipeline fails his climate test, and that we're not going anywhere and that this is the future of American politics," said Jason Kowalski, policy director at 350.org. "People are willing to march on the streets and vote with their feet when it comes to climate change."
TransCanada, a Canadian company, has asked for permission to build the 1,661-mile pipeline, which would carry oil from the tar sands of Alberta to refineries in Texas. Because the pipeline crosses an international boundary, the State Department has the authority to approve or reject the proposal. Opponents argue that developing the tar sands, which produce a type of oil that creates more greenhouse gas emissions than conventional crude, would significantly contribute to climate change.
Environmental groups have held several major rallies against the proposed pipeline, including events at the White House in November 2011 and February 2013, each of which drew thousands of protesters.
David Barrows, 66, came to Saturday's event bearing a poster that read "Corporations without a conscience kill, bribe, enslave & despoil the planet" on one side and "Stop the kill line" on the other.
"I'm here because I've been standing up to the pipeline, standing up to this great criminal enterprise, which it definitely is," he said.
Barrows was one of several hundred people arrested during Keystone XL sit-ins at the White House in 2011, and he says he has no regrets. Dozens of people were arrested during February's protest as well.
There were no arrests on Saturday, however, and the atmosphere was casual; the crowd was small compared to some of the previous Keystone protests in D.C.
"It wasn't a big turnout, but I feel like the speakers were very motivating and people have good energy going," said Monica Ortiz, a 27-year-old student originally from the Dominican Republic who said she found out about the event through Facebook. "You have to start slow to make big progress."
Speakers expressed excitement about Friday's announcement that the Environmental Protection Agency is setting new limits on greenhouse emissions from power plants. They were also buoyed by President Obama's June speech laying out a broader plan to address climate change, in which he said that the Keystone pipeline should be approved only if it "does not significantly exacerbate the problem of carbon pollution."
The event ended with participants "drawing the line" by forming a human chain across the park while chanting, "Hey Obama, we don't want no planet drama!"
"I'm hoping that [Obama] takes into consideration all the voices that are speaking up right now nationwide," Ortiz said.
Related
Before You Go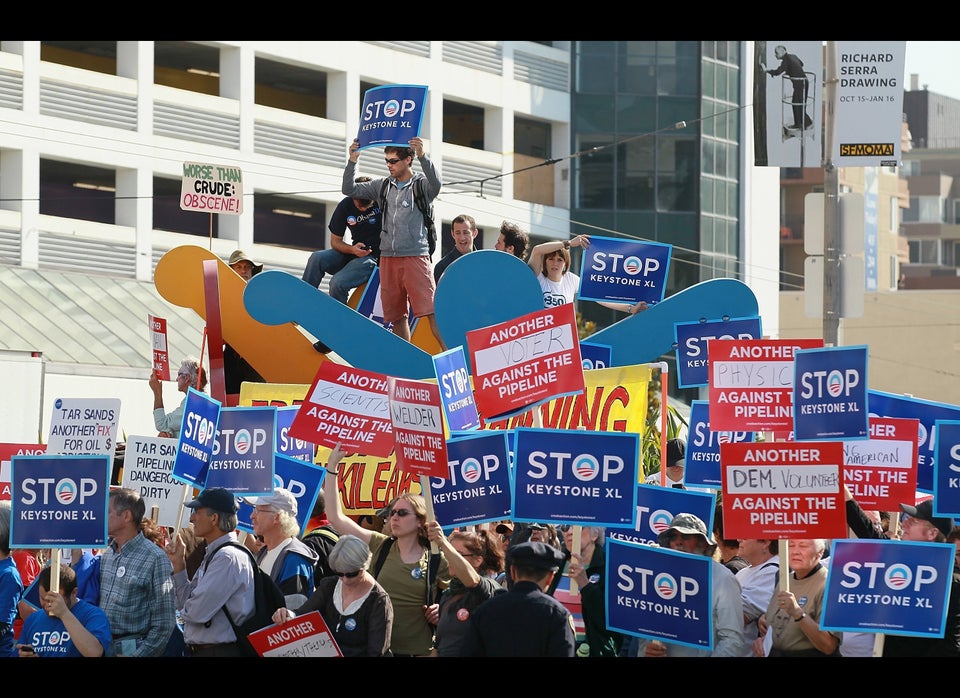 Keystone XL Protests
Popular in the Community