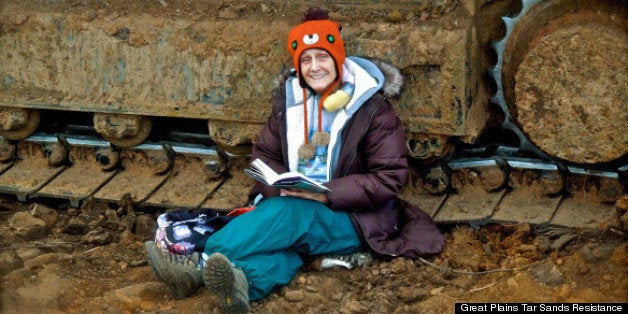 "Corporate shenanigans," he called them.
"They're trying to gag and prevent people from educating and learning about the dangers associated with the extraction and production and transport and refining of this tar sands material from Canada," said Parr, an Oklahoma City-based criminal defense lawyer who has been working pro bono for folks participating in nonviolent protests along the southern leg of the controversial conduit, between Cushing, Okla., and the Gulf Coast.
TransCanada spokesman Shawn Howard confirmed that the company had filed a request on Monday for a temporary restraining order against 21 individuals who, he told The Huffington Post, "have been interfering with TransCanada's property rights and ability to safely construct a pipeline in the state of Oklahoma."
"This is an abuse of the law, in my opinion," Parr said. "TransCanada is trying to shut down peoples' constitutional rights ... all of these acts of civil disobedience are totally nonviolent and nondestructive."
Some of the individuals protesting in Oklahoma have chained themselves to Keystone construction equipment. In February, Elizabeth Leja, who was named in Monday's injunction, chained her neck to a giant excavator attempting to clear a route for the pipeline through central Oklahoma.
"I'm not worried," Leja told HuffPost after hearing of the restraining order request. "I think TransCanada is scared."
Parr reported that the judge hearing TransCanada's request in Atoka County, Okla., on Monday declined to give the corporation the broad temporary restraining order it requested -- one that would prohibit all 21 people and an organization, Great Plains Tar Sands Resistance, from trespassing on the pipeline's easement, directly impeding construction activities and, even more broadly, enjoin them from "organizing, communicating, encouraging or inciting resistance" to the construction of the pipeline.
The judge did, however, issue a temporary restraining order against three individuals who had protested within her jurisdiction of Atoka County. She limited the order to bans on trespassing and impeding construction.
"This was somewhat of a victory," Parr told HuffPost on his way home from the Monday afternoon meeting, which he said was attended by himself and two lawyers representing TransCanada. Another hearing is now scheduled for May 22.
Parr noted that this is not the first time TransCanada has enlisted the law to quell opposition to its project.
"It's the same tactic they employed as they ran through Oklahoma and Texas and started condemning properties with eminent domain," he said.
Landowners up and down the pipeline route have argued of unfair dealings with TransCanada and what they say is an unjust use of "common carrier" law, which generally requires that the transported product serve the public good.
David Holland is currently battling to protect property rights for his family's farm in Beaumont, Tex., from TransCanada. He alleged an "underlying pattern of abuse."
"There's a huge amount of lobbying on the part of the oil and gas and pipeline world in attempt to protect their ability to claim common carrier status when they aren't," he told HuffPost.
Ramsey Sprague, an organizer with the Tar Sands Blockade, described TransCanada's action as the "dictionary definition" of a SLAPP (Strategic Lawsuit Against Public Participation) suit.
"This is part and parcel of what constitutes a corporate bully," said Sprague. "A corporate bully will do anything to get their way regardless of the feelings of the communities they are affecting."

Sprague suggested that his group had been caught off-guard in January, without adequate legal council in the face of $5 million in claimed damages. He said he believes the Oklahoma defendants will be better off.
George Mason, with the Great Plains Tar Sands Resistance, agreed.
"Unfortunately, they set a precedent for other groups like us who are going to pursue similar tactics against TransCanada," said Mason. "But because we saw what happened down there, we've been preparing for such possibilities and can beter fight it."
Mason added that his group is determined to keep TransCanada from thwarting their ability to "pursue activities that are protected by the First Amendment."
Despite the court order, even the Texas anti-Keystone group hasn't backed off.
"Everyone is still very much on-board and believes in the cause," said Sprague.
Just a week after the TransCanada settlement, Sprague said he locked himself to a speaker tower as TransCanada's Tom Hamilton spoke about pipeline safety at a PipeTech Americas meeting in Texas.
"I classify this corporation as a criminal organization," Sprague told HuffPost. "They are committing fraud against landowners and lying about the contents and safety of pipelines."
TransCanada's Howard maintains that the company has the law on their side.
"While we may understand that some people are not in support of the construction of TransCanada's Gulf Coast Pipeline, which will move American oil from Oklahoma to refineries on the U.S. Gulf Coast," he said, "it does not give these people the right to break the law or to create unsafe work conditions for the people who are building this project."
Popular in the Community