Looking to spice up the traditional corsage?
Louisville, Ky., florist Nanz & Kraft has apparently paired up with KFC to offer chicken corsages for this year's prom season. At $20 a pop, the corsage kit comes with baby's breath and a $5 KFC gift card so that buyers can purchase the meat.
(Story continues below)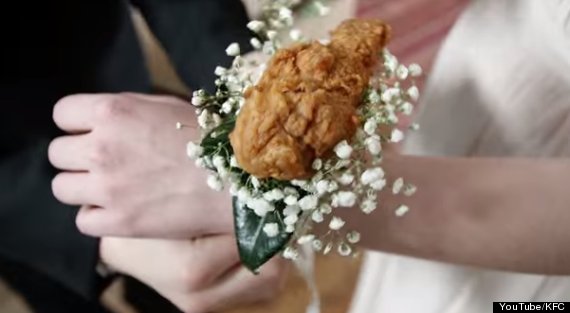 Only 100 chicken corsages will be available for purchase this prom season.

The Huffington Post did not immediately hear back from KFC, but Nanz & Kraft said the offer is not a hoax. Only 100 of the corsages will be available for purchase.
Chicken not included (duh.). Each corsage kit includes a $5 KFC gift check, so you can customize your corsage with Original Recipe, Extra Crispy or Kentucky Grilled Chicken. Whichever best matches her dress. Local corsages will have fresh baby's breath and out-of-town corsages will have silk baby's breath.
Pro tip: Go with the least greasy option.
Popular in the Community