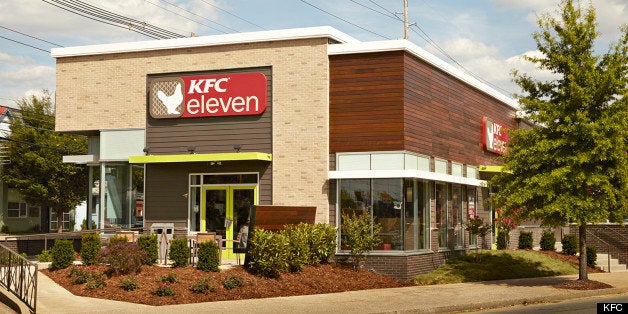 KFC's new fast casual concept, KFC Eleven, opens Aug. 5, marking a different direction for the fried chicken chain. The single location in Louisville, Ky., will serve new menu items, unlike those offered by traditional KFC restaurants, in a dramatically changed setting.
"The concept is really an innovation," said KFC's senior director of concept development, Anne Fuller, in an interview with The Huffington Post. She pointed to the breadth of the new menu, which include nods to global cuisine. Flatbreads, salads and rice bowls are available in flavors like Sweet Orange Ginger, Caribbean Tango and Southwestern Baja. All are made with grilled or fried chicken.
"People are eating very broadly," Fuller said. "They will have Mexican food one night, American food the other night ... We can accommodate a diverse group."
Notably absent from KFC Eleven is the fried chicken bucket, or any bone-in chicken at all, for that matter. (Customers can, however, order family-sized meals of boneless Original Recipe chicken.) Gone, too, are the chain's famous biscuits. Mashed potatoes have been given an upscale makeover: Now they're "smashed" and infused with garlic.
Other menu items include grilled or fried chicken sandwiches, in flavors like Original 11, California Club, BBQ Bacon Ranch and Habanero Jack. Chicken "Crispy Bites" are served with dipping sauces like Orange Ginger, Kickin' Buffalo and Island BBQ.
Fuller envisions KFC Eleven's clientele as people looking for a slower-paced dining experience that's still convenient. Various seating configurations and free WiFi will encourage diners to linger, she said. Meals can be customized to be healthier -- made with grilled chicken and served on a salad -- which Fuller believes will appeal to women and the health conscious.
KFC Eleven also places an emphasis on freshness; meals will be assembled order by order, as the customer watches. "People say it's like a Chipotle line," Fuller said.
It's difficult to compare the price points at KFC Eleven and traditional KFC because their offerings are so different. But a 12-piece meal of bone-in chicken, which comes with three large sides and six biscuits, costs $28.19 at a Brooklyn KFC location. A 12-piece meal of boneless white or dark chicken at KFC Eleven comes with only two family sides and costs $24.99.
At this early stage, it's unclear what KFC Eleven means for the future of the KFC brand. A grand opening event is planned for Aug. 11, and a second location is set to open in Louisville sometime in the coming months. Fuller was tight-lipped when pressed for further details.
"One of the things we really want to do is learn a lot from this restaurant," she said. "It'll be 2014 before we're in any position to have analyzed and make responsible decisions about [future locations]."
Take a peek at KFC Eleven in the slideshow below, and check out the full menu here.
Related
Before You Go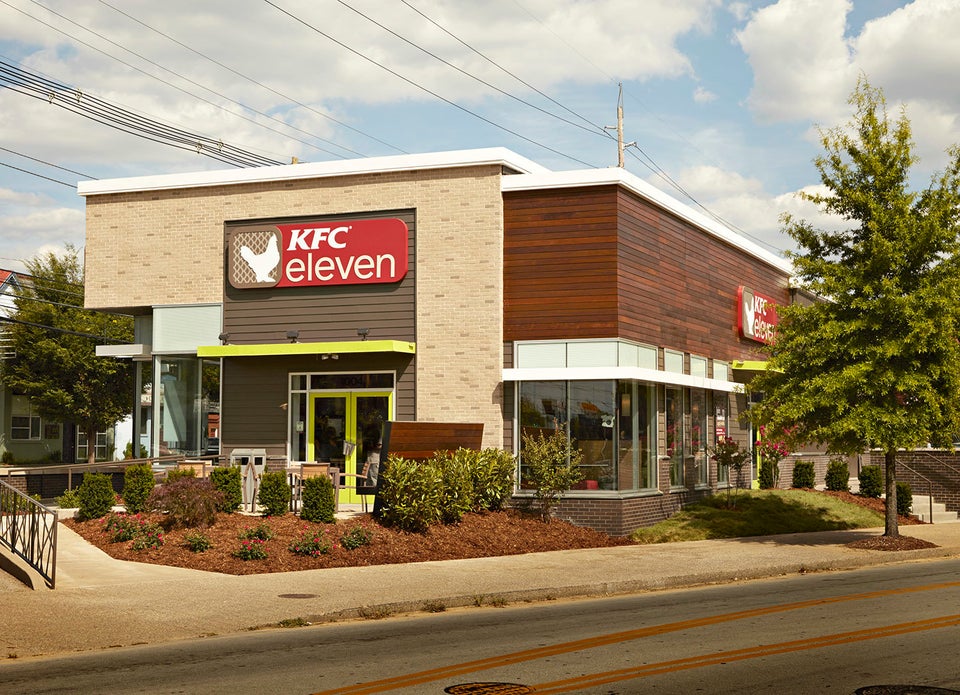 KFC Eleven
Popular in the Community