In Japan, KFC is stepping outside its whole quick-service brand personality. Visitors to its site are greeted by the image of a formal waiter saying, "Bienvenue au Bistro KFC." But the real departure is the introduction of the Bistro Hamburg, a 30% pork/70% beef patty with mushroom demi-glace on a burger bun.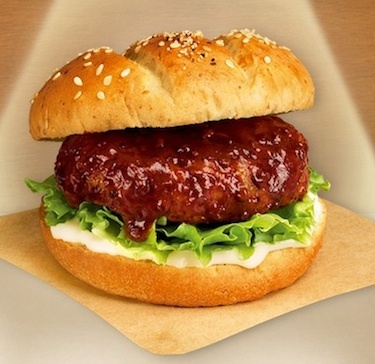 A TV commercial shows Shuzo Kishida, chef-owner of Tokyo fine-dining restaurant Quintessence, tasting and approving the burger. The burger is priced at ¥490 ($4.11 U.S.) a la carte or ¥770 ($6.46) in a combo meal with coleslaw and beverage.
This is the second time KFC is stepping beyond its chicken home territory, but this is the first time it has tried a beef entrée. Last year, KFC offered a BoxMaster Fish sandwich in France during Lent and it has occasionally menued a fish sandwich in Indonesia. But beef and pork are a departure that should give global burger chains pause.
KFC long has labeled its premium chicken sandwiches as "burgers," especially in markets such as Australia and the UK, where the menus skew to sandwiches, boxed meals and Twister wraps rather than chicken parts.
The chain has become quite adventuresome as it moves away from selling just drumsticks and breasts. KFC Australia currently promotes a Kentucky Burger, which is an Original Recipe fillet topped with coleslaw, crispy onions, two slices of cheese, bacon and smoky BBQ sauce. In the UK, KFC offers Pulled Chicken sandwiches. It's described as "slow-cooked, BBQ Pulled Chicken, draped over 2 crispy Mini Fillets on a bed of Southern-style paprika slaw" on a brioche bun. I'm not sure in which Southern area paprika slaw is popular, but it could be good.
KFC is scoring well with double-patty items, and not just the Double Down. It has a double-decker Big Boss in Canada (as well as a Triple Decker). The Big Crunchy with two Extra Crispy fillets is big in Brazil, where KFC also is promoting a Corn&Philly, which is chicken topped with a corn-and-cream-cheese sauce. Adventuresome.
Curiously, little of this sort of imaginative menuing is evident in the U.S., much to the relief of the burger chains that have enough competition to worry about. Here; no sandwiches other than the Doublicious and the mini Chicken Littles are on the permanent menu. None of its $5 Fill Ups meals has a sandwich. Is it missing a major opportunity here?
Related