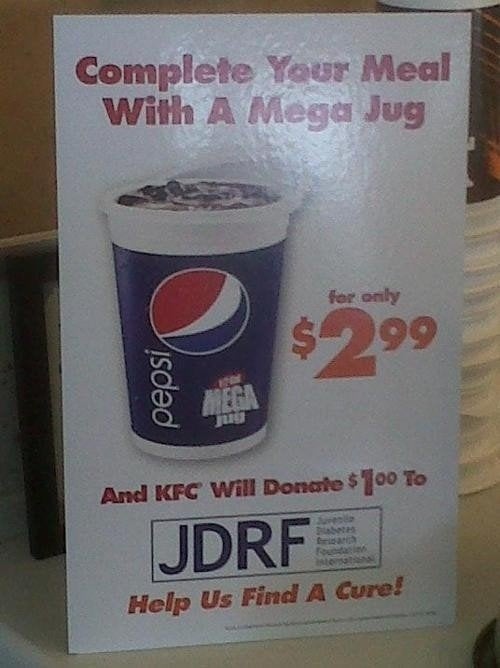 I just can't understand what Kentucky Fried Chicken is thinking with its latest cause marketing program. This picture says it all. Buy a HALF-GALLON of soda -- with 800 calories from 56 spoonfuls of sugar -- for $2.99 and a buck goes to Juvenile Diabetes Research Foundation.
I'm actually more astonished that JDRF would sign on for such a pact. KFC showed it's a bird of a different feather last year with Buckets for the Cure and the dreadful Double Down. It's no surprise to me that they deep fried their reputation again, covering it with a disgusting, unappealing exterior that few can digest.
I've said this before: I don't have a problem with nonprofits and fast-serve chains doing cause marketing. What I do have a problem with is when fast serve chains like KFC encourage consumers to buy products that directly contribute to the health conditions - in this case diabetes - they are supposedly trying to prevent by partnering with the cause in the first place.
It's like if Philip Morris partnered with Smokey the Bear and donated a portion of all cigarette sales to conservation groups working to stop wildfires -- fires that are often started by careless smokers!
It's simply that ridiculous!
What was JDRF thinking? I'm not sure, but I'm calling them today to see if I can find out!
Support HuffPost
The Stakes Have Never Been Higher
Related
Popular in the Community